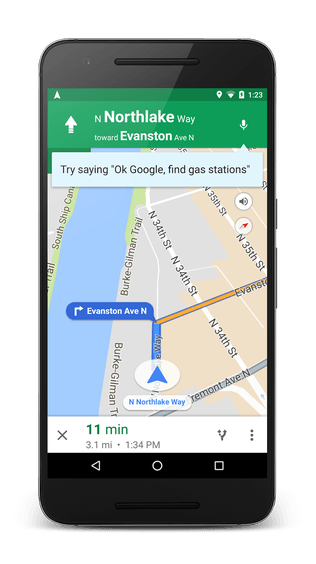 Are you an "OK Google" superuser? To be honest, I'm not. I keep forgetting that it's there, but today Google has announced an update to the Google Maps app which I think that I will use and be an extremely useful addition.
"OK Google" and voice commands have now being added to Google Maps, meaning a more hands-free, eyes-on-the-road navigation experence. Once your app has been updated, you simply say "OK Google", followed by voice command like "where is my next turn", "when is my estimated time of arrival", "or where is the nearest petrol station?"
You can also use voice commands to send text messages, or play music from your favorite artist or album (although I never got this to work right, must be my accent).
Here's a list of the new additional voice commands for use in Google Maps:
"How do I get to [name of place]?"
"Show me a map of [name of place]."
When you're in navigation mode, here are some commands that you can say:
"Mute"
"Unmute."
"What's my next turn?"
"When will I get there?"
"Find gas stations." (we're kind of hoping it will be 'petrol stations')
"Exit navigation." 
As always, the update takes a short time to roll out to all devices, but once enabled it will be denoted by showing a white microphone icon located at the top right corner. If the "Ok Google" detection is not working for you, make sure that it is enabled by going to Google Maps Settings -> Navigation settings -> Ok Google Detection, and enable the While driving and Always on options.

Being an Android user since the very beginning, I have watched the Google Maps app grow and grow, and this latest addition is a welcome saftey feature. Personally speaking, Google Maps is the only mapping navigation solution I need. let us know your thoughts in the comments below.