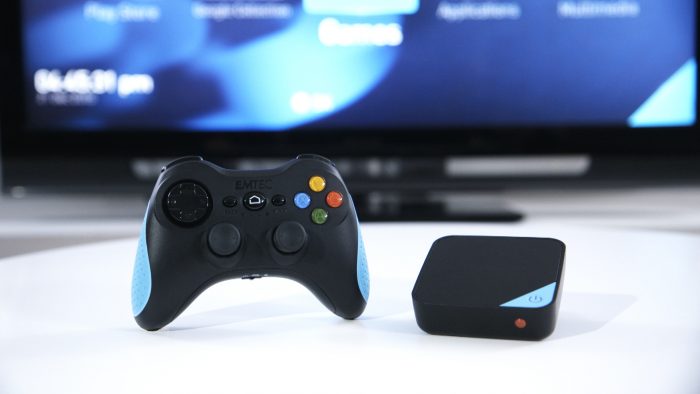 Remember the Ouya console ? Well, this little device lets you do something similar and then some. You plug it into your TV and share your Android screen, watch YouTube, show your pictures and videos from a USB stick too.
There's a stack of additions on this, some are inside a GEM Box library, which is where you'll find games that'll stream to this box. Of course, you can download and play Google Play apps to this Android box too, which is great, but you do have to ensure that the apps work with the X-box-like controllers that are supplied in the box. This, for £99.99, is an all-in-one gaming and entertainment microconsole and you can buy it from EMTEC-GEMBox.com and elsewhere. Buy it and you'll also get a month of acces to the GameFly Streaming service too. This'll deliver PC like gaming and there's 70 on-demand games like Bioshock, Pac-man, Tomb Raider etc. While I'm mentioning that, you can even mirror your PC screen onto this thing and play your PC games on your TV too.
The box is just 3.25 inches square and you're going to need a fast internet connection. Here's a look at it in a promotional video…
https://www.youtube.com/watch?v=8P600kX4nCk
Of course, the Android games are going to be geared to a smartphone screen, so not all of them will be fully compatible and as easy to play as they would be on a phone.
Full press release below…