Go to a market or a car boot sale and you'll no doubt be familiar with the gentle chug of a diesel generator. It could be inflating a bouncy castle or it could be providing the electric for the butty van which is nearly always selling burgers which are bright pink on the inside.
These little generators are also great because they present standard electrical sockets, just like the ones in your home. You can plug in your phone, your laptop and even your TV. Trouble is, they're noisy and they don't exactly fit in your bag.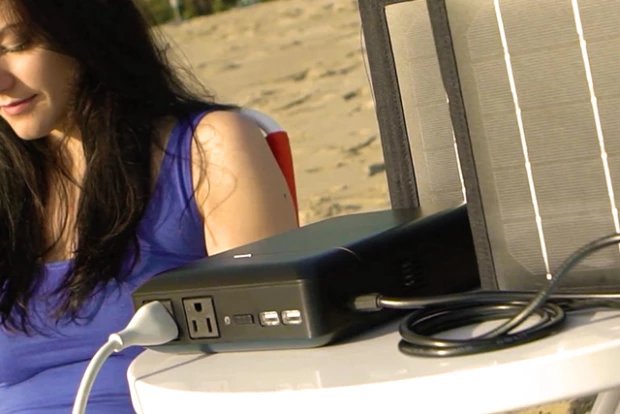 So, there's now this thing and, if I'm perfectly honestly, the best way to describe it is as a massive battery pack with electrical sockets on the side. It's on Indiegogo.com and has already smashed through the funding goal. If you decide to join in on the fun, you'll be able to do stuff like this….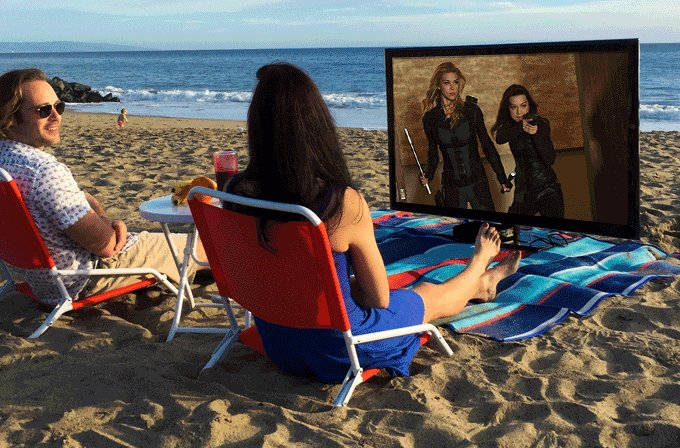 Yes, watch TV on the beach. Sure, you'd probably wreck your TV with the amount of sand and water around, plus you'd get some very strange looks and a lot of people asking why you're not just using a tablet or something sensible but… it's possible.
A campsite, a country walk, getting called out and having to jump onto a laptop when you've only got a bit of battery life left – this box will fix it.
Inside there's some Tesla battery cells pumping out 250 watts with a 48,000 mAh capacity. You can do "pass through" charging too, so you can use it as a power station at home thanks to the 2 USB power ports and 2 electrical sockets. Just put one power recharge outlet in – use mains electric to recharge or solar power. It also comes with an LED status / power light and a USB Type C output.
We had to look quite a bit on their funding page to find out how much this weighs – it's 2 lbs 14 ounces, which is new money is 1.3KG. Not bad, but then again not something for your coat pocket. It's available to back from $199.
More detail in their YouTube video below..