It's all kicking off here in Berlin and Matteo will be covering as much as possible for Coolsmartphone.com.

Today we start off with the Acer Press Conference. The coffee is good, the stage wrapped by a massive curved screen is set and we are ready to go.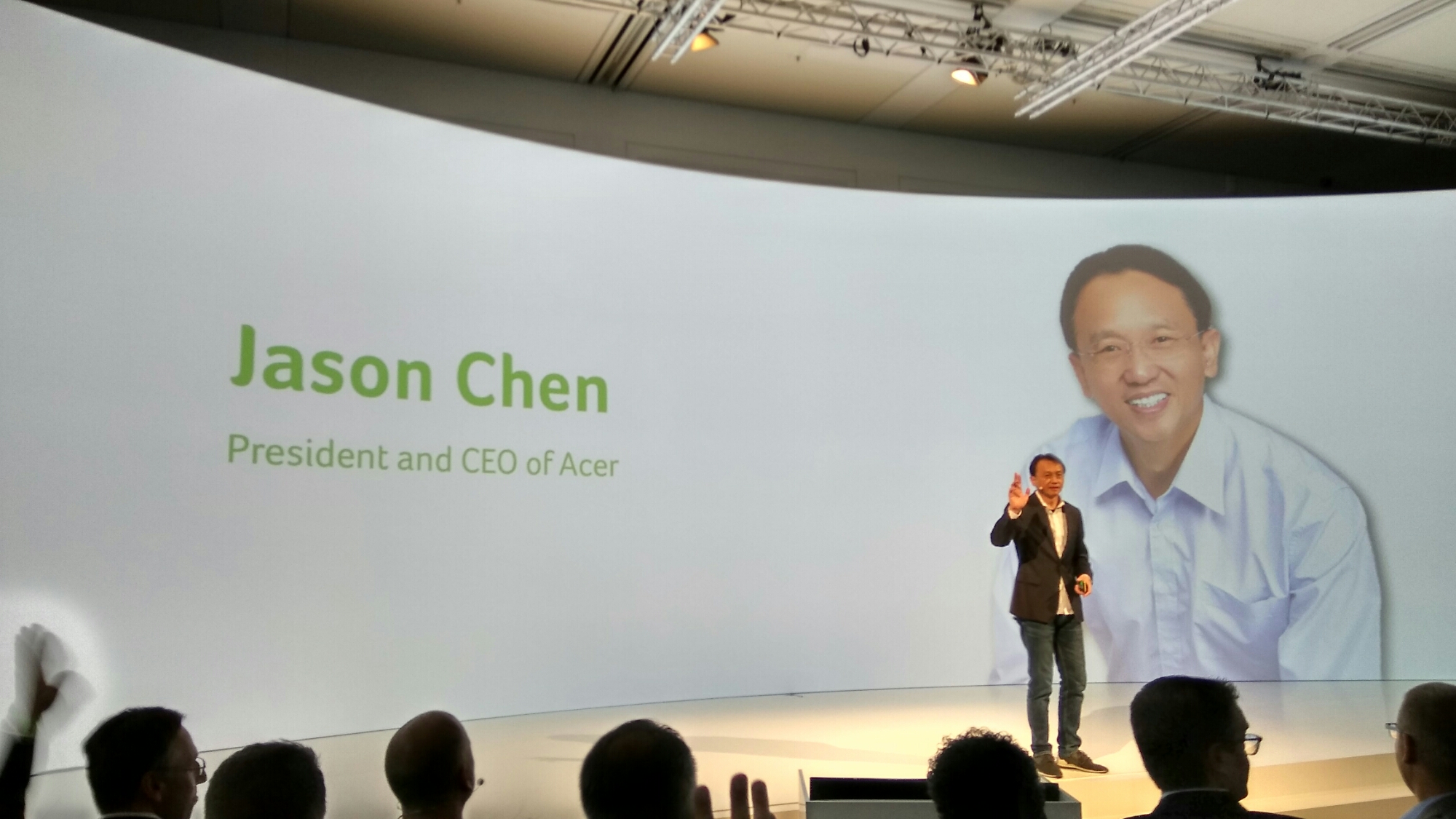 Jason Chen on stage announced that Pawbo has been acquired by Acer. The Pawbo range of devices are pet video-conferencing devices. The Pawbo Plus goes on Pre-Order from tomorrow.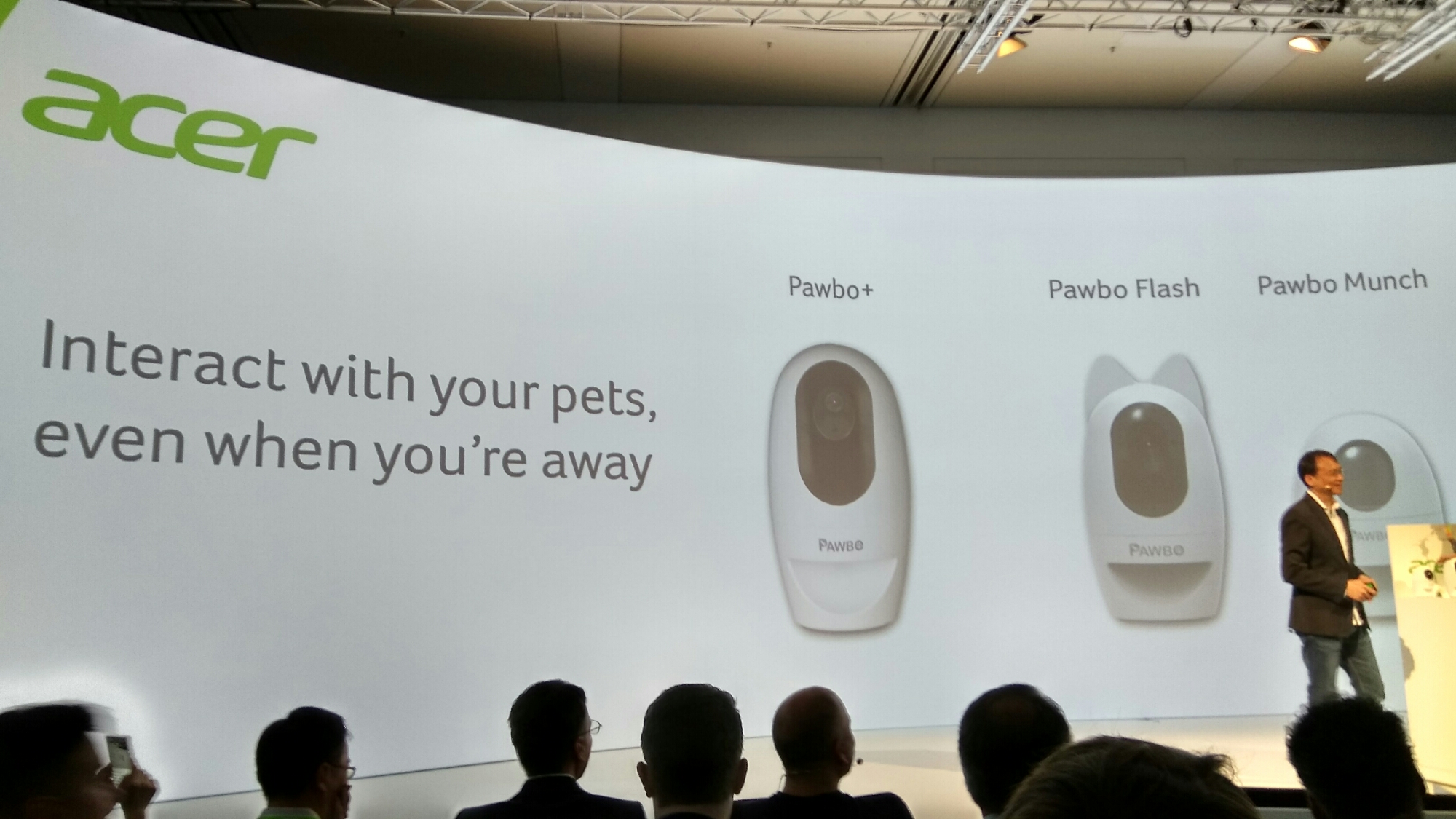 Biking computer s Explication will be launching in Germany this month, with more markets to come soon.
Acer aim to help the elderly with Comfort Keepers. Carl McManus says they aim to provide a service that improves quality of life.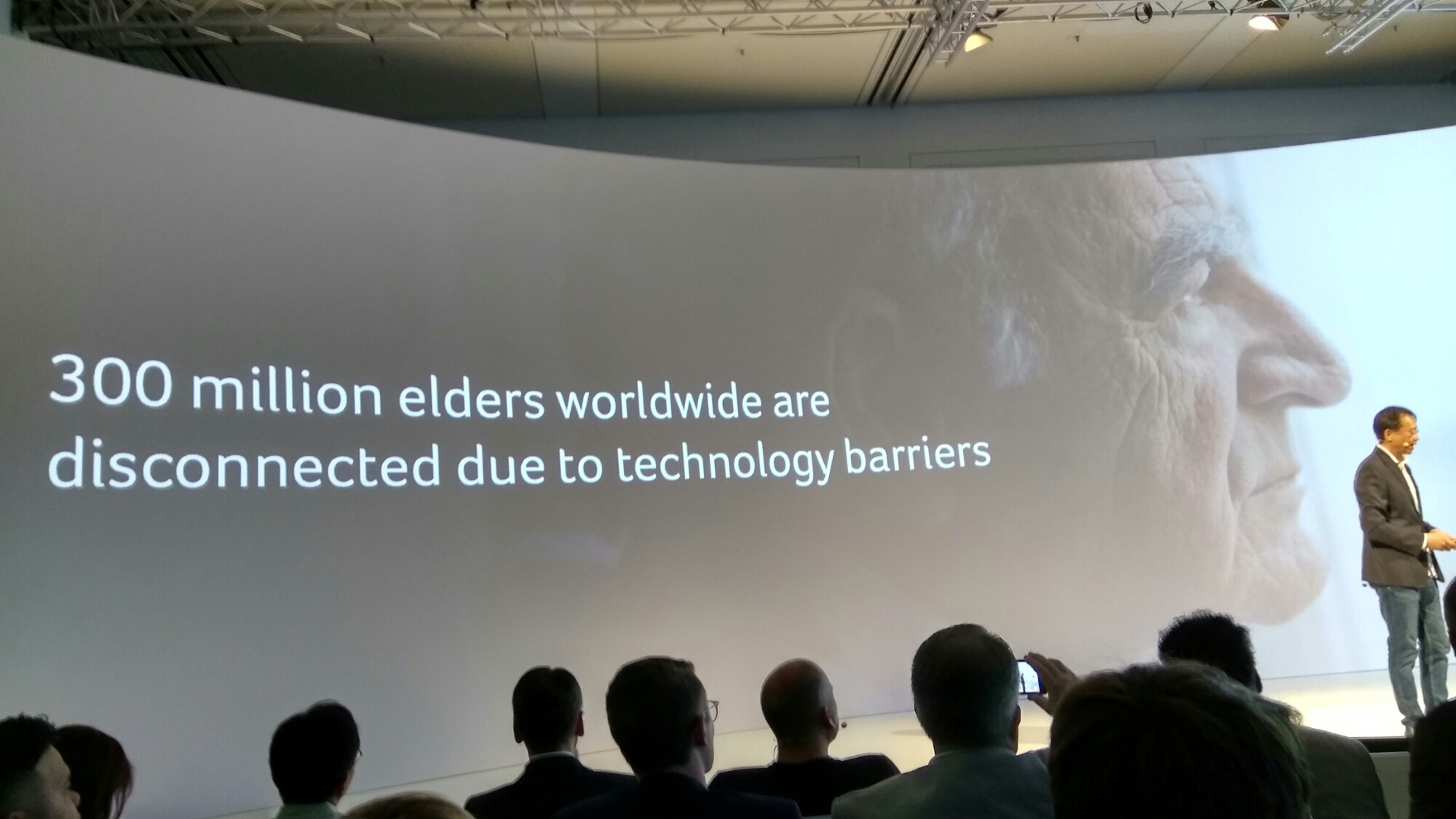 Acer are definitely differentiating their business, catering to pets,p et owners, sporty types and crumblies. Meanwhile a lady next to me is using a Samsung 360 camera.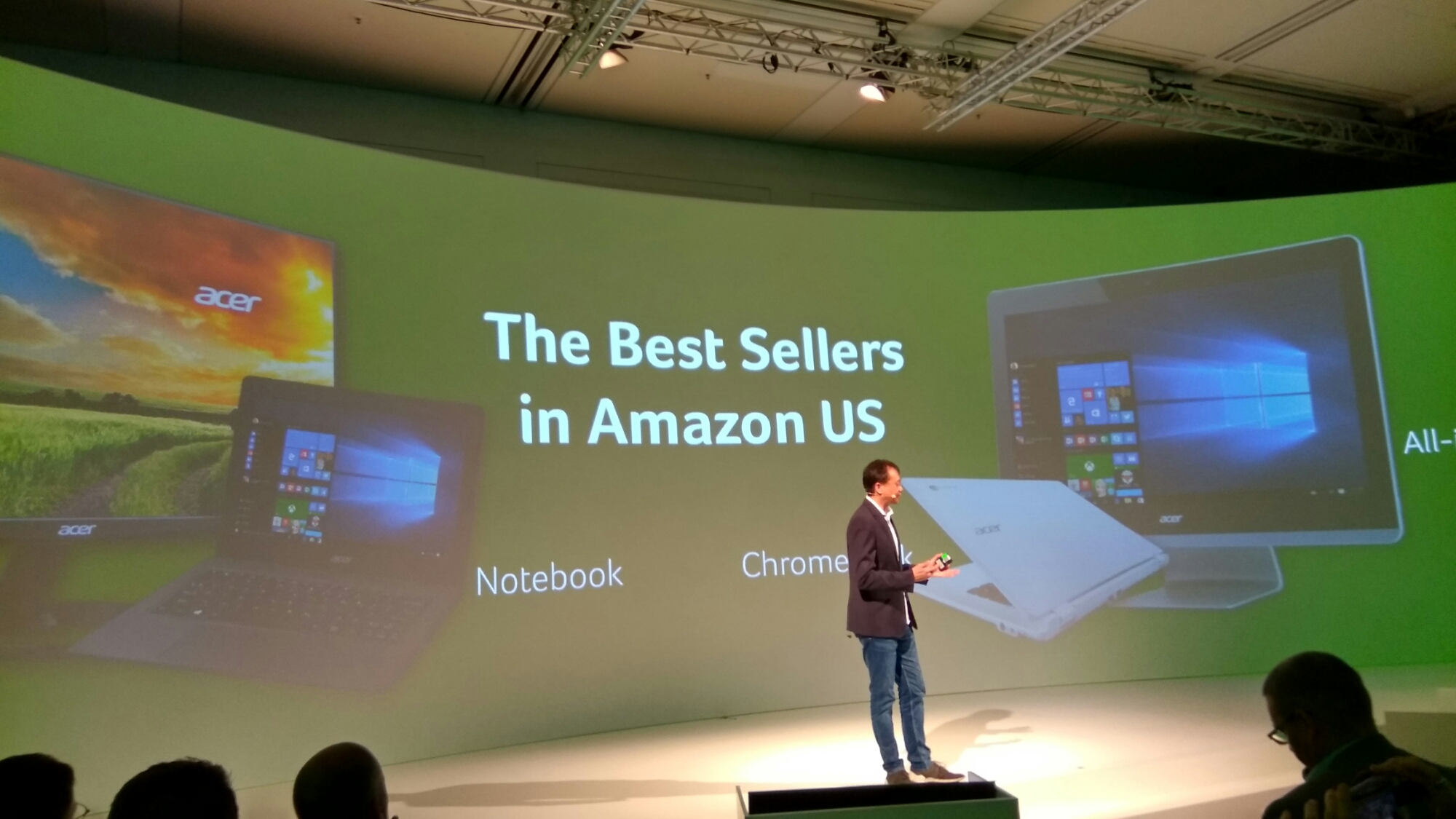 Now on to Acer's core business: computing. Acer is number one in the sub €500 segment in Yurp. Growing rapidly in the €700 to €900 segment.
Slim notebooks like the Acer Aspire S series are well received. Today Acer announce the Swift S1, S3 and S5: urtra slim, lightweight Ultrabooks with many bells and whistles.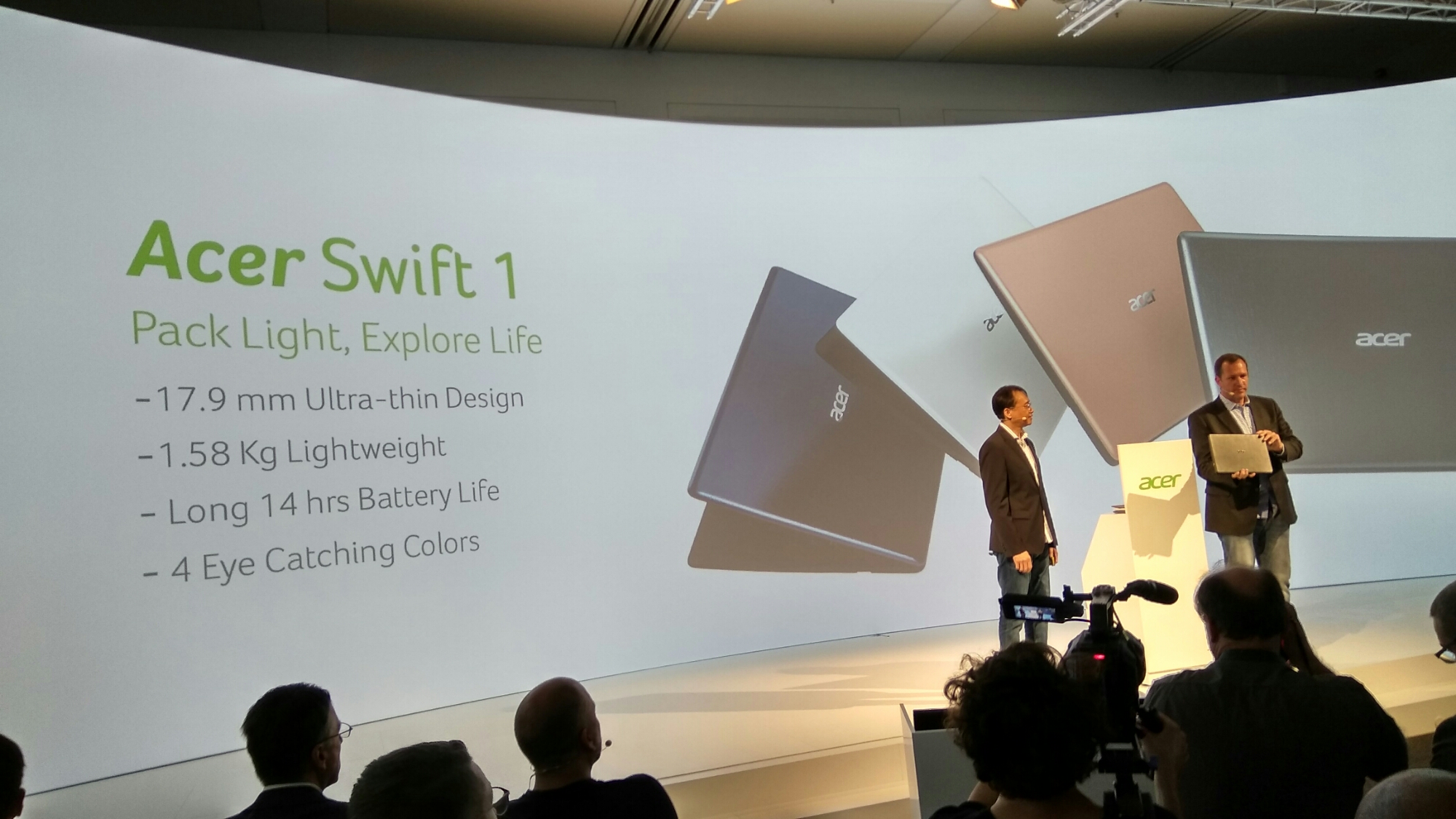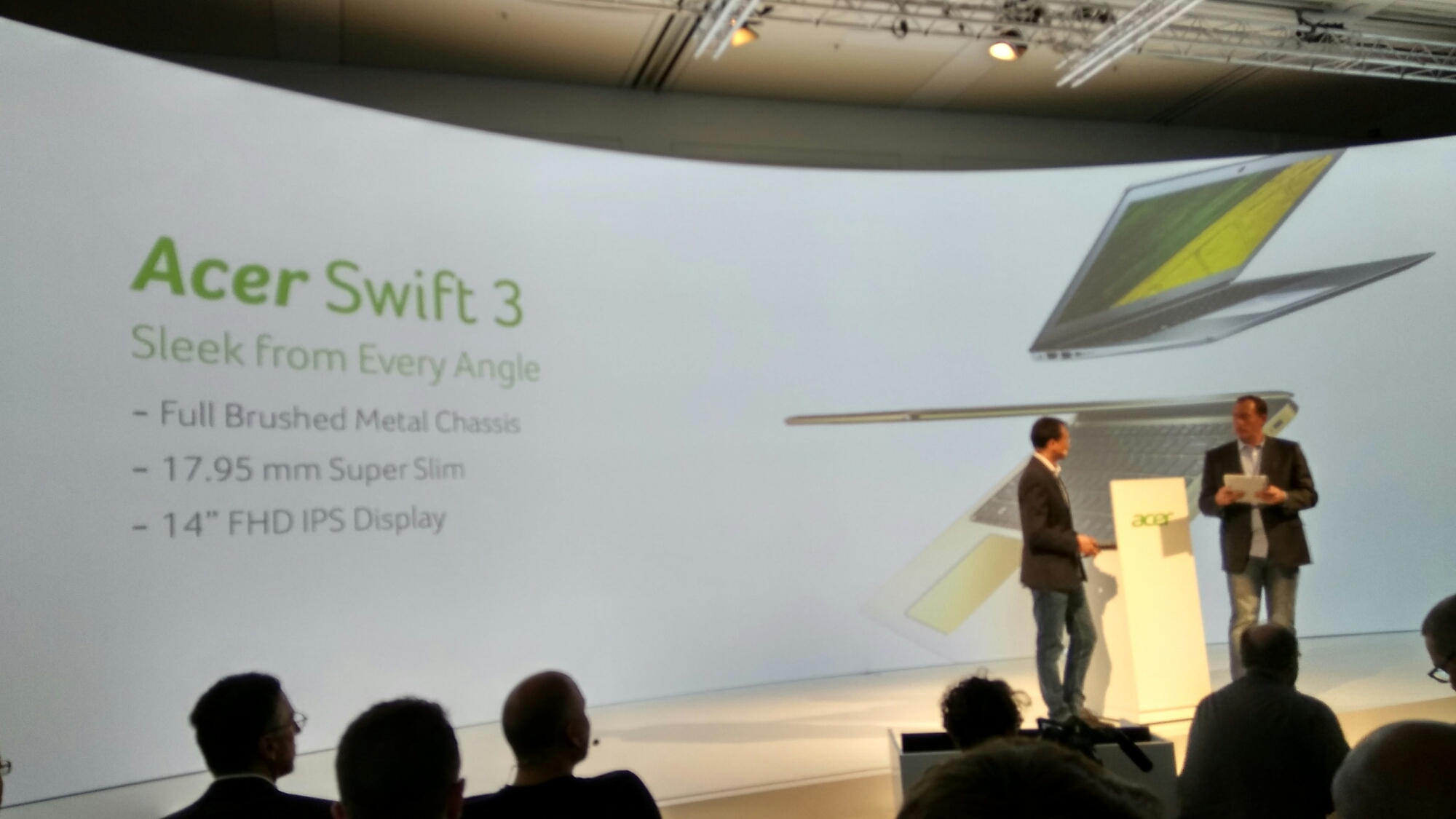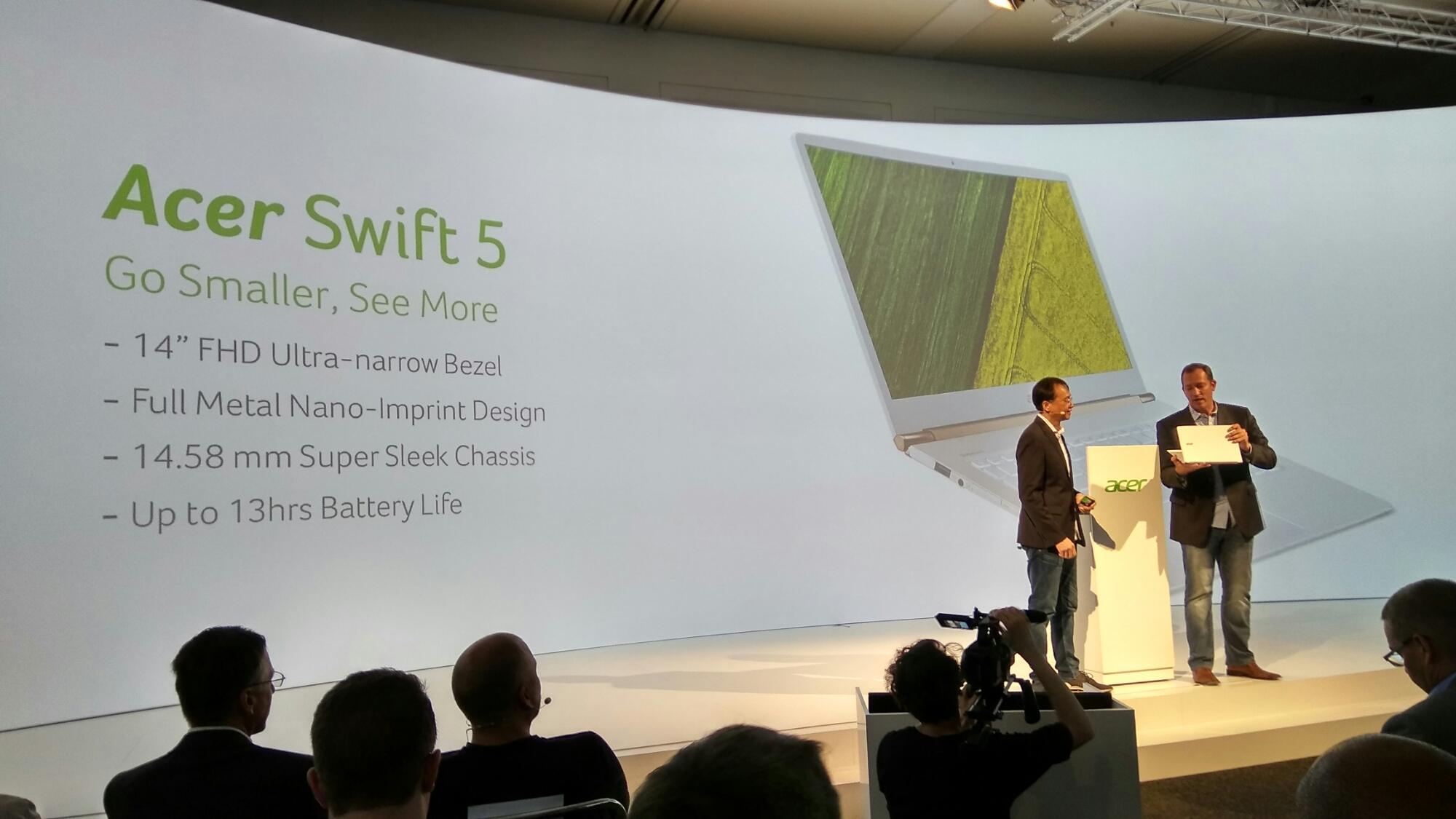 The Acer Swift S7 is the flagship of the Swift line from Acer: Aluminium unibody chassis,7th gen Core Intel chips, Dolby audio. Under 10mm thickness, gorilla glass screen. Shiny!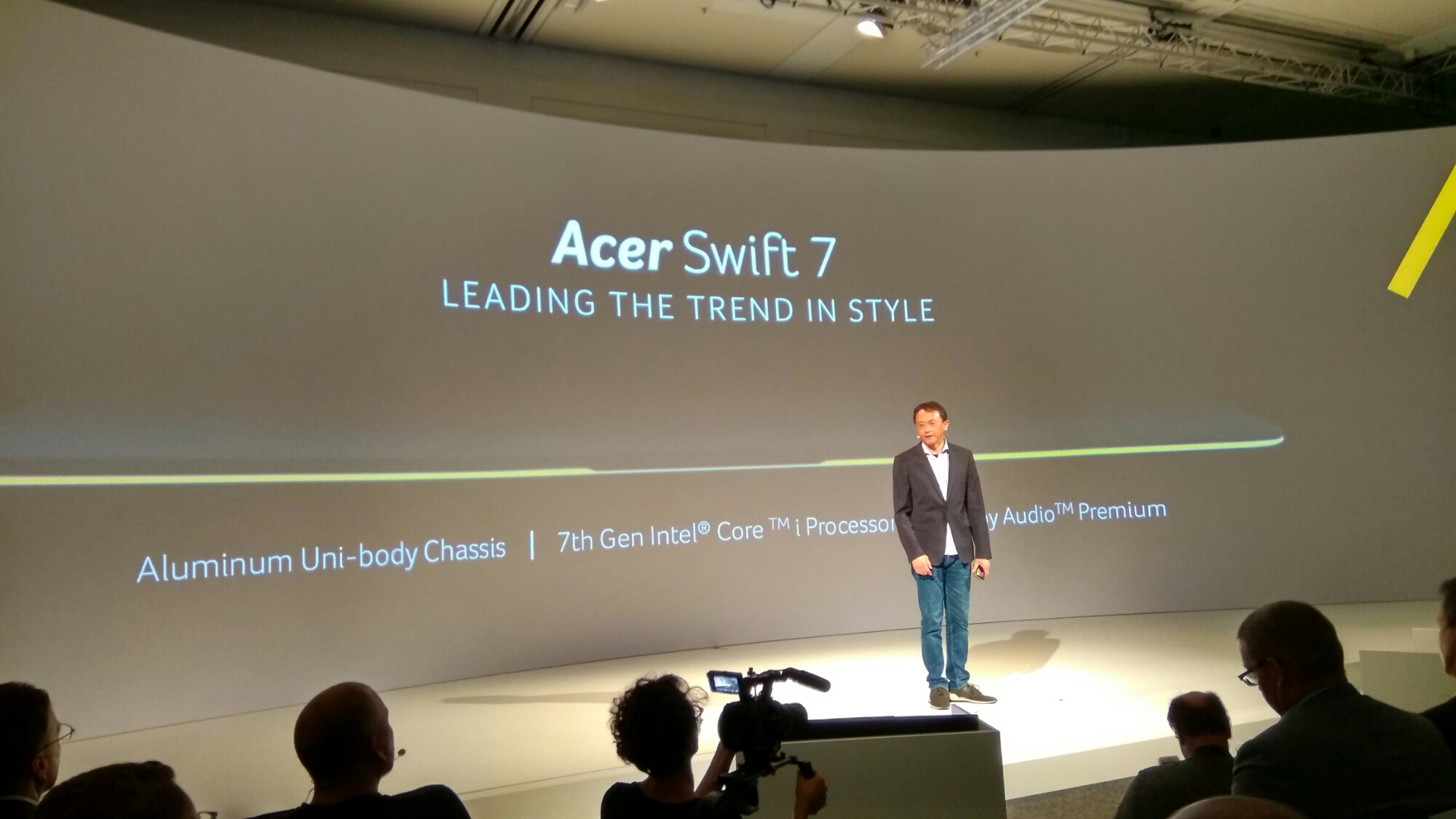 The Swift S7 is definitely gunning for the 12″ Macbook. Chris Walker from Intel on stage telling us how good the 7th generation Intel Core processors are.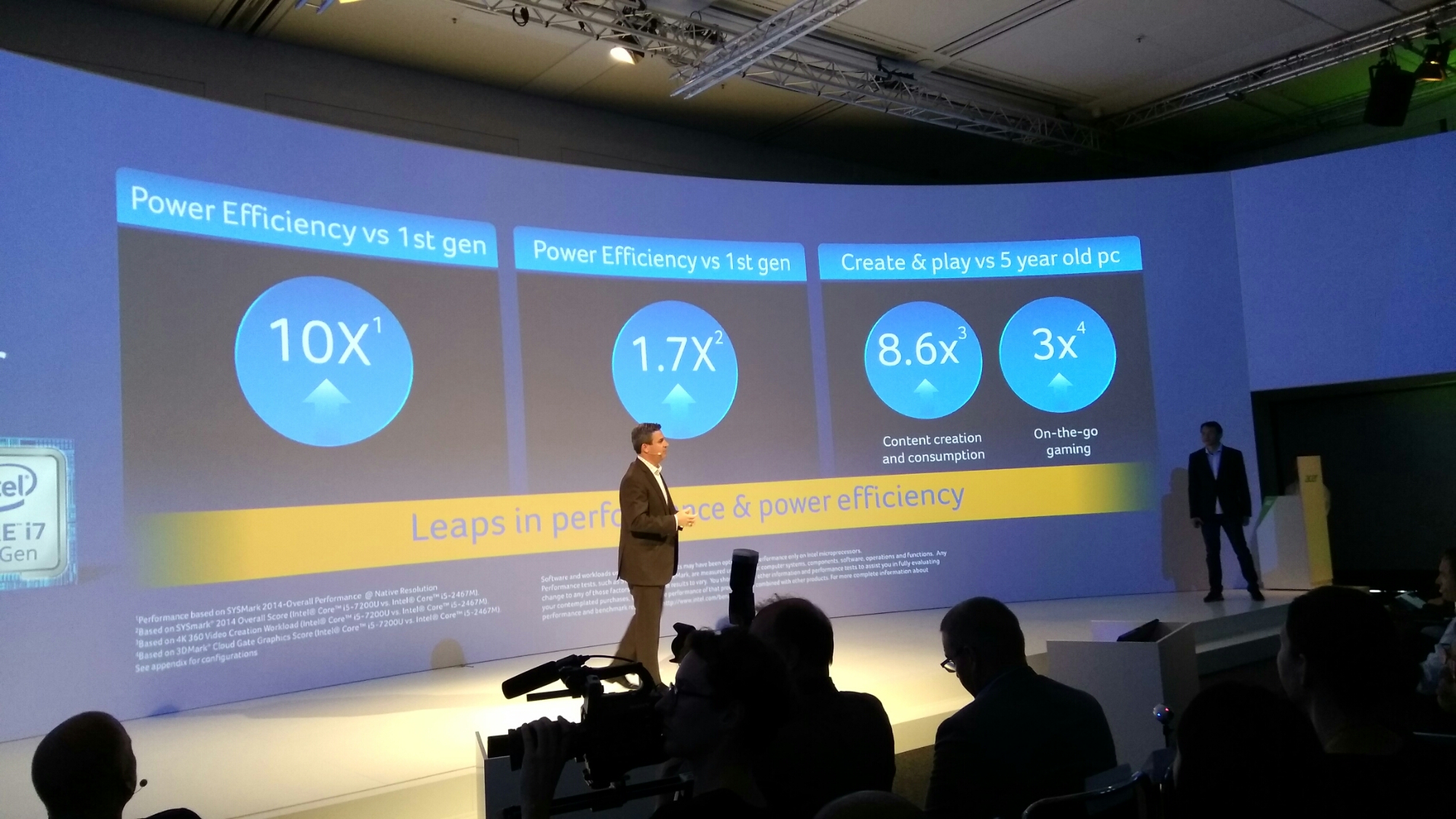 And now Acer have unveiled the Acer Spin 7.

The Acer Swift and Spin lines will start at $299. Windows 10 will be on all Swift and Spin notebooks.
Acer have something for the gamers too: Predator are loud and unapologetically catering to PC gamers. Apparently Predator are taking over the gaming world.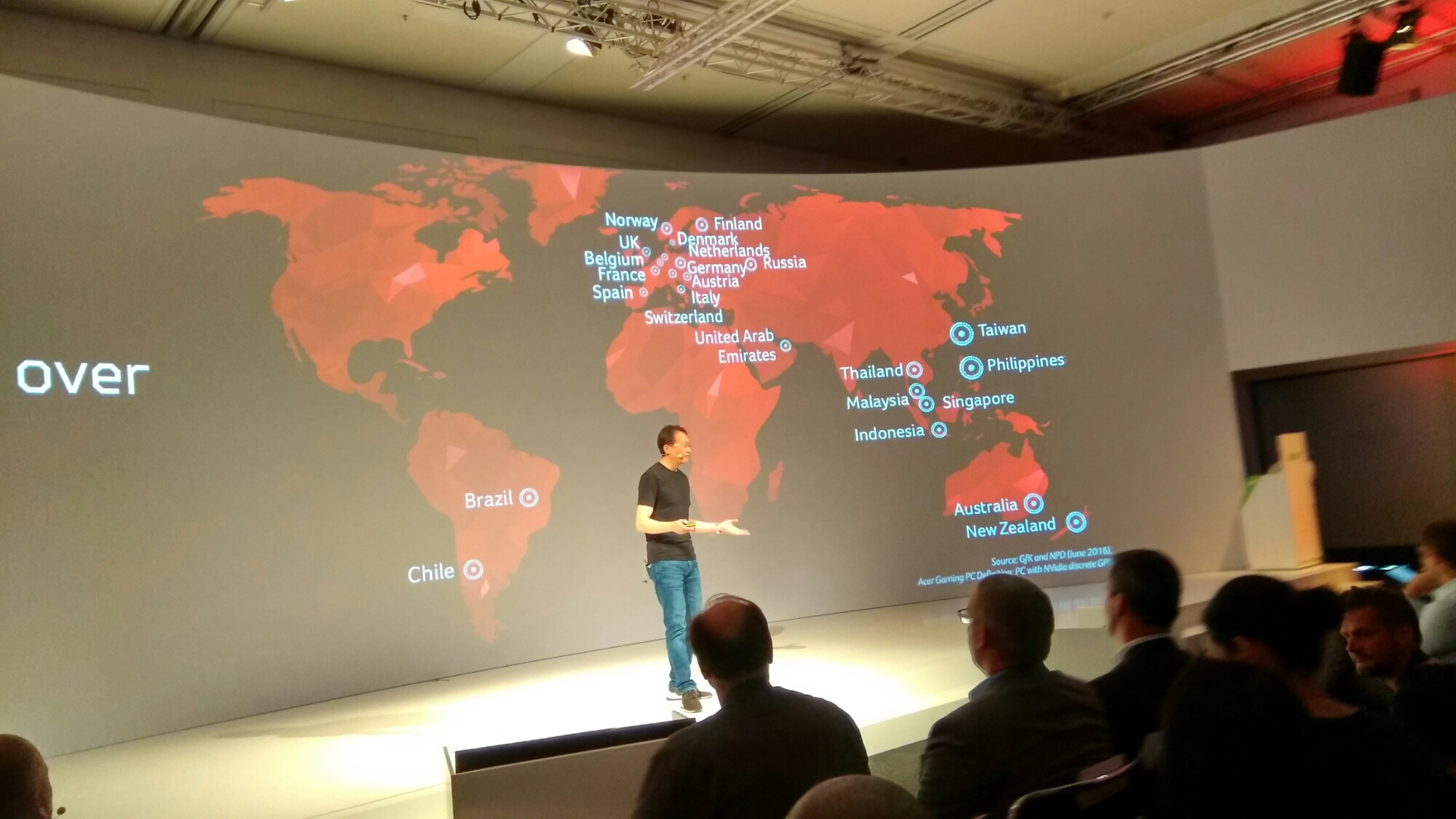 Jason Chen has taken off his suit jacket and shirt for this part of the press conference.
Eye tracking for Acer monitors for gaming: natural targeting, infinte screen and dynamic lighting all demoed on Assassin's Creed. Acer want these features to become a standard for PC gaming. All this will work with Windows Hello too.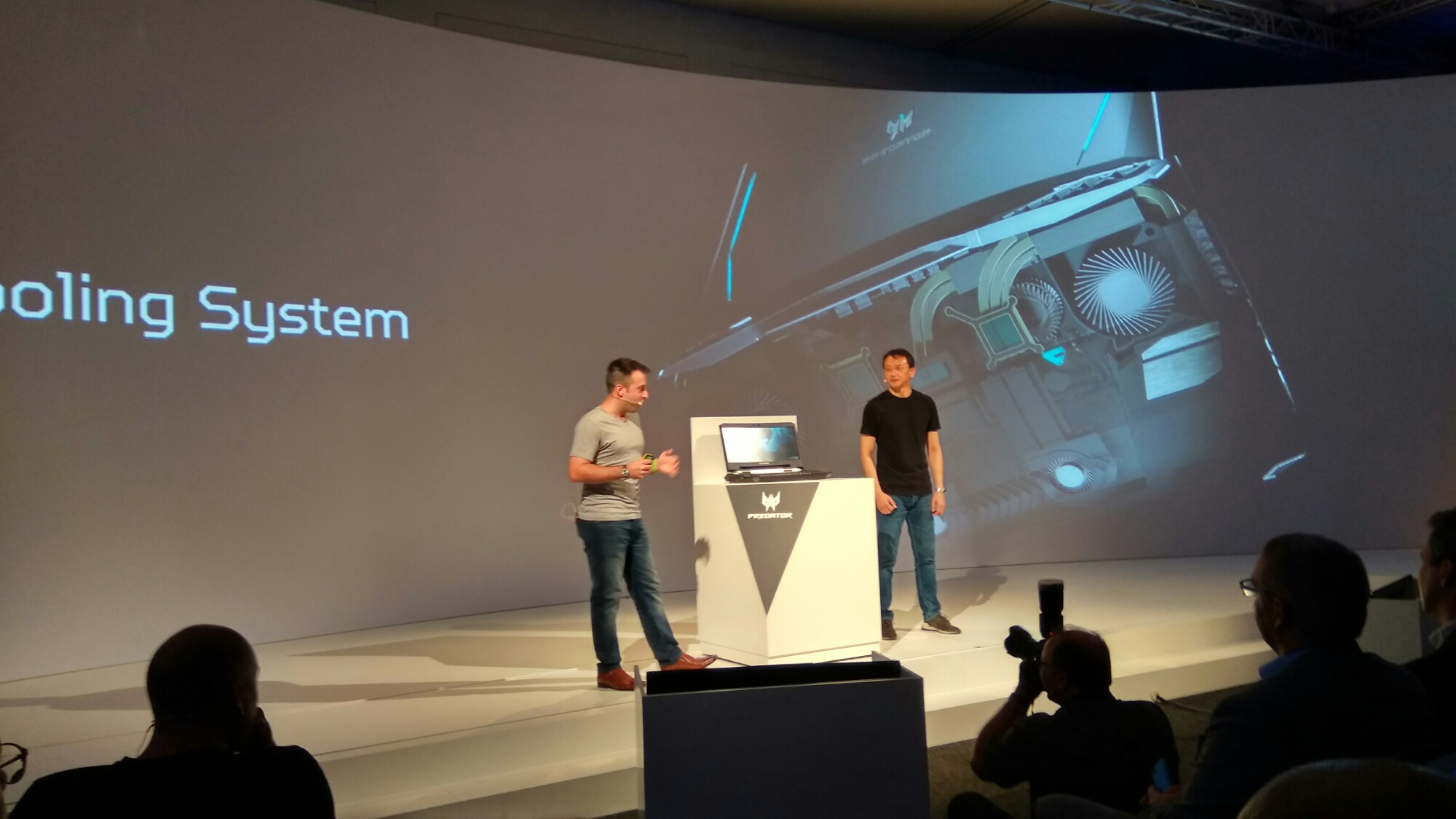 The Predator gaming PC lineup has a new addition: the Predator 21X gaming notebook. A 21″ display gaming laptop with curved screen with eye tracking. Core i7 processor, dual Nvidia graphics cards and a totally new cooling system. Mechanical keyboard, maintenance hatch and customisable panels. Bonkers!

Acer are also partnering with Starbreeze Studios to push gaming and movie content further. StarVR is a new VR headset. 5k resolution, wide field of view. StarVR wants to create the Matrix, or at least give you the experience. The StarVR is now shipping. Press will be able to try it out after the end of the keynote.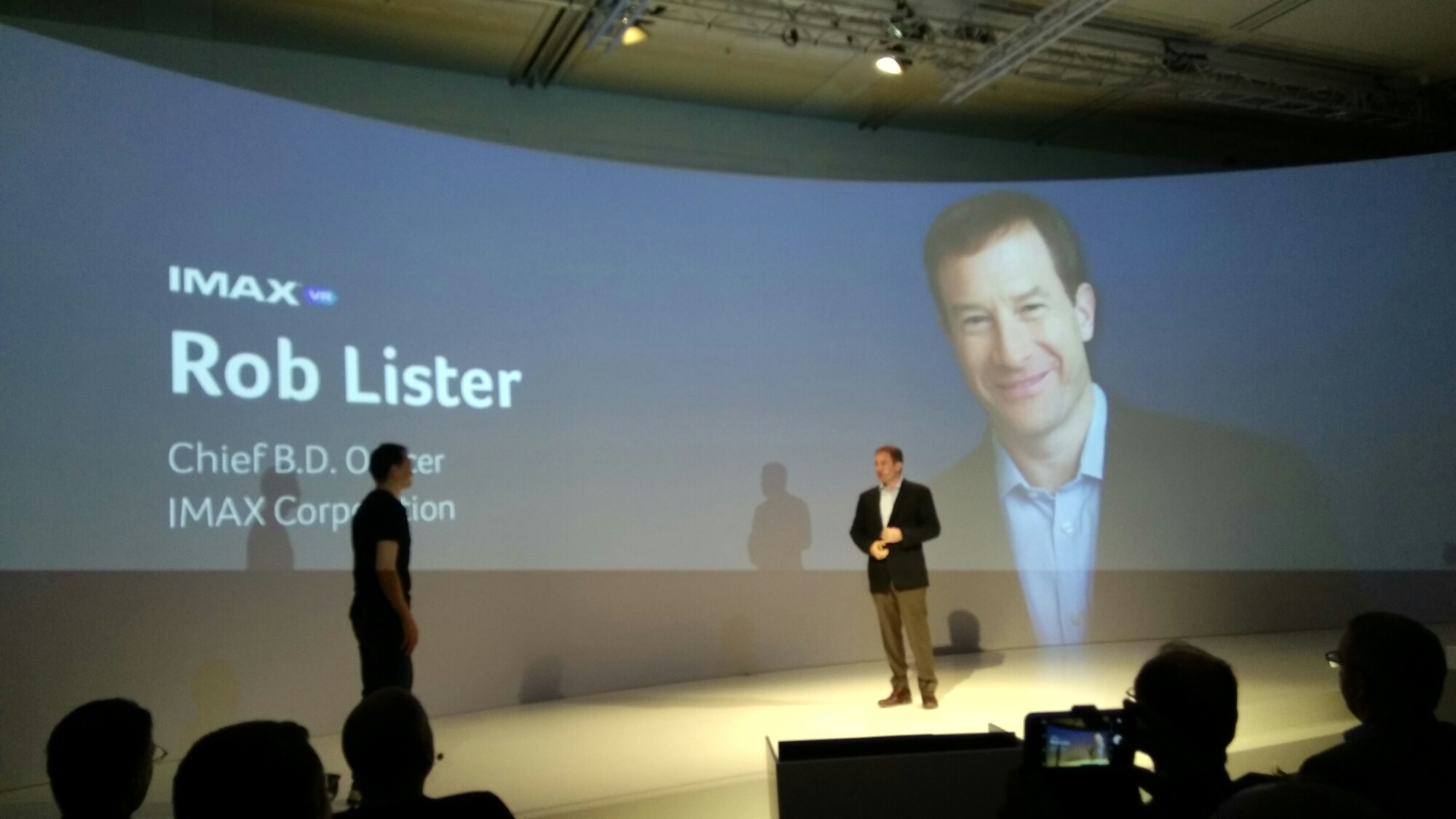 Rob Lister of IMAX on stage introducing IMAX VR. IMAX VR is a technological partnership with Google for filming VR films. VR content with high production value will be created and distributed. Acer and IMAX VR centres launching in the fourth quarter this year. LA, London and other locations.
And that's a wrap! Lots delivered at pace. Jason Chen is definitely earned his pay today. At Coolsmartphone we look forward to seeing the Acer products hit the market.