After Acer, it's ASUS's turn to announce stuff (old and new) at IFA here in Berlin. The ZenWatch 3 is probably the most interesting thing so far.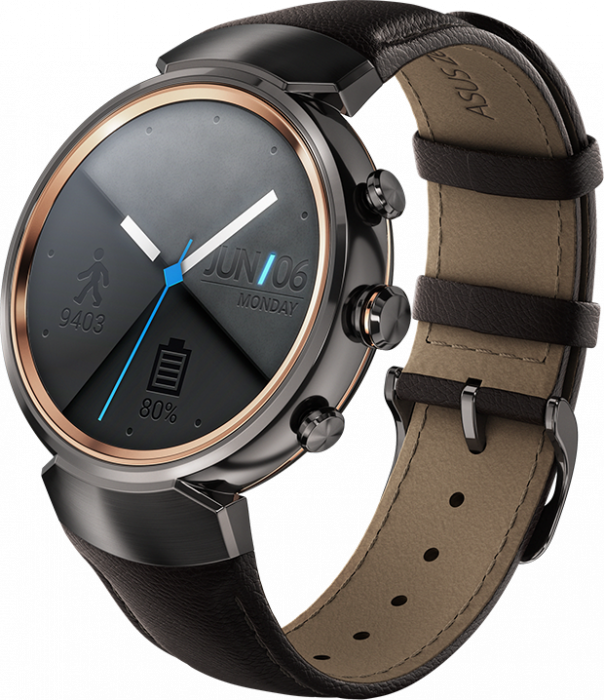 As reported by Android Central, the ASUS ZenWatch 3 is the new Android Wear smartwatch from ASUS. With a round screen, stainless steel body, colour options of gun metal and rose gold, and quite a choice of fine leather straps, the ZenWatch 3 is sure to appeal to those of us with good taste, even if there are no mockodile options.
One of the most interesting facts about the ZenWatch 3 is not the many watchfaces preloaded by ASUS, or the bespoke fitness app, but the chipset that runs the show inside all the expensive materials. The ZenWatch 3 is the first Android Wear device to have the new Qualcomm Snapdragon Wear (2100) chipset. More power efficiency and better performance, this is sure to be the first of a range of Android Wear devices with that chip.
Power and battery life are key features, and the ZenWatch 3 should be able to take a 60% charge in 30 minutes. Quickcharge on your wrist, pretty dope. ASUS actually say the ZenWatch 3 should give you two full days of use between charges.
We'll hopefully have a hands on of the ZenWatch 3 for you soon, so keep your eyes on Coolsmartphone.com over the next few days. I will also most likely ask them for an ETA on official mockodile straps for the device.