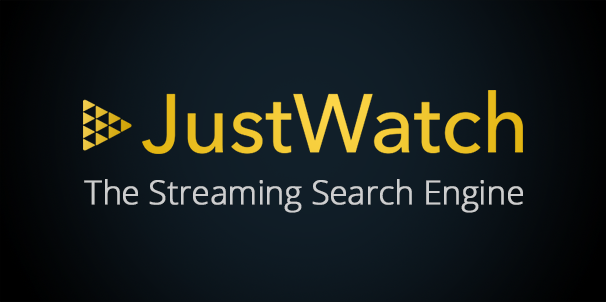 When you absolutely, positively HAVE to watch that particular movie (or TV show) tonight; accept no substitutes! The Justwatch app promises to scour the internet to provide all the options. It's my default search tool for all such videos queries… it's that good!
I'm not sure of the exact date but relatively recently a lot of the world decided to forgo the effort of owning a physical copy of their favourite video media and instead decided to go all-in on storing it on hard drives or (even better) streaming it over the web. This has of course brought it's own inconvenience, specifically – which service do you buy or rent your media from or, if it is broadcast for free, which app is it on?
Enter Justwatch. You can access JustWatch via their Android or iOS app or directly via your browser at www.justwatch.com. When you first visit them on your laptop or phone you need to choose your country: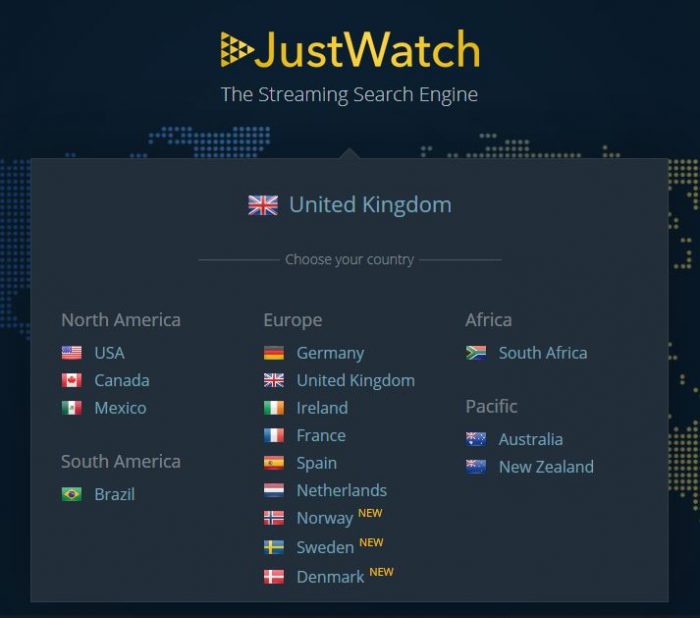 JustWatch has data from sixteen different countries and is planning to add more. Once you have chosen your country you then need to choose your providers, in the UK there are fifteen options, which incorporates free to air broadcasters such as the BBC iPlayer and ITV Player, big streaming giants Netflix/Amazon Prime video and also SkyGo, Amazon and iTunes. Choosing only options relevant to your own set-up helps cut down extraneous results and that's it, you're ready to go.
So you really fancy watching the Tim Curry movie Clue? Typing Clue into the app shows the movie is available on Netflix, you can rent it from Amazon, Google Play or BlinkBox (who recently changed their name to TalkTalk TV Store to reflect their new owners) or buy it from iTunes, Microsoft Films & Movies plus Amazon, Google Play or BlinkBox. Six providers with just one easy search plus prices where appropriate? The search result also includes the IMDB, Rotten Tomatoes and JustWatch ratings for the movie, a cast list and synopsis plus trailers, teasers and featurettes as appropriate. Damn convenient if you ask me!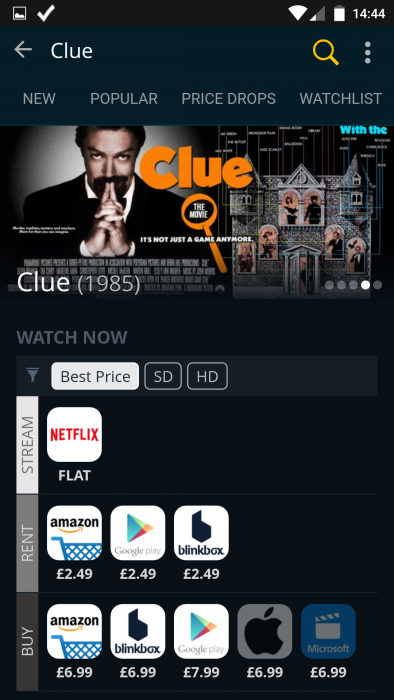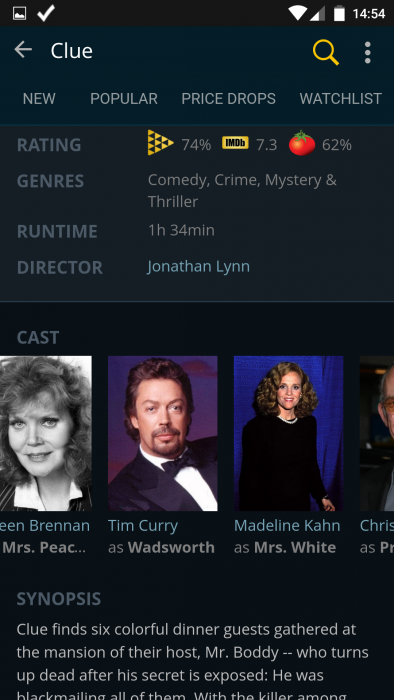 Another really useful part of the app is that it has a new release section that shows any releases on all of your chosen services every day. The occasional quick glance enables you to get the lowdown on all of your favourite streaming apps and, if you click on the movie you've searched for (and you have the appropriate app installed), it opens the app and shows you the movie to watch there and then. You can also add to that apps watchlist for future viewing. Excellent Smithers.
Unfortunately it appears that not absolutely all services are on there (at least not in the UK). Channel 4, Channel 5 and UK TV Play (that includes the Dave channel) do not appear. However in my experience this is a small thing as, since I've had the app on my phone and subsequently my Nexus 7, I've found my searches are almost exclusively for movies where the app is at it's best.
Thanks to a recent update you can now save all your settings across devices, thus making the included option of creating a watch list a great option for new stuff to watch as it syncs your data.
Overall, although missing a few live TV channels, this is a great app. It's very handy for searching a specific movie, be it an awesomely laid back Tarantino flick or something more linguistically palatable. You can download it from Google Play or iOS App store.