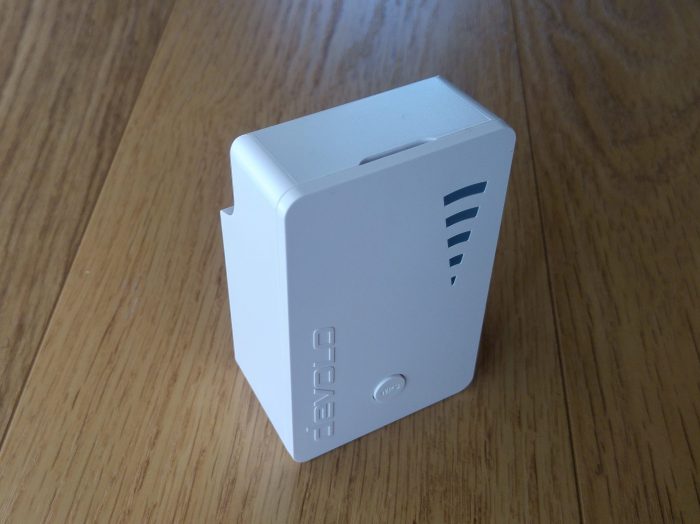 So, everything connects via WiFi now. There was a time, not too long ago, when an ethernet connection was needed by quite a bit of stuff in your house. Your TV, for example. Your Sky TV box, your console game etc. Now though, most of that kit is connected via WiFi and keeping a decent connection to your router is important.
With your set top box, Xbox or Nintendo Wii sitting on the floor and that free router you got from your internet provider sitting in the garage or hall, the signal can be a bit iffy.
You don't need to have a big house either – if you've got a lot of load-bearing walls or lots of brick walls between the router and you, it'll impact the quality and strength of the signal.
Here, for just £49.99, is the Devolo WiFi repeater. However, some people steer clear of repeaters because they're worried about a complex setup procedure and lots of cables all over the place. Here it's all brilliantly simple. You'll get a 1200 Mbps speed and there's an integrated gigabit LAN port should you still have a TV or set top box which only has an ethernet connection. You can setup by WPS, PC, laptop, smartphone or tablet and it'll beam out WiFi at 802.11 ac/n/g/b/a at 2.4GHz at 5GHz.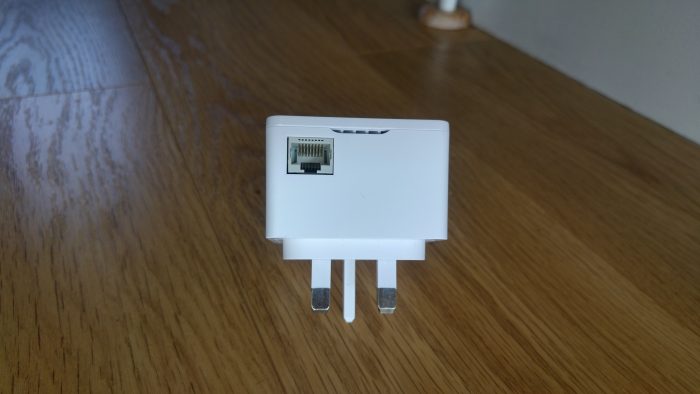 Get it out the box and it's no bigger than one of those plug-in air-fresheners. It's a proper UK plug with no additional adapters or faff. A white LED strength indicator is up front along with the WPS button, then there's the ethernet port at the bottom.


Plug it in and, even without reading the enclosed instruction booklet, it's really easy to get going. Just look for the "devolo WiFi Repeater" network, connect to it and then browse to http://devolo.wifi. It'll take you to a very easy to understand web GUI which asks you a few simple questions. First, it'll do a scan of all the WiFi connections it can find.

You then select a 2.4GHz connection and, if you have it, a 5GHz one too. You then supply the password for both and then you need to decide whether you're going to have the exact same WiFi names re-broadcast – or whether you want to give the extended part of your WiFi network a new name. I kept mine the same because all my kit has the passwords and access point details already.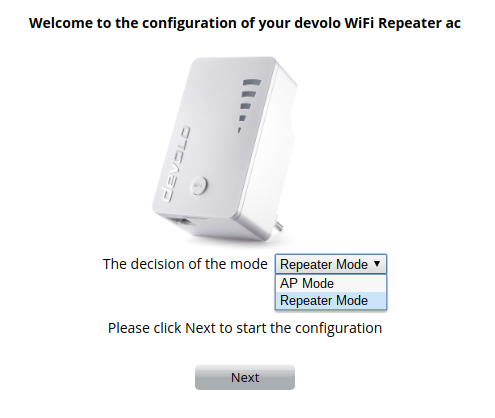 When I was setting this up over WiFi, it didn't seem to want to do both at once and I ended up plugging in an ethernet cable to the bottom of the device. This let me complete the setup without problems.
Interestingly I should point out that there's also an "AP" mode, so effectively you can (if you have a router without WiFi) uplink an internet connection via the ethernet port and broadcast it out, however in this review we used it as a repeater only.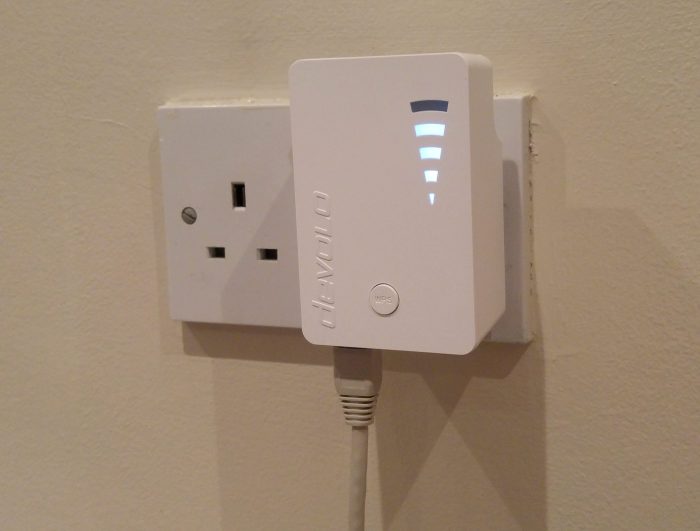 Once done, the indicator lights on the front will illuminate steady white. It'll show the signal strength being received and you're free to unplug and re-plug in the device around the house without it losing the configuration. Devolo tell me that you should have "around" 3 white bars for it to work optimally. Basically you want this to be halfway between your main router and the devices you want to connect to.
Connecting devices to your network is done in the usual way. Don't forget that this gadget is just pulling your existing WiFi connection (or connections if you're using 2.4GHz and 5GHz) and re-broadcasting it. You add devices by simply finding your network name (assuming you didn't change it) and then putting in the same password you setup on your main router. If you need to add via WPS, there's a button on the front for doing that. Should you want to reset the whole unit and start again, you just hold down this button for about 10 seconds.
Overall
This is a device which is small, easy to setup and sits quietly doing its thing without you having to worry. There's no cables, no mess, just a boosted WiFi signal. It'll receive and re-broadcast your 2.4GHz and 5GHz WiFi connections and can even supply an ethernet port where you need it the most.
I spotted it at Tesco Direct but you can also get it from Devolo direct. There's a couple of extra nifty features like the ability to upload new firmware and the chance to disable the front LED's if they're blinding you a bit.
If I was to ask for anything else, I'd perhaps ask for the ability to access the unit over WiFi once you've configured it, but that being said it really is a "fit and forget" device which does what it says on the tin. I can now mow the entire lawn without my phone dropping off the WiFi. For the majority of people – especially considering that the phone socket is always right next to your front door – it means that the other end of your home can atually get a strong signal instead of your devices continually struggling.
Devolo WiFi ac Repeater Review
Design - 91%
Setup - 92%
Performance / result - 93%
Plug in, install in two minutes flat and experience a boosted WiFi without fuss or faff. A low-profile unit that can be moved and tucked away easily.