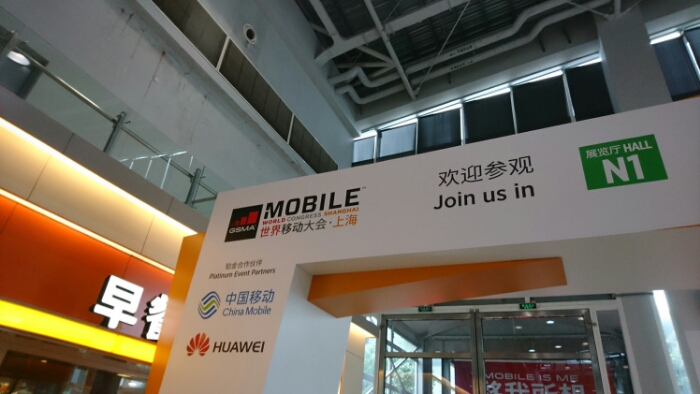 My final bit of coverage from MWC Shanghai is a walk around the show halls.
The venue itself is nearly purpose built for hosting large scale events, of which MWC Shanghai has ambitions to become one of the bigger events that the Shanghai International New Expo Centre (SINEC) host. While we were on site there were a few more trade shows going on. Right next to the MWC halls we had a Digital innovation show and then at the other side of the centre was an Auto Show. I can see that in a few years the MWC Shanghai event will expand beyond the current 4 halls to encompass most of the venue, particularly if the growth of the main MWC event is anything to go by.
Here is a wee video showing the scale of the venue…
Next up we have me on the hunt to find ZTE's booth to go and get hands on with the Axon 7. After a few wrong turns I eventually realised that I was in the wrong hall and made it back to Hall 1.!During my magical mystery tour, I did come across Fords Booth and their floating lady. As you can see from the video there were a lot of network infrastructure vendors here – all talking about 5G – a big focus of MWC Shanghai l. This will no doubt become even bigger at next years event in Barcelona.
Carrying on in Hall 1 I pay a visit to the Huawei booth. There wasn't much. new tech on show, but again there was more info about their networking  kit. After Huawei I slinked onto the SanDisk booth to see the new 256GB memory card that they announced at the show. There were some impressive displays showing how resilient these cards are now becoming. After my brief play with the kit at SanDisk, I whizzed past Nokia who were showing off their OZO 360 Camera and VR creation software.
The final video shows off what was one of the more popular halls – Hall 7. In here I was able to find a massive area dedicated to the HTC Vive VR Headset and all the games that it could play. Past this section, there were some of the smaller China-focused brands including Oppo and Gionee who we really wanted to visit as they were showing off a flip phone. This was nice to see that some companies are still willing to try other form factors and I would really like to see this in the UK.
So that is all I have from my trip to MWC Shanghai. It is a fantastic event and there was some real innovation being shown off. I can see that, with the current growth rate of the Chinese phone industry, this will keep growing until it potentially rivals the main MWC event in Barcelona. It was a pleasure to be able to attend the event and I would love to be able to go back in a years time to see what the next big things are going to be for the world phone market.