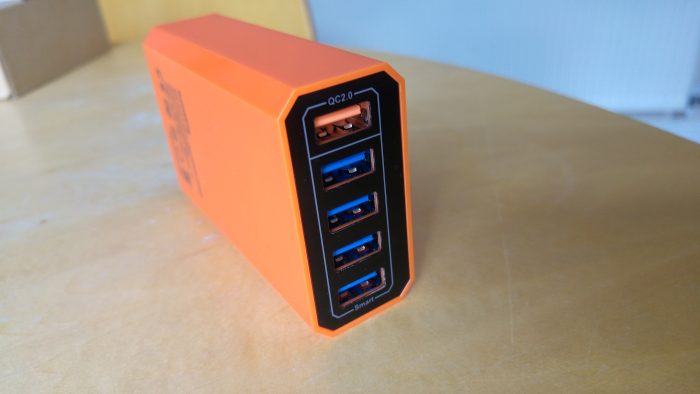 You know the drill by now. Your house is filled with chargers. You've probably got a couple by your bed, one in the kitchen, perhaps one in the lounge and maybe more besides. They're all pumping out power but you've got cables everywhere and you've probably already had a look at gadgets like the multi-port wall charger.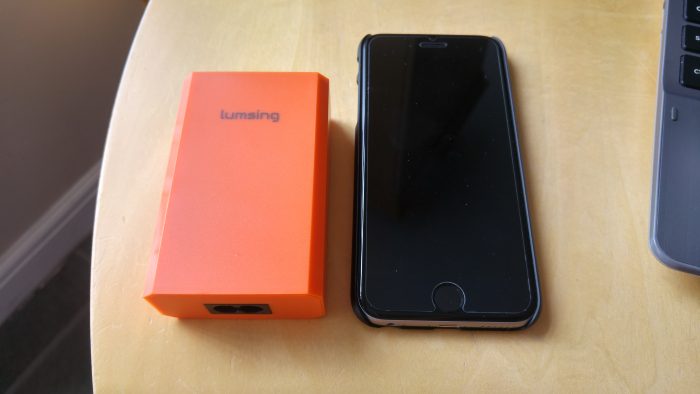 Now we've got another one and, again, it's a Lumsing device. This, for £16.99 on Amazon, is the Quick Charge 2.0 40W Multi-Port USB Desktop Charger. at the top is one Quick Charge 2.0 port and, below, 4 USB ports with "Smart IC" technology. You can get this in the lovely orange you see here, or black, white and blue. Free delivery too.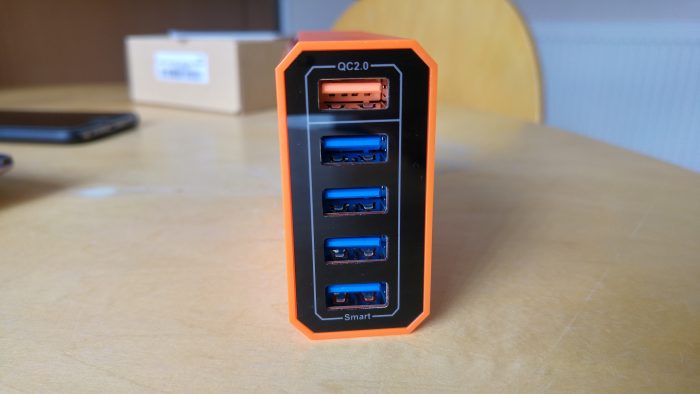 OK. What can I tell you about this. First off, it's small. Second, that special orange-coloured Quick Charging will give compatible phones a seriously quick power boost. According to Lumsing it can charge your devices up to 75% faster. All ports, including this one, have the Lumsing Smart Charging technology means that amperage is adjusted to suit – from 3 amps per port to 8 amps max. It's safe too, with a multi-protection system to stop over-heating.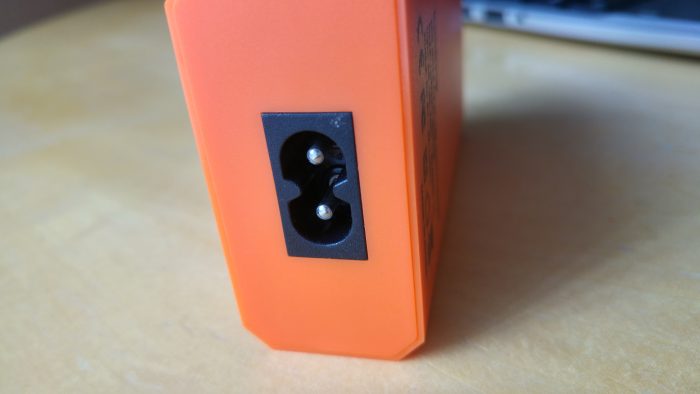 The charger comes with a 1.5 metre power cable which plugs straight into the back. You then just plug in your required cable and off you go. This is a diminutive and powerful charger that'll fast-charge one device and charge four others easily without taking up much space.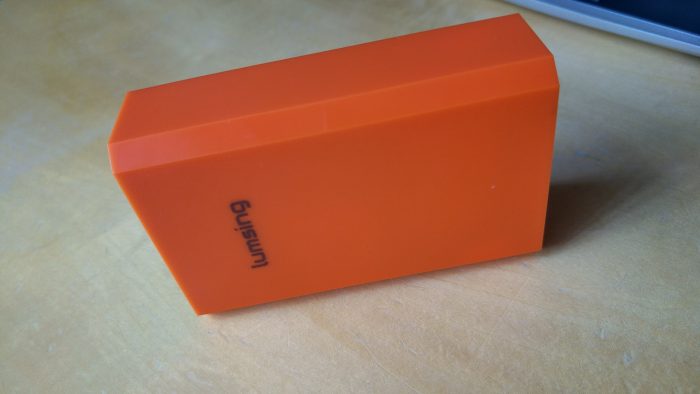 Overall
The polished plastic finish is robust and it's a chunky design but is really tiny, so it doesn't take up a while lot of space. Good this. What more can I say? It'll charge your device and, if you're super-quick, you get a free nylon connecting cable by using the code ETCQVG6R. This will end on June 30th 2016, so you have to get a move on.
The charger is £16.99 and you can have a look at the cable here.
Lumsing 5-Port Desktop Charger Review
Overall - 87%
Small but powerful. this'll charge all your kit easily and safely.