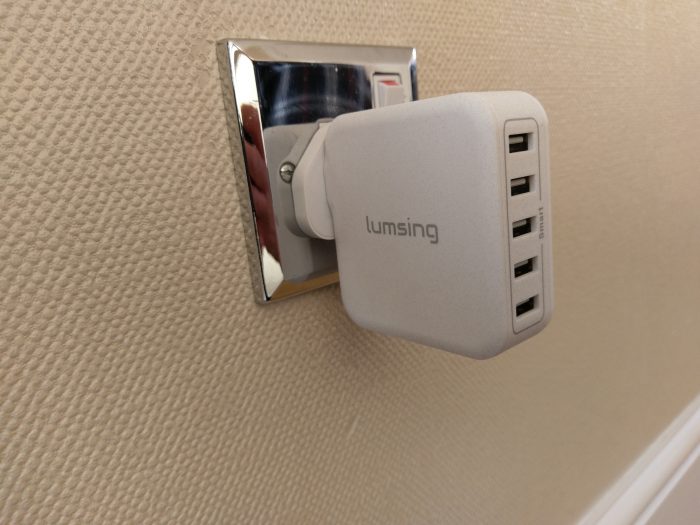 A few years back most people will have perhaps ignored USB ports. They weren't for charging at one point. They were for peripherals – scanners, webcams and more. Sure, we still have mice, keyboards and other kit plugging into USB ports now but – more than ever – we see them as charging points for our smartphones.
Trouble is, we've got chargers everywhere and, when you've got one additional device that you want to plug in, you have to go hunting for a spare charger and then your device will probably end up in a different room.
So, here's the Lumsing 5-port wall charger. At the time of writing it's just £14.99 and you can obviously stick 5 devices into it.
Out of the box it's a soft plastic feel but solid and well made. It's got an interesting textured feel to it which means you won't be dropping it any time soon. There doesn't appear to be any slide-off plug – I've got a fixed UK plug on here and it sticks in the wall exactly as you can see in the image. A bit of me wanted it to be the other way around (turned on 90 degrees) but it chucks out the best amount of power that your device can handle. The maximum output is 8A and you can charge five devices, so that's 40 watts of power in total. This is enough to simultaneously charge all those devices. Great for family use.

It'll charge all your devices at full speed. There's also a protection system which ensures that your devices are charged quickly, but safely too. Oh, and although the device does stick out a bit but there's a heat sink inside which means it's kept cool.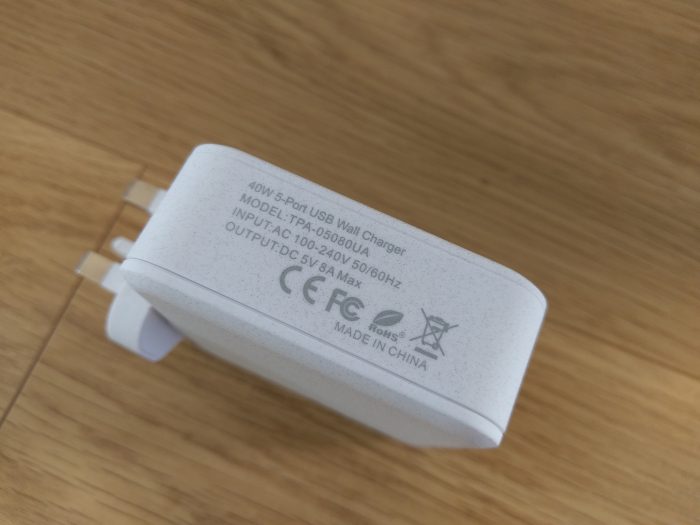 There's a 12 month warranty and measures in at 12.2 x 11.2 x 5.8 cm. Get one from Amazon.co.uk here. It doesn't come with cables, but to be honest it doesn't need to. It charged all my devices from one central point in super-quick fashion. No trickle charge, no fuss. Just what it says on the tin really.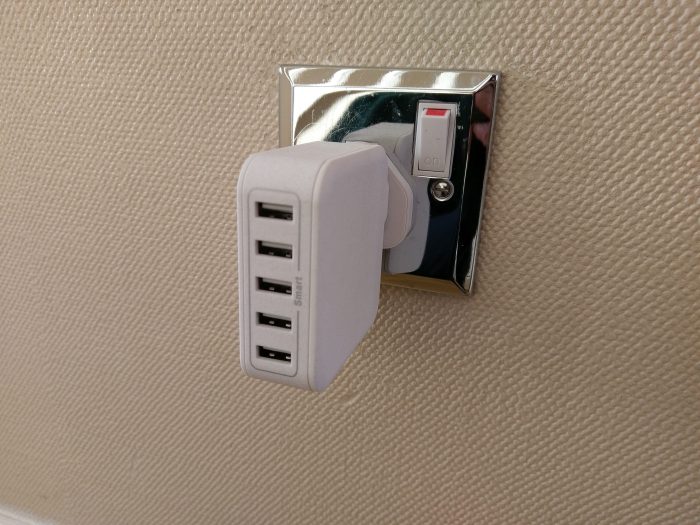 Lumsing 40W 8A 5-Port USB wall charger review
Overall - 94%
Charges devices quickly and safely with PowerIQ amp-adjustment technology to intelligently identify your device.