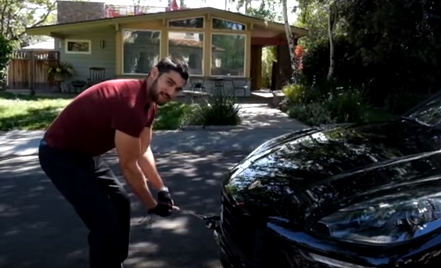 Remember our review of the Titan cable? Well, there's now an Indiegogo campaign for a new Zus Kevlar cable. It's supposed to be all tough and rugged, so some guy figured that the best way to show it off would be to yank his car around with it.
Now, I don't know about you, but I don't tend to pull cables a great deal and I certainly don't plan on towing my car with one. Why is this bloke doing this? Is he trying to show off? Does he want people to know just how strong he is and what nice cars he has?
Anyway, the guys behind this super-strong cable have reached and breached their goal so expect to see this Kevlar reinforced, tangle-reinforced cable with 90 degree plug pretty soon. It's got a lifetime guarantee too.