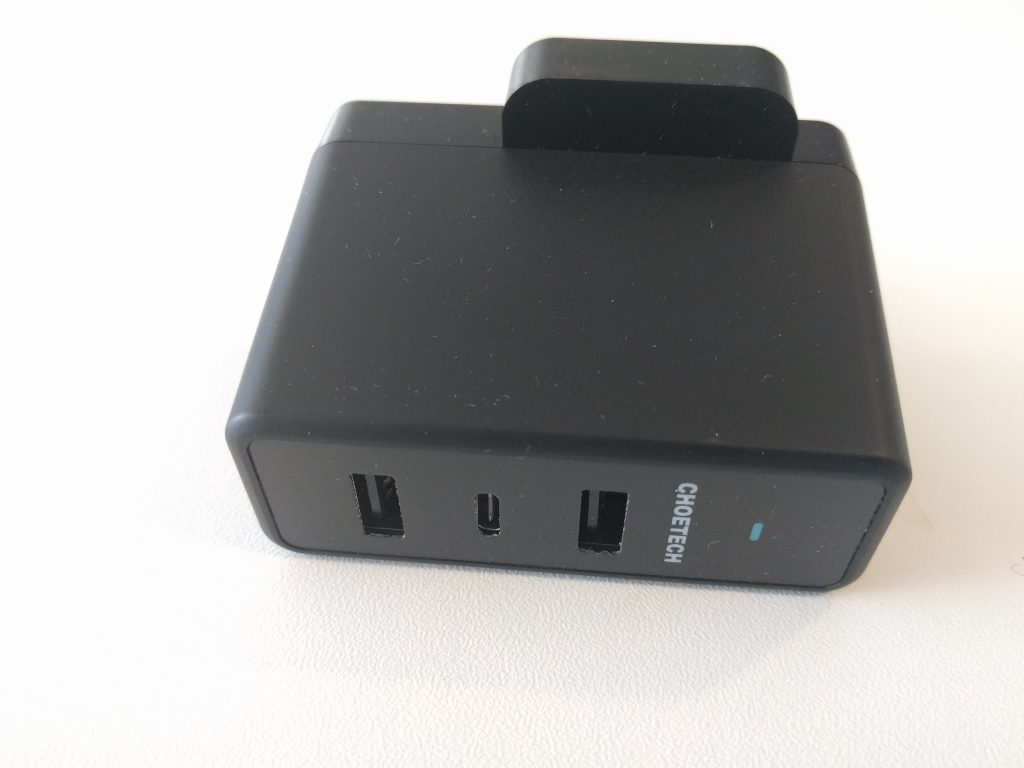 The thing with new types of power standards and connectors is that you soon realise you need more than one charger, because all your old ones don't fit your new phone or tablet. This is exactly the case with the switchover to USB type C socket for me, and that's why I'm now looking at new chargers: enter the Choetech 3 port type C wall charger.
The 3 port charger (model number TC0013) is an interesting beast. It fits the Type C port between two other standard USB sockets – both of them able to output at the higher 5V, 2.4A standard variant. It's a little bigger than your standard plug charger – but that's to be expected, what with the ability to charge up to three devices at the same time. It's especially helpful if you're the type of person who has more than one phone on the go, or maybe you have a set of headphones (like me) or another device.
Thanks to Choetech for making the 3 port charger available for us to review. You can find it on Amazon for £17.99 at the time of this review. Check out the link, or you can search for it under the slightly unwieldy name of USB Type C Charger, 'Choetech 39W 3-Port Wall Charger with USB C Port'. A bit of a mouthful, but it definitely did what it said on the tin.
The charger is well-presented, and definitely well-packaged, with nice little flourishes like the "Thank you for buying Choetech" message on two of the sides of the box. Inside, there's the obligatory warranty docucard as well as instructions for using the 3 port charger. Why you'd need instructions to use a charger, I don't rightly know, but you can bet someone would probably complain if there weren't any.
Once you take out the charger, you're presented with a solid and durable feeling item in your hand. The USB C port is in the middle, sandwiched between two USB A sockets. At the top of the 3 port charger is a blue power indicator LED. The choice of the darker blue means it's a little more restful on the eyes for me in the nighttime when it's plugged in, and it's not so bright as to be distracting in an office environment, where I have this plugged in the majority of the time as my second base charger. In writing this, I deliberately travelled with the 3 port charger, popping cables in and out all the time to save on space in my backpack. It's absolutely sturdy enough to survive the abuse of day-to-day travelling and I had no worries on that score.
It's an unusual scenario that I'll need to use all three sockets on a given day, but I wanted to see if the Choetech charger could handle delivering an acceptable current to all three devices. I plugged in my headset, an iPhone, and my current handset (a Nexus 6P with a case, if anyone cares), ignored the inevitable spaghetti junction of and cables and watched those 39 watts get to work. I shouldn't have been surprised. All three devices charged quickly and none got unusually warm to the touch, and neither did the charger.
One word of warning: remember that not all phones with USB type C sockets follow the USB PD standard, which is the part that allows native fast charging. We know phones like the LG G5 and the HTC 10 both use Qualcomm's Quick Charge standard. As of right now, the two standards are not compatible for quick charging on a single device. They may never be compatible – in fact, I'd say that I'd highly likely to be that way for some time unless a manufacturer wants to pony up licensing costs and extra electronics for two USB type C sockets that each employ their own standard. The good news is that you won't damage your phone if you plug into a USB type C charger that has incompatibility issues, and it will still charge. You just won't get that fast charging option if both phone and charger standards don't line up.
All in all, I'd say it provides a simple solution to the problems of having too many devices and not enough sockets. I can quite easily see this in use for people who have both work and personal phones, or for the majority of people who have a USB type C device but know it's coming soon, or even for those who are in that crossover category where they're just getting onboard with the new standard, yet still have a need to use a MicroUSB socket for other uses, for instance charging up your powerbank before you're off out for the evening.
You can pick up the charger here, for £17.99 and have a look at all Choetech's products here.
Choetech Type C USB charger
build quality - 88%
presentation - 92%
A great device, well-built, and small enough to carry with you or live on your desk for multiple charging options.