The promised upgrade of all Lumia handsets to Windows 10 mobile hasn't quite happened and Microsoft isn't making a big song and dance about newly released handsets either. Things aren't looking too great for the Microsoft mobile OS. However, Windows 10 mobile is available and, when these Kantar market share figures were being put together, we didn't know a great deal of this.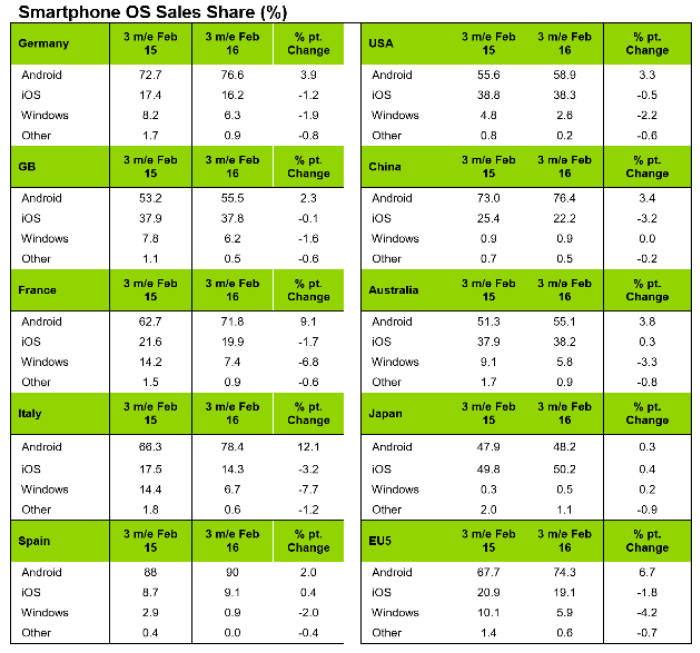 Sadly the figures aren't great. They're pretty terrible in fact. Even in countries where Windows phones have been quite strong. The data shows that the Microsoft mobile OS is down pretty much everywhere.
Here in Europe the OS saw a 7.7% drop in share during the three months to period ending in February. It's fallen from 14.4% to just 6.7%. Over in France it dropped from a 14.2% share to 7.3%, in Spain it's dived from 2.9% to 0.9% and Germany saw it drop by 1.9%.
Recently Microsoft admitted that Windows phones aren't going to be a priority this year, and these market share figures will be a disappointment for even the most ardent fans.
Overall, in the "EU5" region Windows Phone dropped by 4.2% from 10.1%.
Meanwhile in the USA it dropped from 4.8% to 2.2%.
The OS, on mobile phone, is dying off in my opinion, with Microsoft instead producing their mobile experience for other handsets with Microsoft cloud solutions and apps.