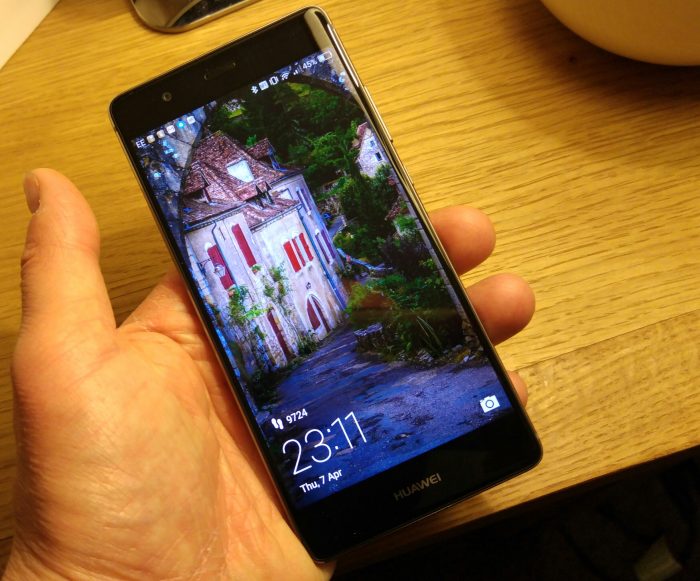 Another day of Huawei P9 coverage and today I wanted to give you a full overview of the handset. My thoughts so far are pretty positive. It's lighter than my G4, but has a rigid aluminium unibody which feels really nice in the hand.
After a bit of use you start to feel the little nuances in the design – such as the way that the screen rounds off into the chassis. The fingerprint sensor on the back offers a natural and quick way to wake the device securely, and the cool metal sides and rear panel can have a different colour to them depending on the lighting. That magical triple-antenna system seems to work too, and it held 4G very well in known low-signal areas today. It also feels like a quality piece of kit.
Here's my video showing you around the phone and how photos are taken..
In the video above I mention how you can adjust the "shallow depth of feel". Here's the shots as I was doing that..
…and here's the final image..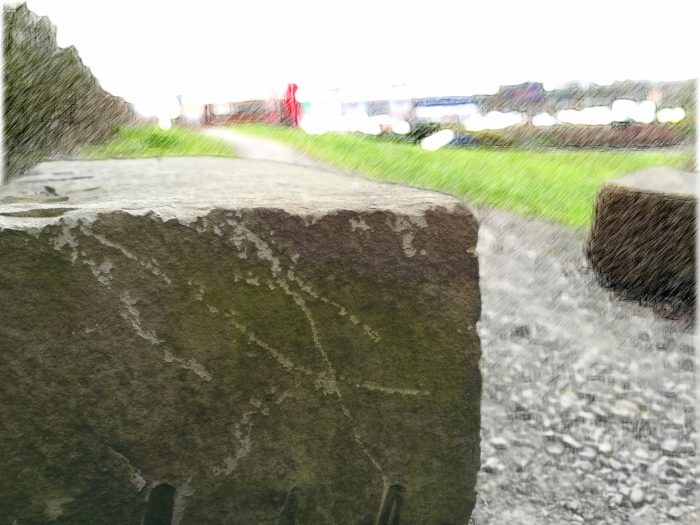 I'm also impressed by the little things that Huawei have worked on. Want to save battery? No problems, you can reduce the screen resolution down from 1080×1920 to 720×1280 easily..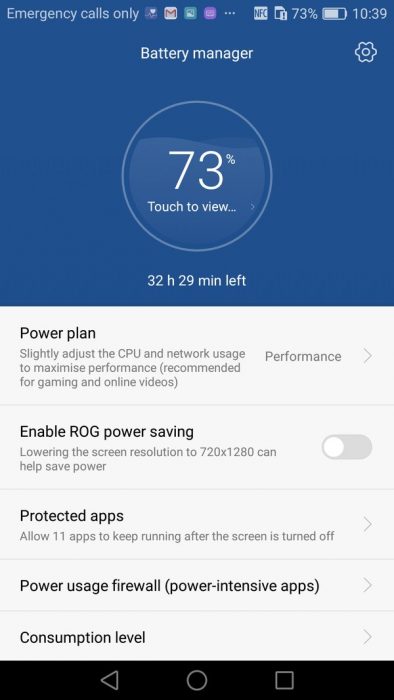 You get instant signal when you put a SIM in (or arrive in a new country and come out of flight mode) and the camera is very quick. I also strangely appreciated the glowing green notification LED which is buried inside the earpiece. It pulses ever so slowly, and it feels like someone at Huawei sat down and thought about that – it doesn't just flash, or pulse quickly, it's a careful, staggered glow. Also, and as I've seen in other Huawei kit, it'll gently remind you about apps that are draining your battery or sucking a lot of data. It'll track any "bloated" apps and will keep your phone running efficiently. The external speaker is good and, as we saw yesterday, the camera produced some excellent images.
I took some more last night, this time using the "Light Painting" setting, I've done this before, but it's worth trying again. 🙂 Here's how it looked after propping it up in the garden and leaving it capturing for 30 minutes.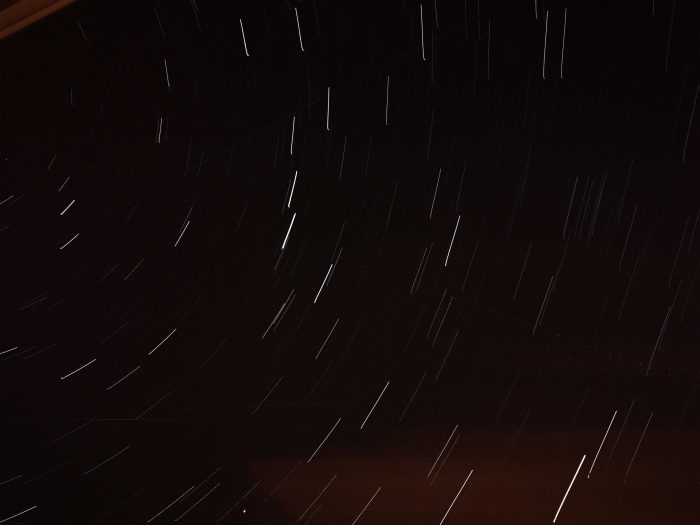 But wait. What about those magic dual lenses, the RGB, the lasers, the black and white, the depth sensors and all the Leica magic? How would that work if I set the camera to be on the "completely normal everyday mode" and took a picture of a completely pitch-black night sky? Well, if there's absolutely no light whatsoever (apart from the stars), you won't actually get much and you will need to switch to that "Night mode". If you do, you'll get something like this.. Good huh? But let's get back to that "normal" mode. No flash, no HDR, no "low light special mode". Here's what happened when I went out onto the street last night and took a couple of photos..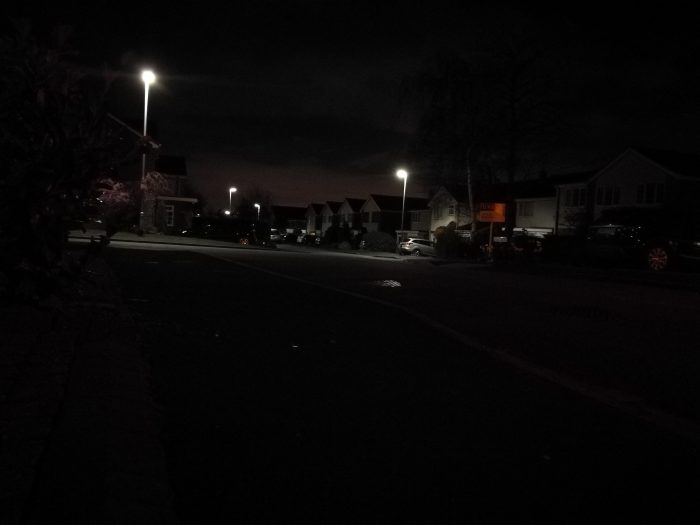 The shot above clearly shows the street lights and the parked cars. It also shows that I've not levelled the shot properly either. Below is a shot into an area without any street lighting..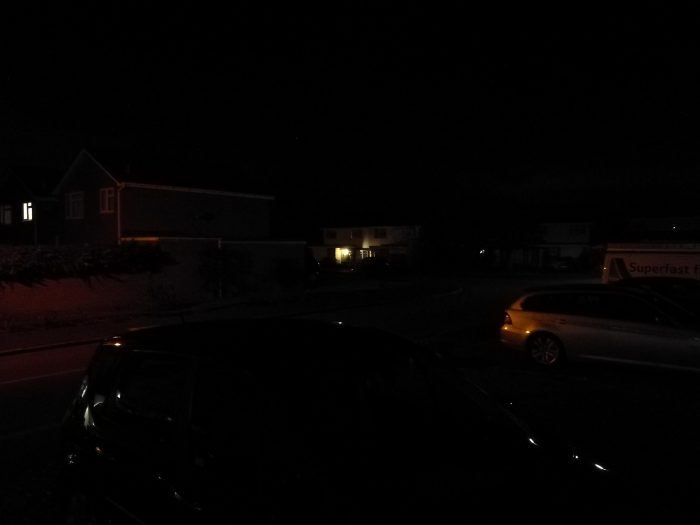 I've also got a shot in more general low-light. One inside with just a lamp on, and one outside with an outside light on…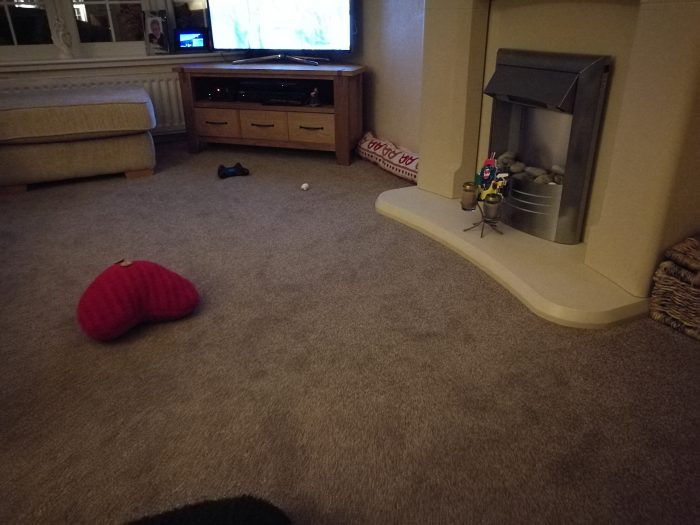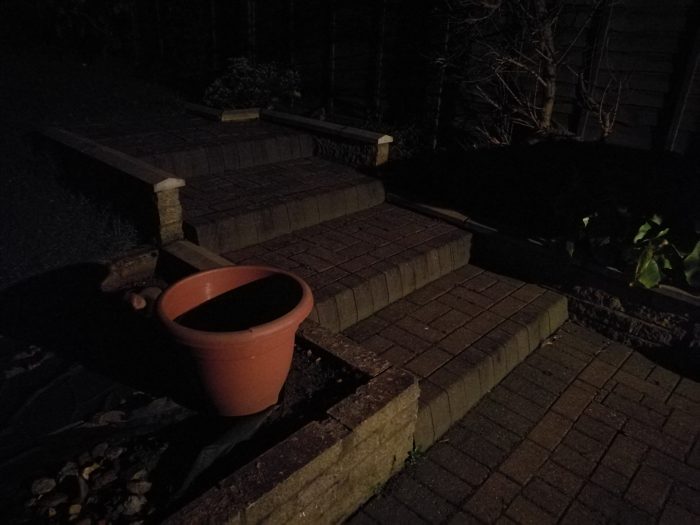 So yes, I can definitely say, this DOES let more light in. It lets a LOT of light in. There's less chance of blur on photos and I actually found that what my eye could see was also what the screen on the Huawei P9 could see. That's really nice, I have to say, and I'm becoming more impressed with this phone the more I use it. It even has a "Huawei Swype" keyboard out of the box which I haven't swapped out for my ultra-favourite Google Keyboard – that's a good sign.
Finally for today, here's a few more shots I took on the P9 which look rather lovely and I just had to include..