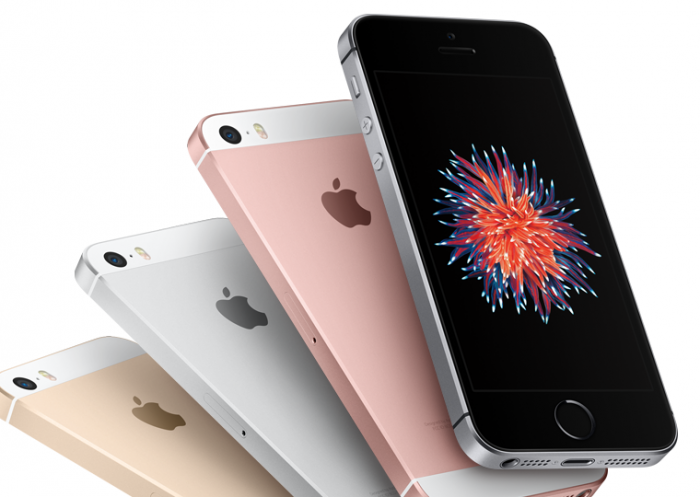 I don't want to sound like an Android fan here, but just imagine how the world would react if a 4″ Android phone appeared tomorrow.
Anyhoo, yesterday the new iPhone SE went on sale. It has a 4″ Retina display (1136 x 640 pixel at 326 ppi), an A9 64-bit CPU and that 12 megapixel "iSight" camera. You can get it in four colours and two capacities – 16GB or 64GB. The selfie cam is a mere 1.2 megapixels, but you get Apple Pay, Touch ID, NFC, WiFi, GPS, 4G, Facetime and Siri.
Buy direct from Apple in rose gold, space grey, silver or gold from £359 for the 16GB model and £439 for the 64GB version. This will get you the device completely unlocked.
You can upgrade and trade in your old device via Apple trade in and get up to £275 towards a new iPhone.
Of course, we've had the various networks and stores banging on our door to try and get you to buy from them…
– Mobiles.co.uk are offering an EE deal with 1GB of data for £27.49 per month. They also have a 3GB Vodafone offering for a mere £26 per month, with a £59.99 upfront cost. These are both 24 month deals for the 16GB version and you can look for more in their iPhone SE section.
– Vodafone themselves are selling the iPhone SE 16GB or 64GB on a Vodafone Red 2GB Bundle for £34 per month (£9 upfront cost) or £40 per month (£9 upfront cost) respectively. This will get you unlimited texts, unlimited minutes and 2GB of data. You can crank it up to a Vodafone Red Value 4GB Bundle and pay £39 per month for the iPhone SE 16GB or £45 per month for the iPhone SE 64GB. There's that £9 upfront cost again, plus unlimited texts and unlimited minutes but 4GB of data. This will also deliver your choice of Sky Sports Mobile TV, Spotify Premium or a NOW TV Entertainment Pass for 6 months. All of the plans include the data test drive.
– Three have give us one of their helpful tables for each handset, so you can see what's right for you..
iPhone SE (16GB)
Monthly Cost
Data
Minutes
Texts
£31.00
1GB
AYCE
AYCE
£34.00
2GB
AYCE
AYCE
£40.00
8GB
AYCE
AYCE
iPhone SE (64GB)
Monthly Cost
Data
Minutes
Texts
£36.00
1GB
AYCE
AYCE
£42.00
4GB
AYCE
AYCE
£48.00
12GB
AYCE
AYCE
The usual Three goodness comes as part of the package – that's 4G at no extra cost and the "Feel at Home" system which gives you the ability to call, text and use data in 18 destinations worldwide without additional charges.
– giffgaff will be selling the phones too. Pay the same as you would in an Apple shop out-right, or pay just £17.81 per month for the 16GB version. Pricing doesn't include the airtime "goodybag" though, which you need to add on. The 64GB version is £21.77 per month. Both deals are based on 24 months with nothing upfront.
– Tesco Mobile will also be offering both models. The 16GB one starts at £26.50 per month and the 64GB is £30 per month. 0% APR for both of these and it seems that these prices are based on a plan delivering 1GB of data with 1000 minutes and 5000 texts. You can crank up the airtime and have 8GB of monthly data with the iPhone SE 16GB for £39.50.
– EE are offering the iPhone SE as the 16GB version with 1GB data, 500 minutes and unlimited texts with double speed 4G and inclusive EU roaming for £29.99 – no upfront cost. The same deal on the 64GB one is £34.99 per month. Both are 2-year deals.
If you don't see your favourite network here, just head to their site where you'll no doubt find deals on the iPhone SE plastered everywhere. Oh, and don't forget that iPhones are beautiful shiny things which are easily breakable, so do look out for some iPhone SE insurance to protect your new device so that you don't end up forking out for a new screen or worse.