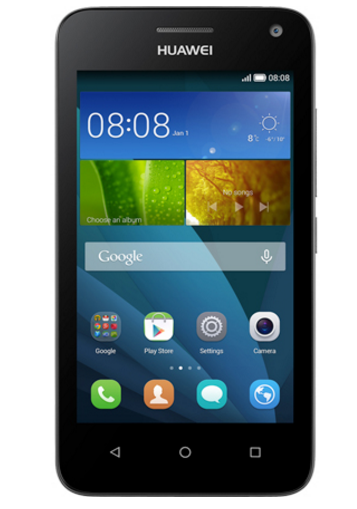 Well, I've trawled the internet and I've not found a "proper" picture of this phone, so we've just got this computer generated one. Suffice to say that it's pretty low-end but it's cheap. Three are now selling the Huawei Y3 for just £9 per month with no upfront cost on a two-year contract.
Don't ask about specs. The highlights are listed as it having "front and rear cameras" with an "easy to use" interface, so you can assume that it's not a high-end handset. The screen is one of those 4″ ones that Apple seem to be going all crazy about 😉 It's a 480×800 LCD unit here though. Powered by Android 4.4 it has a quad-core 1.3GHz A7 CPU with 512MB RAM and 4GB of on-board storage. It doesn't look like there's a microSD card slot.
GPS, WiFi, a rear 5 megapixel camera and a front 2 megapixel camera also feature. It has a 1730mAh battery.
If you don't want a contract, then you can pick this up for £49.99 out-right on Pay As You Go. Here's the other details on price plans…
Available on a 24 month contract with no upfront cost and the option to sign up for 6 months free Deezer
Monthly Cost
Data
Talk minutes
Texts
For who?
£9.00
500MB
100
AYCE
For basic, low users that just like to stay in touch
£12.00
500MB
600
AYCE
Those that talk and text a lot and occasionally check Facebook or emails
£12.00
1GB
300
AYCE
For browsing the internet and checking your email and social media every so often
£21
2GB
AYCE
AYCE
For those that love to chat, stay in touch with friends and their latest Facebook posts
£24.00
4GB
AYCE
AYCE
For those that constantly keep up to date on Facebook, Instagram and social media sites. As well as using internet apps regularly or streaming a bit of Deezer on the go