The white Kingston MobileLite Wireless G3 provides you with a rechargeable 5400 mAh battery in addition to a USB and SD Card storage options. The black Pro version also includes 64GB inbuilt storage and increases the battery to 6,700 mAh.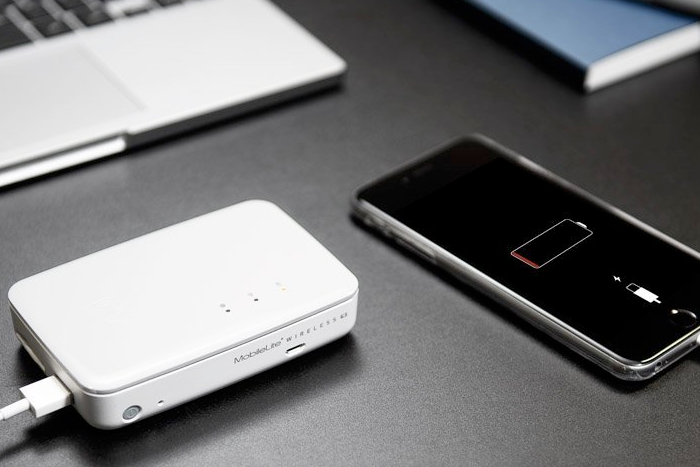 Whilst not the lightest mobile battery I have used, it is far from the heaviest. At 191g, you'd notice it a pocket, but not a bag.
The white plastic form factor is solidly built, but white plastic is so last year.
Within the box you are provided with an SD Card Adaptor, so if you only have micro SD cards available this shouldn't pose a problem. You are also supplied with a Mini USB Cable to charge the device, however you need to supply your own USB Plug or have access to a computer to be able to charge the MobileLite Wireless 3G. It would have been nice to be supplied with a plug. There is also a very brief quick start guide included.
Whilst not unique to the MobileLite in any way, the number of devices that charge via Micro USB only is beginning to become frustrating as an iPhone user. In the past I have needed to carry two cables, one to charge the device and one to charge my iPhone. I have now purchased a multi-functional cable, but there must be a better way. I can imagine this is primarily down to the Apple licence fee for Lighting Adaptor use… but I digress.
The quick start guide doesn't mention any minimum initial charge time so I left it to charge overnight. You can download the Kingston MobileLite Wireless G3 Datasheet.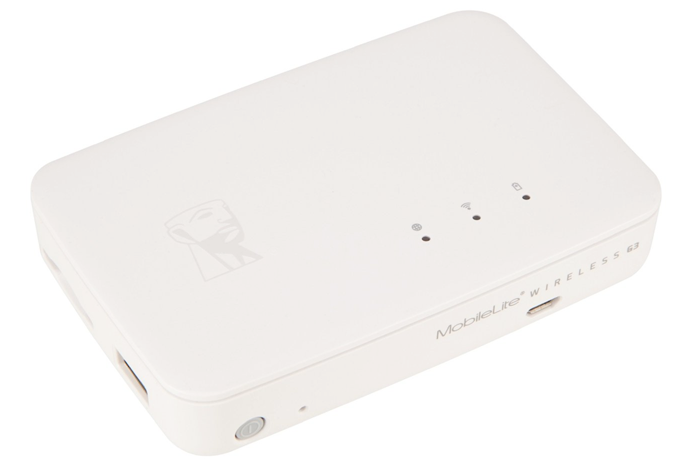 In order to transfer files to the MobileLite, you do need to download the free app for iOS or Android.
Once downloaded and installed, you can power up the MobileLite, then you'll need to head into your device settings to select the Wireless network name – this usually begins with 'MLWG3'. When I did this for the first time, two wireless networks were shown; 'MLWG3-5G-XXX' and 'MLWG3-XXX'. There is no mention in the quick start guide which one to select, so I chose the '5G' option although both seemed to offer the same connection.
The next step is to go back to the app and follow the on-screen instructions. The first step allows you to rename the SSID and select a password. Once this step has been completed the basic setup is complete.
Obviously, you can connect your device directly to the MobieLite Wireless G3 in order to charge it. However, at least on the iOS platform, you have no access to the files and must connect via WiFi.
My household is fully Mac based, and as a result all the memory cards and USB sticks I have are formatted for Mac use. Within the limited instructions, there is no information regarding the file system required and unfortunately you will need to re-format your memory cards and sticks to FAT32 for them to show up and be accessible via the app. If you were using this device longer term, I would suggest sourcing a dedicated SD card.
Using the SD Card option, the memory card is flush within the MobileLite Wireless G3 and as a result you could leave a memory card in place, unlike the USB option.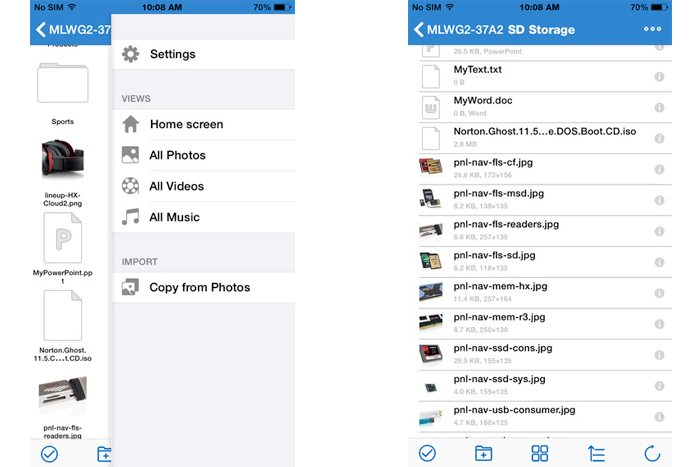 Within the app, you can import files from your camera roll and create a folder structure on your chosen memory format. You can also delete files, rename them and manage the folder structure.
You can view photos and play video files within the same app. However, it would be nice to include an AirPlay option so you could view the files on a larger screen. Currently, unless I've missed something, the only way would be to transfer the file back off the MobileLite to my device and play the file within the default app.
I've managed to charge an iPhone 6 from fully flat to full power with the Kingston MobileLite G3 but with the remaining power, I doubt you'd get another full charge. Charging my iPhone was extremely quick thanks to the 2.0A output provided. I'm never without access to a power plug for longer than 24 hours, so this enables me to use my device for longer periods than previously possible.
For £39.99 (and £79.99 for the Pro version) the Kingston hardware is fantastic and something I would be happy to recommend over and above alternative solutions, especially having the added bonus of access to additional storage. I just hope the app receives some updates to fill in some of the missing gaps.
Kingston MobileLite Wireless G3 Review
Hardware - 95%
Price - 95%
Ease Of Use - 80%
iOS App - 60%