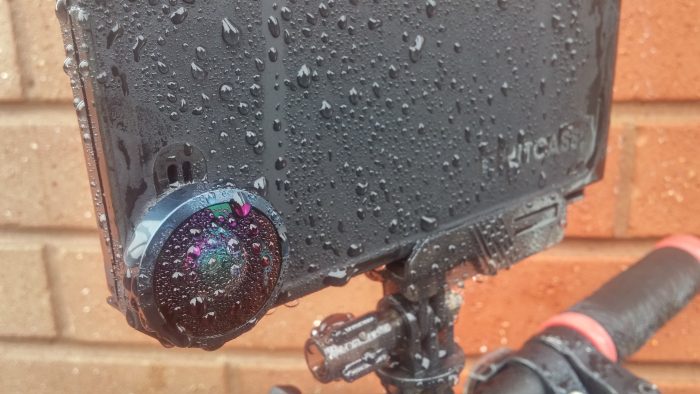 Putting your phone in a case, especially if it's an iPhone, has now become a requirement if you want to keep your handset looking pristine. However, if you want to take it out with you on a bike or perhaps a boat, canoe or speedboat, you're going to need something a bit tougher. Sure, there's a few cases around that'll do this, but how about the Hitcase PRO? It's a 100% waterproof (provided you click it shut and ensure the seals are in tact), shockproof and – important for me – mountable case for the iPhone 6/6s.
You may have seen something strange happen recently. Yes, I have an iPhone 6s. I also have an Android handset but, for the purposes of this review, I'm going to subject the iPhone to some very muddy and very wet mountain bike activity.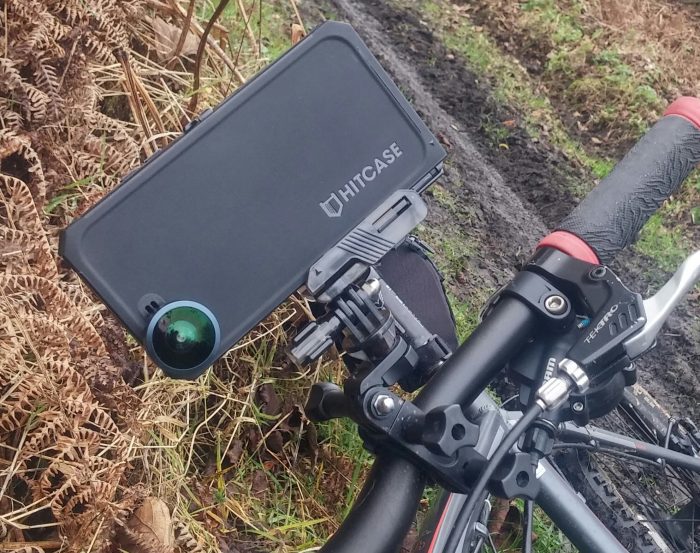 The case, when you get it, arrives in a very professional-looking box and there's a sticker on the back to make you aware of those all-important seals. Once you've popped your iPhone in, it's imperative (and, some would say, obvious) that the case is properly close around and on top of the phone, else you will have water ingress… which is bad.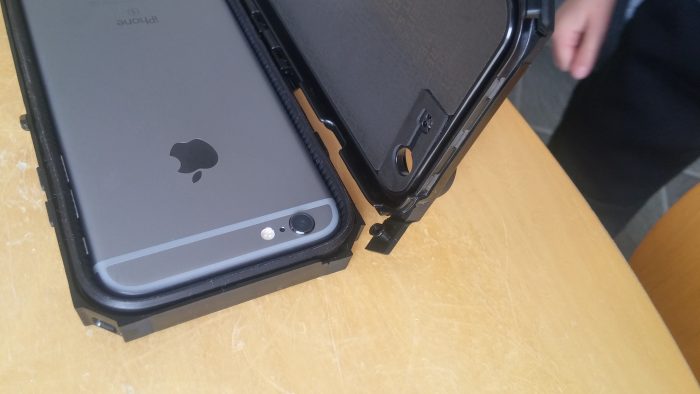 The back of the case, which is a rigid plastic and rubber construction, has a TrueLUX Wide Angle Lens. This will give your off-road / off-grid adventures a professional and speedy appearance. This case, as you'll be able to see on these shots, has a slide bulge on the side. Hitcase call this their "Railslide Mounting System" and it'll let you quickly attach and detach the case to various mounts.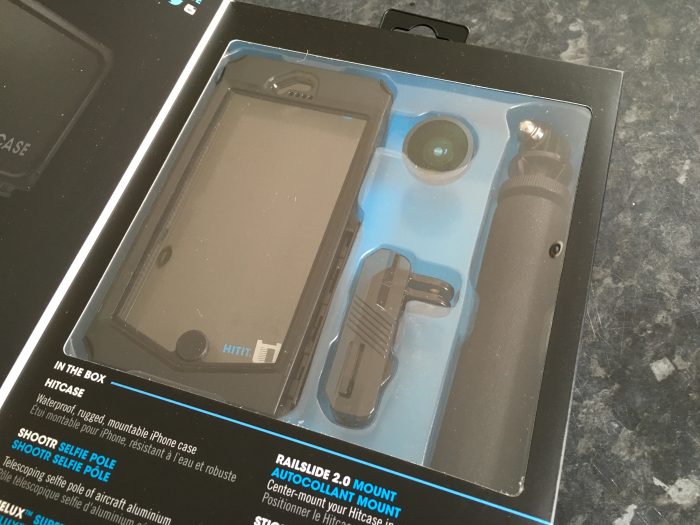 In the box I had an attachment for a bike handlebar and the railslide device does just as you'd expect – it slides on and off the case easily. It holds itself in place and you'll need to pinch it quite firmly to detach it again, so the was no worry of it falling off. There's a lot of different mounts available – a body mount, helmet, car and boat mount plus more besides. There's a tripod, tube, stick, sucker and chest mount.
Here's the case on a seflie stick…
Likewise, the lens – which simply screws into the case – can be swapped too. This is easy enough and chunky enough to screw in, even when wearing gloves. Additional lenses include the TrueLUX Macro Lens for up-close stuff and the flat lens.
The buttons, once you insert your iPhone, correspond to buttons on the case itself and there's a rubber button in place of the TouchID button. No fingerprint recognition once it's in there, then.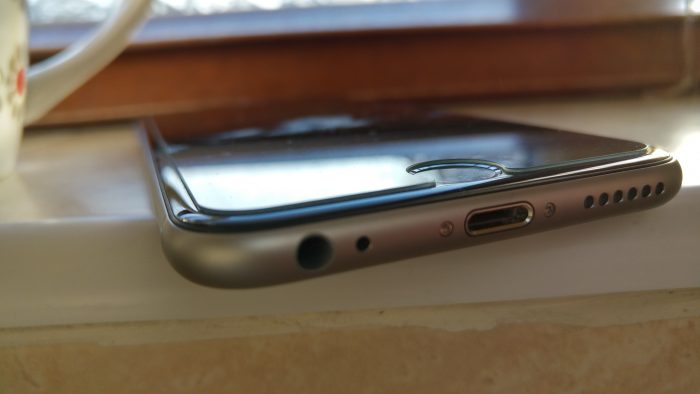 First up though, I had a bit of a problem. My iPhone is fitted with a screen protector, and this seemed to make the iPhone 6s slightly thicker than the Hitcase was expecting. I placed it in the snug and patented Shockseal system, which wraps around the edge of the handset and protects it against knocks and bumps. This, along with the case and the "TrueTouch" screen up front, means that the phone is waterproof up to 10 metres. As you close the case you'll notice that a cushioned back comes up to meet the back of the phone to hold it in place and again offer protection against drops.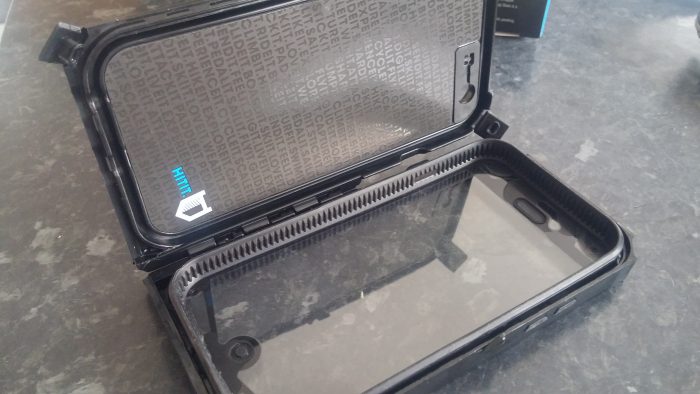 The screen itself is thinner than on earlier models and, due to the accuracy of the case and the snugness of the inner seals, is in exactly the right place. There's no element of movement and the front screen doesn't have any bubbling or ruffled sections. Up top, a clever see-through earpiece section allows you to hear calls. This has what Hitcase calls a "ShockWave audio seal", which apparently gives greater clarity and improved sound for both calling and recording video. It definitely sounded very clear and decidedly less muffled than other tough cases I've tested.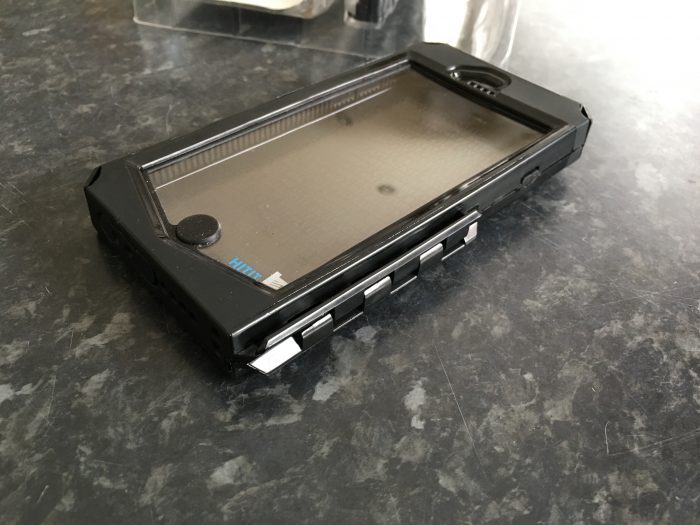 However, I was having trouble closing the thing. Around the edge there's clips which have a reassuring "click" noise when they meet, but it was like trying to get the lid back onto a tin of paint. When I pressed down on one side, the other side popped open. After a while I resorted to putting the case on a chair and pushing down on all the edges at once. This resulted in the "clicking" but then one side would just pop off, all by itself. It seems, in a way, Hitcase have been a little too accurate with their measurements, and the ever-so-slight additional thickness of the screen protector was too much. To test the theory I tried it with another iPhone – sans screen protector. It fitted in without issues, and indeed the owner of that iPhone was impressed with the rigidity and strength of the case. It has (although I didn't want to try it) been tested with 6 foot drops.
At the bottom of the case are four holes for the external speaker. These holes might be.. err.. holes, but they still mean that the case is waterproof. Also, next to that, you'll find a rubber seal for closing the lightning port. You also get to access the 3.5mm audio port, but don't forget to close these tightly if you go out in the rain.
Three additional corner clips will help to ensure that all the seals are pulled tightly shut. This means you can do this…
Overall
There's a range of mounting options for this case and, whilst it's rough and tough on the outside, it's a smooth, snug and safe home on the inside. It's because of this that the camera and screen is placed accurately within the case. Pictures and video, when taken through the lens, look really good and there's a definite sense of speed and excitement in the action footage, which I liked.
The only issue I had was the screen protector causing the case not to close properly. If you've got a thick protector like me, then you'll simply find that the case won't remain close and will pop open of its own accord. Also, the front screen on this case, when combined with my screen protector, resulted in very little finger control being passed to the iPhone itself. All the video footage you see above is filmed on another iPhone which didn't have a protector because I couldn't activate the camera on mine.
However, saying that, I did throw quite a bit at this, taking it on a very muddy and very wet ride on a mountain bike. Attached to my handlebars, it held perfectly and the phone remained in-tact.. and dry. I wasn't concerned with the bouncing and knocks, because that clever
As I write, the Hitcase PRO is available for $99. That's quite a bit of money, I must say. Even with the flashy lens. They will ship internationally or you can get it here in the UK for around £70. It's quite highly priced. You can also get the Hitcase PRO+ for $149.99, which includes an additional lens and more accessories.