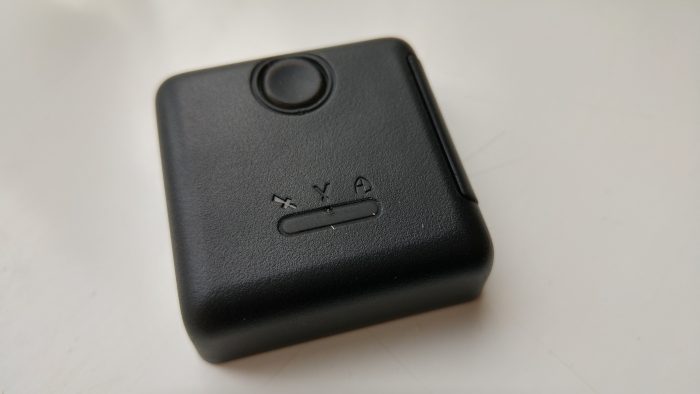 I mentioned this rather handy gadget back in December last year. Vodafone, like a few other networks, are offering up some rather clever connected gadgets now and this, the findxone, is one of them. In effect it's a little box that you can hang onto something or put into something and it'll feed the current GPS location to you via a Vodafone SIM card inside. It's also pretty tiny.
The box, which is 40x40x14mm, weighs just 25g. Inside there's a bit of circuitry, that SIM card and a battery. This, of course, is key to a gadget such as this. This isn't just one of those trackers that records locations for checking later – it'll send you the location live via an accompanying app.
Vodafone tell me that battery life "is linked to how often the device reports its position", so if you're hammering away on that "locate" button on your smartphone app, expect a the findxone tracker to go flatter quicker. If you only try to locate your device a couple of times a day, the battery can last up to 7 days. There's more details on that battery life in a moment, because you can be clever and make it last longer.

First up, take it out of the box and charge it for four hours. The instructions are very simple, and the card inside has just four pictures telling you what to do. Charge it up, turn it on, then download the findxone app, which is only available for Android currently.
When you get into the app you'll need to enter your Vodafone xone credentials, then the last few digits of the IMEI and the full product number. This is printed on a small sticker on the back of the unit, and due to the diminutive size of the gadget it's a bit small, but you'll only need to do this once. You just need to give the findxone tracker a name and, if you want, a description.
That, I have to confess, is pretty much all you need to do. The app will then start the registration process of the SIM and the findxone tracker. For me, it then confirmed connectivity by stating that the gadget was charging. Now, back to that battery life question from earlier. With this particular tracker, you can either "pull" the location with the app (that'll send out a request and show the position on your app) or you can have the device "push" the location and create a constant track. This latter option will hammer the battery. Don't forget, this isn't like a car tracker – you're not plugged into a car battery which is being constantly charged by an engine. You have to be frugal.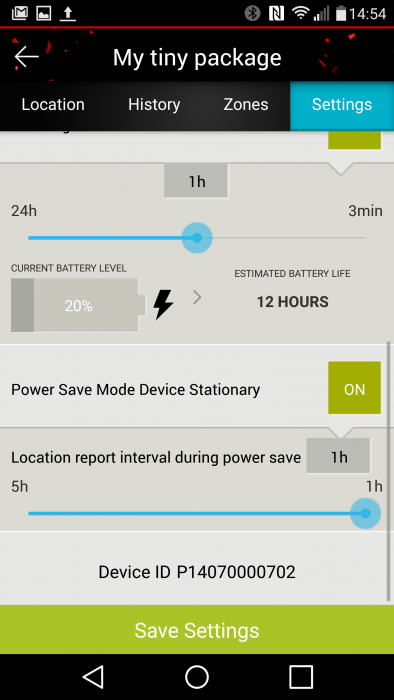 So, if you head into the app and select your tracker you'll notice lots of options. You can see the location of the tracker, plot out a route (with the aid of Google Maps) to it, see the location history or setup a safety zone.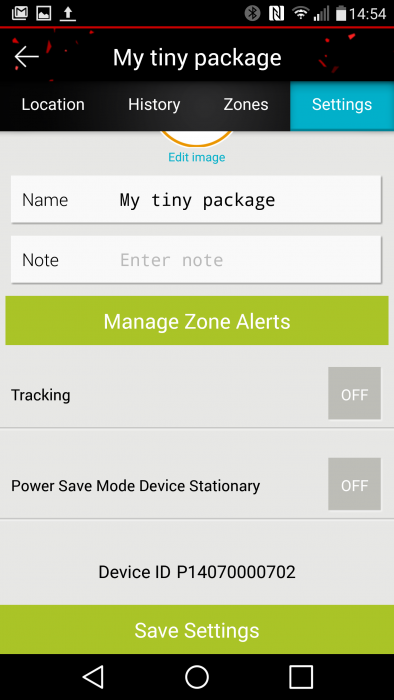 More on that in a little while though, because under "Settings" you're able to turn tracking on or off. When you flick that to "on" it'll let you adjust the frequency of the tracking and how that'll impact the battery life. As you'll see in the screenshots here, I was doing this when the device was still charging – so these figures are based on a 20% battery. What I can tell you is that, if the battery starts off full, and you have 5 minute updates sent from the findxone, you'll get 8 hours of updates before the device gives up. Set that to hourly updates and it'll last for two days. Two hour intervals will keep it running for 3 days, 12 hour intervals will see the battery last 5 days and so on.
To add to the battery efficiency, there's also an option which will slow down those tracking updates if the device isn't moving.
The zones feature is pretty cool, and – like the rest of the app – very easy to use. You draw out an area on Google Maps and you can then set alarms which will fire if the device enters or exits that area. As an example, if you so wished, you could plug this device into a car charger (it uses a standard microUSB charging point behind a rubber flap) and keep it in your wife's car. Then, if you were working away, you'd know when she was home safe. Good for new drivers too, so if you want to see if your son or daughter got to work safely, it can do that too. Also, do to the size of this tracker, you could put it in a bag or coat and track a loved one if they're walking or cycling anywhere. No need to "text me when you get there", you'll know instantly. Five different zones can be set and you can have differing alerts for each one.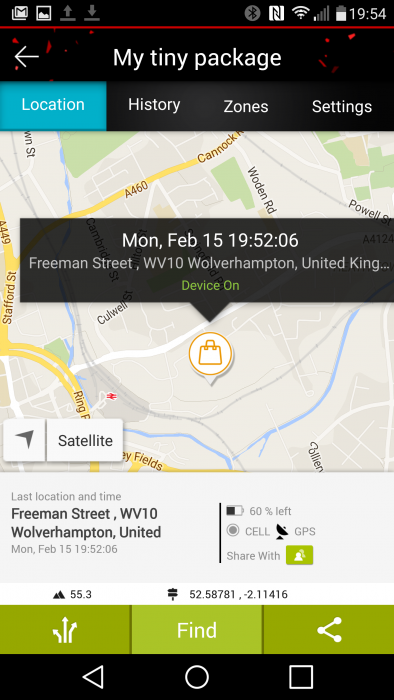 Other tabs within the app show the historical location for the tracker, whether the position was reported by GPS or cell (it can triangulate from cell towers if GPS isn't available, but this isn't as accurate). Another tab will show the last known location and the altitude, plus you can share the location with other trusted Vodafone xone accounts or via social media.
The app will let you add multiple devices and, if you put this in a bag with a portable charger, it'll extend the usage time dramatically.
Video overview
To test things out, I had a bit of a think. To start with, I plugged it into the car charger, but then I was just tracking … myself. So I decided to post it to myself. Here's how it all started…
So, I headed to a Post Office in Stoke and paid about 95p to post it to myself. It's such a tiny little thing that it'll fit into an envelope easily..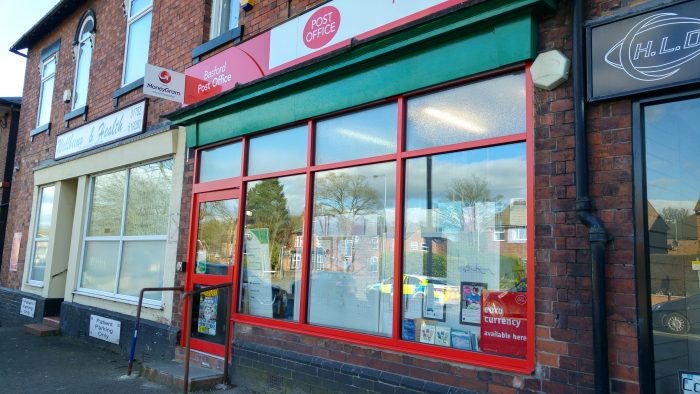 After leaving the Post Office, I checked that I could still "see" it. Despite the building surrounding it, the position was reported accurately. Later on, i went into the app and had a look at the last 30 positions of the device. These are 30 minute intervals, and you can see it getting picked up by a van, driven around Stoke (presumably to other post boxes and post offices), before heading down the motorway..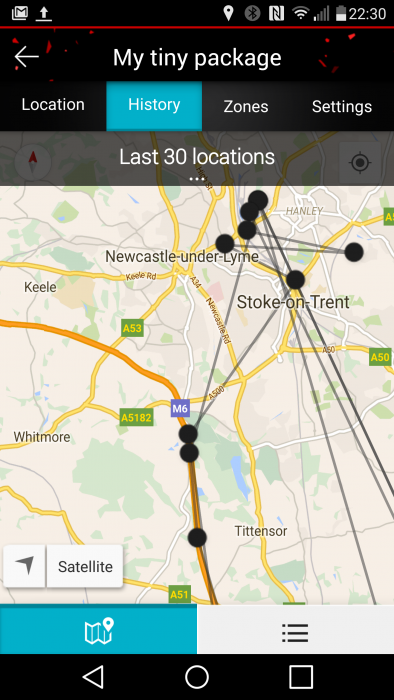 The 30 minute updates will deplete the battery in one day. As of 11PM last night – some nine hours after I unplugged it – the battery reported itself as 60% remaining.
I know it sounds a bit weird, but on the images below you can even see the package moving around inside the sortation centre in Wolverhampton – where the package spent the evening. It was easy enough for me to share the location or fire it up in Google Maps and get a Street View as you'll see below..
The only thing I did find with the app is that sometimes, early in the morning, it would just not connect to the Vodafone xone back-end, and I would just have this message flash up before it exited out…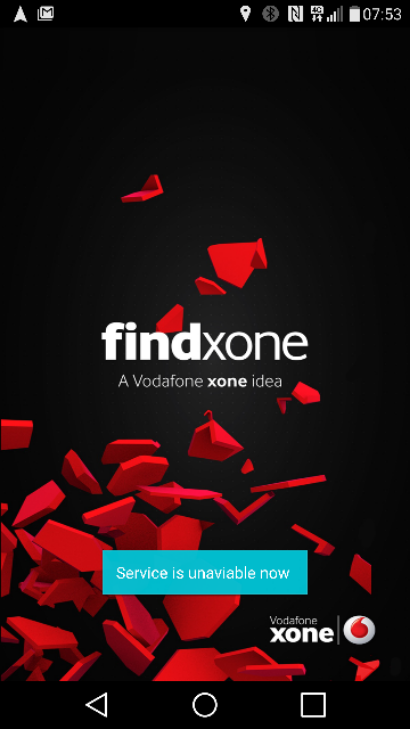 Overall
There were times, not too long ago, when gadgets like this would've cost quite a bit. However, this dainty little thing is just £15 to buy with a £2 monthly subscription. That's not a lot if you've got an important package, bag, person or device that you want to follow. There's quite a few applications here and – whether you want to see if your boyfriend is cheating, or if you want to have a bit of fun and check that he really is "stuck at work" (and not in the pub), it can do all that and more. I liked just how easily and quickly it can be setup, and it was really accurate too. The app worked flawlessly and I liked the integration with Google Maps, which meant that you could quickly navigate to the tracker in seconds.
Attach it to the collar of your dog, stick it in your wife's car if she's going somewhere and you think she might get lost (then it'll become really easy to see where she is and help over the phone), pop it in your son or daughters school bag if they're heading somewhere unknown after school. Put it in your handbag so that you can locate it if it gets pinched or simply leave it your hotel room / caravan / tent or car if you're heading out for a walk and don't want to get lost.
For more information, head to the Vodafone xone product page.
Vodafone xone tracker review
App - 9.7
Hardware - 9.7
9.7
Sets up in minutes. Cheap to buy and run with a tough construction and endless applications. It's easy-to-understand and feature rich.