The first Linx tablets shook up the market place when they were first released, they were available in 3 screen sizes, offering good Windows performance at a very reasonable price, they were also easily upgradable to Windows 10. Consumers no longer had to spend a fortune on Windows devices, and they found success in the market place. Now the second generation of Linx tablet have been released, so I'm taking a look at the Linx 1010 Leather Edition which is available from Sainsburys for approx £130.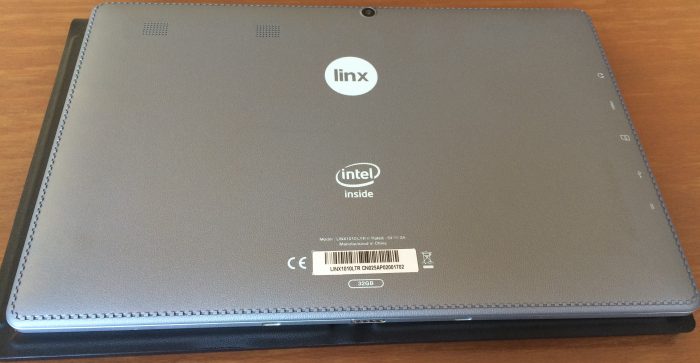 The Linx 1010 Leather Edition Specification
The Linx 1010 Leather Edition comes with respectable specs packing a 10.1″ IPS screen, an Intel Atom CPU Z3735F running at 1.33 Ghz paired with 2GB of RAM and a 32GB hard Disk, additional storage is possible through a microSD card slot.
Connectivity is provided through micro-USB and Mini-HDMI connections along with WiFi and Bluetooth 4.0.
The screen is reasonable although not exceptional running at a resolution of 1280 x 800 with a density of 149 pixels-per-inch, which is fine for general use but will look dull next to high end tablet screens.
The Leather Edition tag comes from the inclusion of a faux level back to the tablet which adds a stylish touch, and don't forget Window 10 is included as standard.
The Linx 1010 Model Confusion
For those with keen eyes may have noticed something strange with the specs above.  When advertised you may have seen that the Linx 1010 has 2 full size USB ports but the Leather Edition comes with a micro-USB port and an OTG adapter, somewhat odd???


The Linx Keyboard Confusion 
Added to the USB port confusion, I ordered the excellent official Linx 1010 keyboard to turn the slate into a fully functional laptop. However the official 1010 keyboard doesn't work with the 1010 Leather Edition, the connection port is in the wrong position and the wrong size, which is very frustrating.
After a quick chat with with official Linx Support guys the problem becomes apparent, the Linx 1010 Leather Edition uses the same chassis as the original Linx 10, not the updated form factor found on other 1010 models – yes this is confusing.
So which keyboard does work with the Linx 1010 Leather Edition? It's actually the original Linx Origami Keyboard which sells for a lot of money on Ebay and generally has poor reviews.
Instead I've opted for the Novatech Universal Bluetooth keyboard with touch pad which I have say works very well indeed.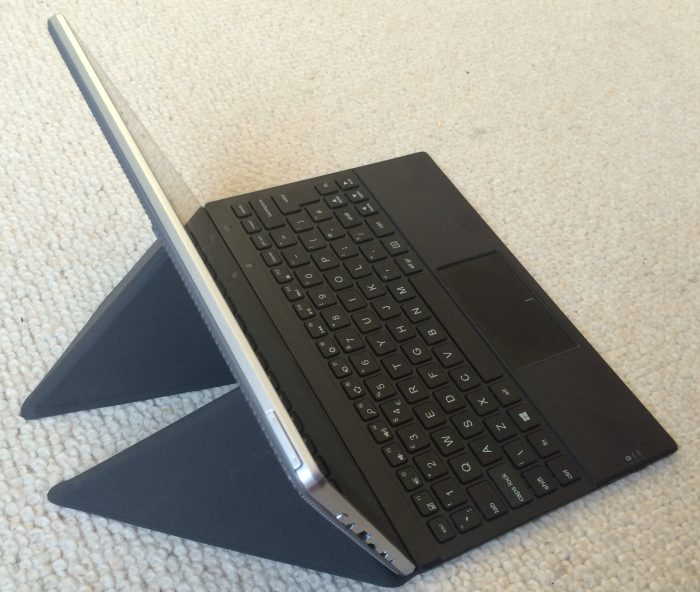 Performance of the Linx 1010 Leather Edition 
I know what you are thinking, how good can a £130 Tablet possible be?
Well in reality it's pretty good, yes this isn't a high end desktop Ninja gaming device, but although I've been relatively sensible in what I've asked it to do, it's performed everything I've asked it to do very well indeed, even PS2 emulation, and with a battery life to match my iPad Air's this is a productivity dream.
With the Novatech keyboard this is a true laptop replacement device.
So why a Windows 10 Tablet
Regular readers and Podcast listeners will be aware that I'm an iOS man (dare I say 'fan boy') so why would I look to a Windows 10 device?
It is true that the overall experience is significantly greater on iOS in comparison but Apple simply don't allow some types of functionality, and this is why the Apple and Window devices compliment each other nicely. The iOS app quality is excellent, and for Social Media, Email, Video Editing and casual apps the iPad cannot be beaten.
However the Linx 1010 comes with a full blown operating system, so can do just about anything, a fully functioning web browser is just the start, already on my Linx I've installed full Office, a PS4 remote play client, a PS2 emulator, and all my podcasting recording and editing tools, all of which work very well especially when coupled with the Novatech keyboard. Just try to get an XBOX 360 controller working on a iPad…well it's plug and play here.
Flexibility is the key here, it's definitely the stong point of Windows.
The Linx 1010 Camera
The main camera on a tablet generally isn't as important as on a phone but to some people it's a key factor, and the Linx's 2 mp camera is definitely at the lower end of the spectrum, as the gallery below shows the images are noisy even in good light quality.
The Linx 1010 also has a front facing cameras or video chat and again serves a purpose rather than excelling but at the end of the day this is a £130 pound Windows tablet which does well in other areas, at this price it can't excel at everything.
 The Linx 1010 Leather Edition Summary
It's such a shame that there is a problem with an inconsistency of the model numbering across the range as this will cause confusion for the general public, but the Linx 1010 Leather Editon is a great value for money, stylish well performing device. Mobile App quality is still lagging behind the iPad but the additional flexibility that full blown Windows 10 brings is a massive bonus.
Anyone looking for an alternative to the iPad's mandated limits would do well to check out the Linx range, this is a solid device with no boundaries.
Linx1010 Leather Edition
Battery Life - 85%
Screen - 70%
Performance - 80%
Style - 83%
Value for Money - 92%
A great value for money laptop replacement