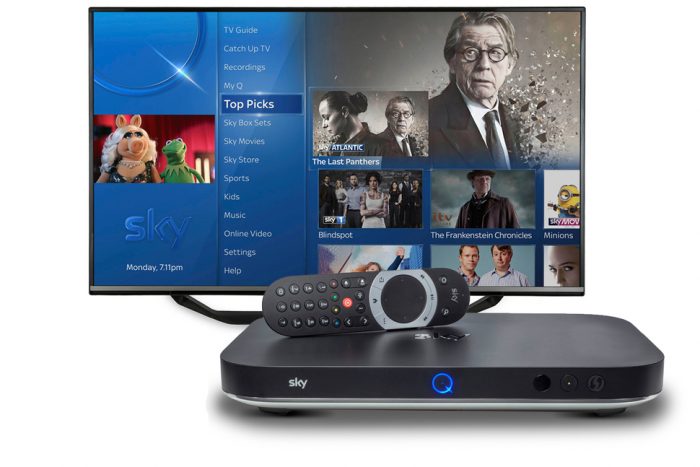 Last November Sky took the wraps off its new TV platform and box – the evocatively named 'Q'.  The main selling point, aside from the new 4k-ready box with increased storage, was the way in which content could be streamed to a variety of devices, including the ability to connect a second box without the need for wires everywhere.  The other useful addition, related to this, was the means to view saved/downloaded content on these other devices/boxes.  All this sounded great of course but Sky was notably quiet in one respect – pricing.  Two months on Sky have now revealed details.
There are two new boxes to choose from:
Sky Q box: This is the basic set-top box, which sits in your main viewing room and connects to the internet wirelessly or via Ethernet. It comes with 1TB of storage (though only 700GB is for customer use) and lets you record three channels simultaneously while watching another. It will support streaming to one Sky Q Mini box and one tablet in the house.
Sky Q Silver box: This does everything the standard box does, but includes 2TB of storage (1.7GB for use), allows you to watch three channels while watching a fourth, and supports simultaneous viewing on two Sky Q Mini boxes and two tablets. It will also support ultra HD viewing when this is launched by Sky later in the year.
The Silver package also includes:
Sky Q Mini box: This is a smaller box that sits in other rooms of your home, enabling the streaming of content from the main Sky Q box elsewhere in the house. It connects to the network via Wi-Fi or Ethernet. One Mini box is included in the Sky Q Silver bundle, or you can buy them separately.
The basic bundle costs £42 per month, and includes 300+ channels (of which 50+ are in HD), on demand content and Sky Go Extra.  This equates to ALL Sky channels on the various bundles currently available, excluding sport and movies. This bundle comes with either set-top box, pricing below.
The Silver bundle costs £54 per month, which includes the same content, but includes the Silver Q box and Q Mini box.
The boxes are an additional cost, as is installation:
Bundle
Devices received
For those with Sky broadband, Sky Sports or Sky Movies on top
For those without Sky broadband, Sky Sports or Sky Movies on top
Sky Q bundle (£42/mth)
Sky Q Box
£99
£249
Sky Q Silver box
£149
£299
Sky Q Silver bundle (£54/mth)
Sky Q Silver box + 1 Sky Q Mini box
£99 (1)
£299 (1)
Existing Sky TV customers also pay a £50 installation charge. (1) Existing customers who currently pay for HD or Multiscreen who take the Sky Q Silver bundle pay the lower £99 price regardless of whether they take Sky broadband, Sky Sports or Sky Movies; they get no discount on the Sky Q bundle.
Of course, you'll need to pay telephone line rental and broadband on top, so it certainly isn't cheap.  Do our readers think it is worth the additional cost to be able to view content anywhere?
Sky Q will go on sale on Tuesday 9 February.  Further details are here.