Whether it be Android or Apple, I absolutely love TinyScanner.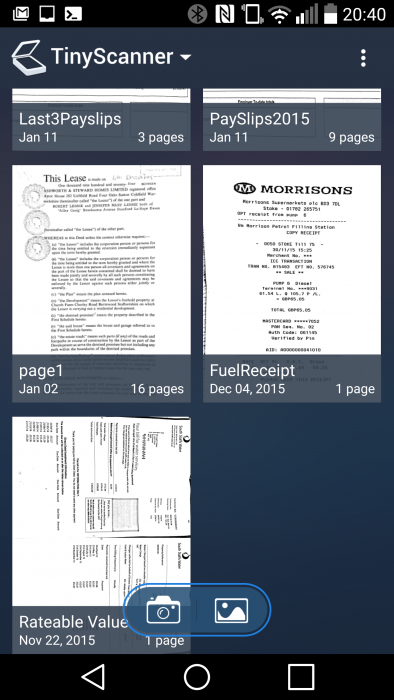 I've used it before, but lately I've had to send a load of paperwork to a solicitor (for very boring house-related reasons) and, well, it's a right old pain in the backside.
"You can fax them across", says the solicitor. Yeah. OK. Do I live in 1997? No. No I do not.
"You can also photocopy them and post them to us or scan them and email my completely random and slightly unprofessional Yahoo! email account if your want?"
Trouble is that I, like may others, bought a printer and never refilled the ink. I'm one of those people who take the cartridges out, give them a "special shake" and then stick them back in so that they'll hopefully give me a few more prints. Sadly, I couldn't photocopy or scan the documents and the local shop wanted 20p per sheet for me to use his well-used photocopier.
This app, let me tell you, is great. I'm not going to go into all the details about it because yes, it will let you do lots of very clever things like rotating the image, sharing it, sorting images and much more besides. No. What I'll tell you is that it will load up and you can then just take a picture of the document / receipt or invoice in question on your phone. Then, by pressing a button, it converts the image into a proper scan. You can adjust the edges and frame it precisely and you can even create a multi-page PDF in minutes.
So, I grabbed all the original house documents, put them in the kitchen under some good lights and snapped each page in turn. In less than 20 minutes I'd created a PDF and emailed it off to the Yahoo! address.
I love apps like this. Apps that are genuinely helpful, useful and NOT full of crud ad-ware / intrusive pop-ups and nagging bobbins. It just does what it says it does, quickly and without fuss.
If you need to keep a record of receipts for claims, or you need to digitize drawings, doodles, ideas and perhaps even something from a book or white-board, grab this and turn it into a JPG or PDF.