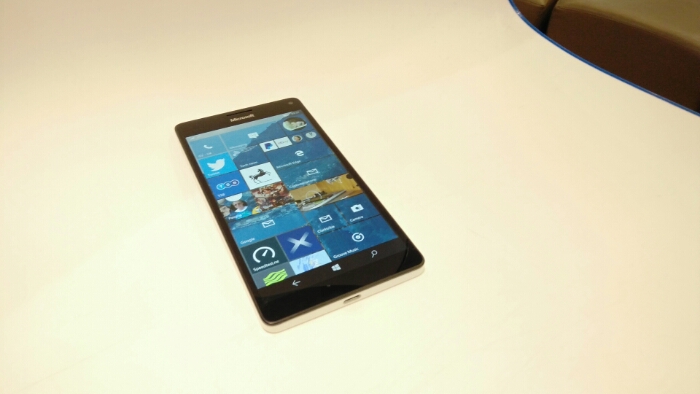 We have one in the house – the infamous Lumia 950 XL from Microsoft. The kind people at Lumia Voices have decided to lend us a review kit with not just the Lumia device, but the full package.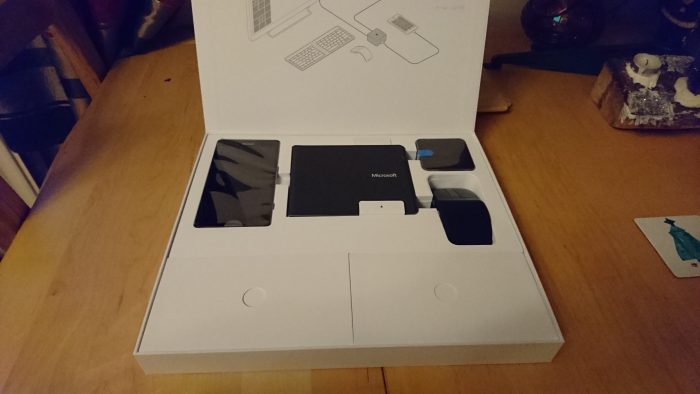 This includes a Lumia 950 XL of course, but in addition to that we have the folding Universal Keyboard, a Surface Arc Mouse, and last but by no means least, the Display Dock. This will allow us to test the full Continuum experience that I have been very excited to play with.
So let's get the elephant in the room out of the way. We reported a few days ago that a few retailers had stopped selling the device due to stability issues. Have these gone away yet? Well to be blunt, no they have not. But I have faith that Microsoft will be working on addressing these issues. Since the story was posted, I've received a new version of firmware that is designed to help with stability and stop the random reboots that I've been experiencing. This has not really solved the issue for me, but at least we know that Microsoft is working on the issue. What we do have here is some great hardware that is actually comparable to the Surface 3 LTE that I am writing this article on.
So without further ado, let's have a look at the device and all the other toys we have been sent.

As we can see in the video, the box I was sent is far from retail packaging, so don't expect this to be what you get when yours eventually arrives. The phone feels great in the hand and although it is large, Lumia 950 XL is no bigger than some of its main rivals (i.e. the iPhone 6s or the Nexus 6P).
Here are the specifications
Operating System: Windows 10 Phone
Exterior Dimensions: 151.9 x 78.4 x 8.1 mm
Weight: 165 g
Casing: polycarbonate
Colors: black, white
Physical buttons: power, volume, camera
Storage: 32 GB and up to 200 GB of expandable storage
OneDrive storage
Display Screen: 5.7-inch Quad HD AMOLED Corning Gorilla Glass 4 display
Resolution: 2560×1440 (518 ppi)
Aspect ratio: 16:9
Touch: Multitouch
CPU Qualcomm Snapdragon 810 processor featuring Octa-core CPUs and 64-bit capabilities
Network Wi-Fi: MIMO, WLAN IEEE 802.11 a/b/g/n/ac
Bluetooth 4.1
Cameras: Rear-facing PureView camera with a 20-megapixel sensor, Zeiss optics, OIS, triple LED natural flash, and 4K video recording
5MP wide-angle 1080p front-facing camera
Battery: Removable 3340mAh battery, USB-C fast charging, wireless charging
Battery life (hours): Standby 300,Wi-Fi browsing 25.0, 2G talk 19.0, 3G talk 75.0, MP3 playback 11.0, Video playback 1080p 11.0
Ports: microSD slot, supports up to 200 GB of expandable storage
USB-C charging port for data, AV connectivity and charging
3.5mm stereo headset
Available in single-SIM and dual-SIM variants
Sensors: Accelerometer, Ambient light sensor, Barometer, Gyroscope, Magnetometer, Proximity sensor
Power supply: Microsoft USB-C Fast Charger (AC-100)
Location (A-GLONASS/A-GPS), Barometer, Cellular, Wi-Fi network positioning, Gyroscope
I love the vibrancy of the 2k screen that uses an AMOLED panel which Microsoft refers to as ClearBlack. Windows 10 looks awesome on this panel and the fonts look incredibly crisp and polished on it. There does seem to be some scaling issues with a few apps on the device and the suspicion is that this is mainly down to the apps potentially not being rewritten to dynamically adjust to the new screen size. I am hopeful that this will become a non-issue once all apps are tweaked to work with the Universal App model.
The other draw for this phone is the Continuum feature. It works really well and shows a smidgen of what this phone is really capable of. It is one of the best solutions for this that I have seen and I am really glad that Microsoft has implemented it on the Lumia 950 XL and the Lumia 950. It is as simple as plugging your phone into the Display dock via the included MicroUSB  Type Connector and letting the phone adjust to the bigger display. The apps that you can use will then be displayed on the bigger panel, and the ones you can't use will be greyed out. I have played with this on a retail demo unit but I have not been able to test it on my own device extensively yet. That will be done as part of the full review. Here is a picture of the phone outputting to my TV at home in a very crude test.
You can either hook up a USB mouse and keyboard to this setup or if you prefer, it can all be driven via Bluetooth. A nice touch is that you can use the Lumia 950 XL's display as the mouse if you don't have a mouse handy. This will be great for being able to do a quick presentation at work as all the files can be stored either locally on the phone memory, SD card or they can be pulled from OneDrive. Thanks to the review kit I got, I have been able to hook this up to a whole family of Microsoft products as can be seen in the pictures below.
Here are some shots of the phone from a variety of angles showing the controls and the removable rear with battery.
The battery is a 3340mah unit, and while I have not been able to do a full run down due to the stability issues I indicated earlier, it does seem to be the right size to get through a full day.
On the back of the Lumia 950 XL, we find that Microsoft has got another potential winner in the form of the 20mp Pureview camera. I have been able to get a few shots from the phone when it was staying on for longer than five minutes. I genuinely think that this could pip the Xperia Z5 as the best cameraphone out there. As you can see in the shots below, it does work really well. The triple LED flash is very clever and in combination with software, it allows you to decide how much of the available lighting to use in the final shot making for some really good images.
That is all for now, but rest assured that we will be putting this device through its paces in a full review once I am able to get it into a reliable state where I can use it as my daily driver. We just need Microsoft to get the software out to make this stable.