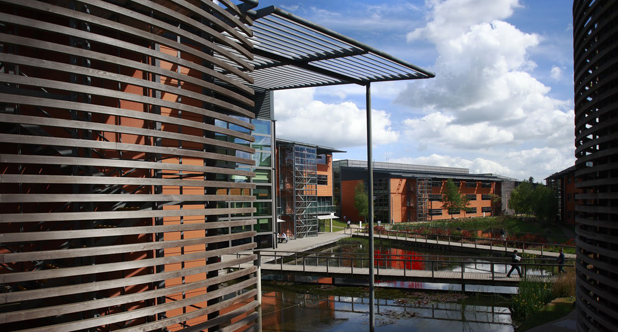 What do you know about your network? They probably sold you a phone, and they're definitely the people you curse when the signal drops out.
Today I'm in Newbury to lift the lid on Vodafone. I had preconceptions if I'm honest. Many moons ago I was one of those customers who probably viewed Vodafone as being "corporate" and I headed off to Orange (as it was at the time), who seemed to be "younger" and "fresher". Indeed, Vodafone are now 24 years old, having being founded right here in Newbury in 1991. They are, if I'm honest, even older than that – existing since the mid-1980's as Racal-Vodafone. It's grown into the world's second-largest mobile phone company and operates in 21 countries with partner networks in 40 or more additional countries. Despite the sheer size, the HQ is invisible from the main road and it's not until we circle a roundabout and head into a tree-lined road that we start to see the first building. Before we get there, a London Black Cab is displayed on the final roundabout with Vodafone branding proudly emblazoned all over it. Between the trees, you can just see evidence of the staff numbers here as a multi-storey car park somehow nestles into the distant foliage.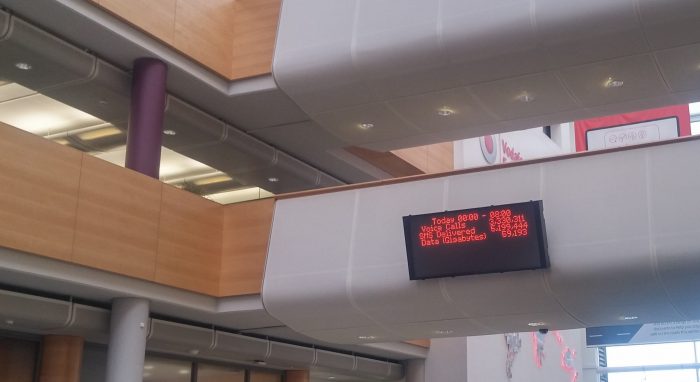 We pull up under a soft-lit curved canopy and, as I thank the driver, I'm taken through into a modern office complex which is somewhat hard to describe. I say that in a good way, because it's unlike most offices I've ever been into. In front, to the left of the main reception area, is a full Vodafone store and, around the corner, a tea / coffee area. People are walking around, chatting and standing in groups. It's almost like a shopping mall in places, with tables, chairs and a large advert for Vodafone hanging from the atrium. Standing here, there's a real feeling of space and comfort. Staff are in relaxed dress and it's already becoming apparent that this is the exact opposite of the rigid and austere company I'd expected.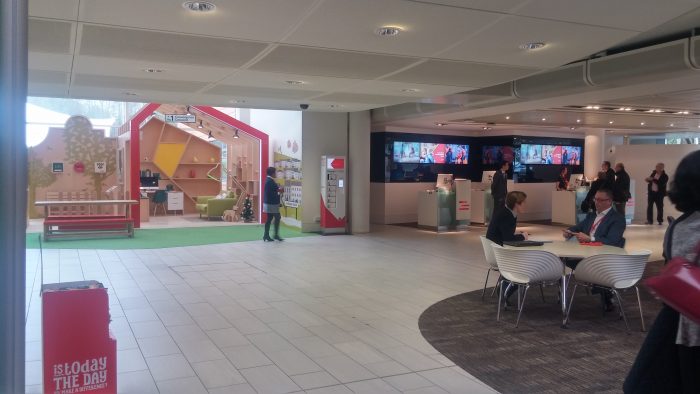 The entire campus is bathed in 3G, 4G and WiFi. There is, for pretty much everyone here, no fixed desk and you're not shackled down. Around me staff are walking by, conducting conversations on earpieces connected to open laptops, making video calls via tablets and chatting with others on their mobile.
The tables, which look like places to relax, can be used for ad-hoc meetings or chats, and staff are free to get together and discuss in an open and impromptu manner. Nobody has an office. Not even the CEO, and there's very little in the way of a hierarchy.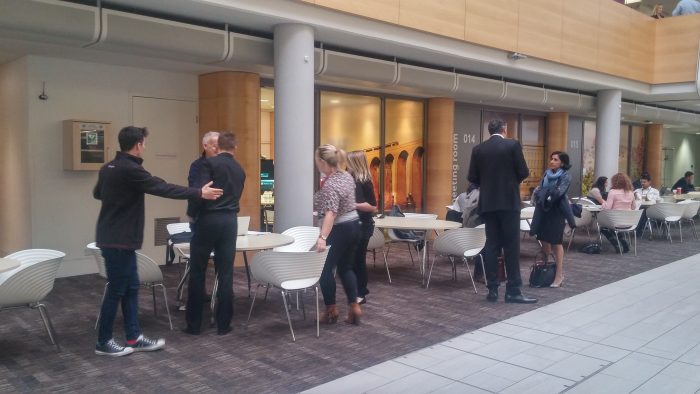 If you work here you'll get a laptop, a mobile phone and perhaps a tablet too. There's even more technology to be had though, and it's not really seen. In the ceilings and around the atrium, speakers and microphones work to cancel out cross-talk by emitting white-noise. This means that you can get together with a colleague and have a conversation about something without the people at the next table hearing you and without the entire office area progressively getting louder as people try to be heard. The fact that I can hear my guide talking in a normal way amongst hundreds of others in close proximity is all the evidence I need.
Next to us, just to show how long Vodafone has been in operation and what they've achieved, a display cabinet is filled with some of the older and heavier phones from back in the day.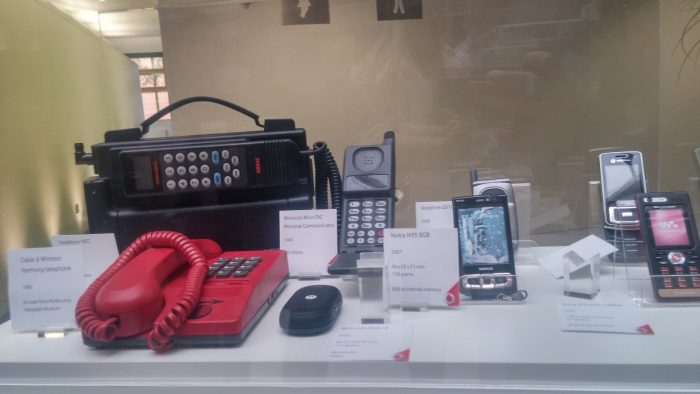 Upstairs, a "mock shop" has been setup to trial ideas and marketing plans before being sent out to the real stores on the high street. Inside there's four people, one sat on a box, tapping away on laptops and tweaking the signage and advertising.
Behind me, a large open office. Parts of the office are bathed in different subtle tones to indicate a "home zone" where teams can congregate, however this is a hot-desk environment and you can literally sit where you want. They operate a "clean desk" policy so, provided you remove whatever is on the desk at the end of the day, everyone gets the same environment.

No matter which office you're in (Vodafone has several other sites in the UK), the same corporate WiFi network is supplied, so it's just a matter of connecting to that. Only one ethernet cable is provided on a bank of desks here, and that's "just for emergencies".
Workers sit in in smart but casual clothing. It's a large, open office space with metallic extension leads on desks and laptop charges, phones and laptops dropped next to them. It's strange in a way, because I'm familiar with banks of screens and physical keyboards and mice. Here, where desks aren't occupied, it's completely barren. Although this can look a little chaotic at times, with cables hanging out of various mobile devices, it's definitely working for the company. A lot of staff have a flexible working setup and decisions are made quickly.
Next, we head downstairs to discus how handsets are chosen, how they're tested and we even go into a Faraday cage.
Read on to see how Vodafone test handsets. We then take a look at their new gadgets.