Last year I wore spandex, took pictures and reviewed the experience. This was the Halloween Morphsuit from Morphsuits.co.uk. These are quite cool because they can also add special effects with the aid of your phone. Just slot your mobile into the suit and it brings the whole outfit to life. In the case of my Halloween spandex suit it was a beating heart.
But now it's that time of year so that must mean CHRISTMAS JUMPERS.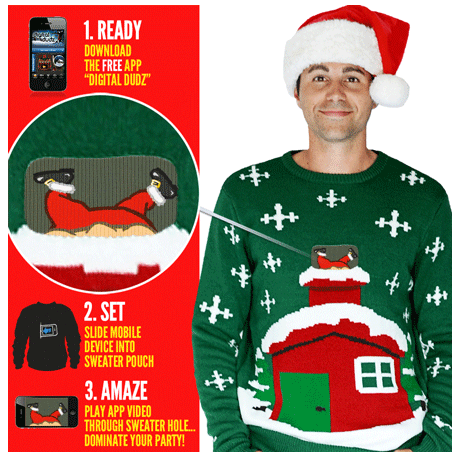 You might have an office competition and you might want to beat your co-workers, so this could give you the edge. Here's a look at one in action…
There's a number of other ones to choose from, including this cheeky one for £35.99 with a £3.95 delivery charge.
To add the moving eyes, the wriggling feet or the sparkling noses you just need to download a free app, run it on your smartphone and then slot it snugly into the pouch on the jumper.