When I was young we didn't really do a great deal at Halloween. It was all "Penny for the guy" a few days later for Bonfire Night / Guy Fawkes Night. However, Halloween now seems to be as popular here in the UK as it is in the USA, and if you're looking for an outfit, read on.
Down your local supermarket you'll no doubt find a selection of costumers. Comedy hats, masks and the odd broom etc. You may even bump into others wearing the same thing but, if you head over to Morph Costumes then there's a tech enhanced selection which are even better.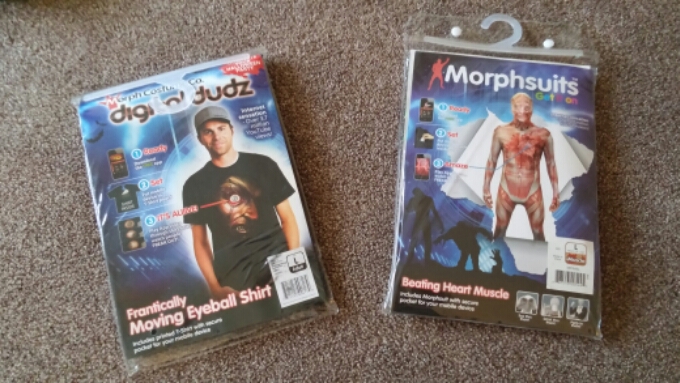 The outfits are designed by ex-NASA engineer Mark Rober and we have a couple here to show you them in action. They incorporate a patented wearable smartphone technology into the clothing to animate the design. It's not "too" geeky and will bring your Halloween party to life in more ways than one. Within each outfit is a hole and a pouch with Velcro edging. You download an app, place your phone in the pouch and your costume will become more realistic as the animation on your screen is displayed through the hole in the costume.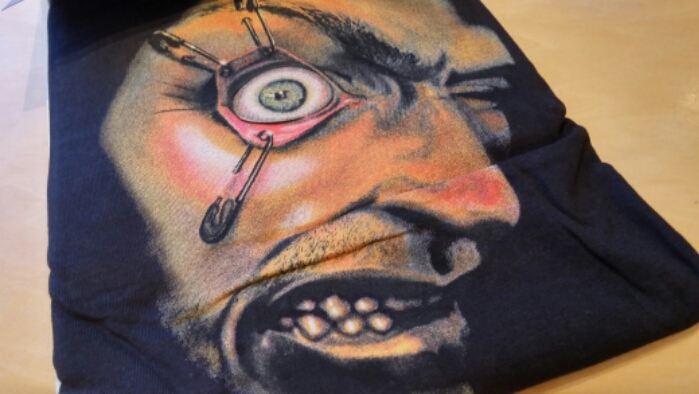 First, this pinned eyeball T-shirt. It's black with a rather scary face up front and, as you can see, has a man with his eye pinned back.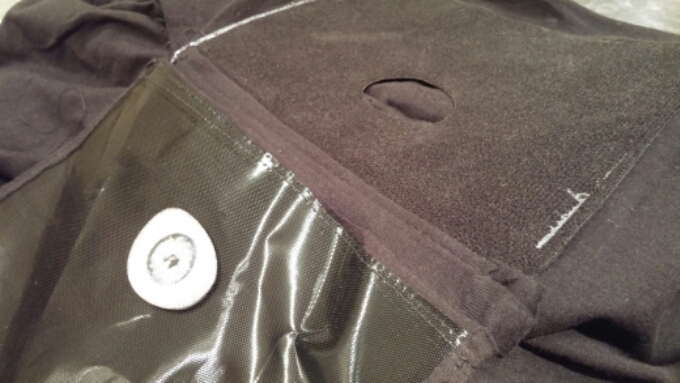 You can wear it without the hole present if you wish – there's an eyeball already filling the hole and it'll stay here so that you can wear the T-shirt all year round.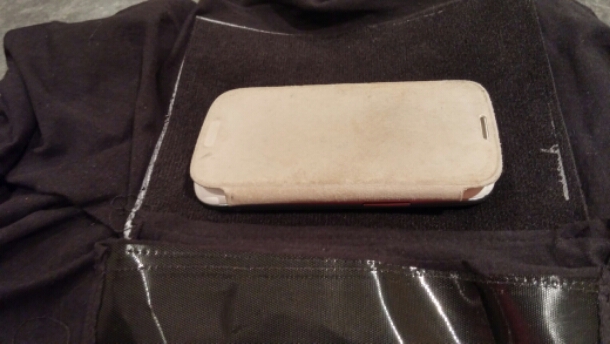 However, what you can also do is pop your phone in and have an animated eyeball, complete with squidgy sound effects, behind the hole.
To get this working you'll first need to download the Digital Dudz app, which is available for Android or iPhone. It's a free app and choose the type of outfit you have. I chose the "Digital Dudz" T-shirts, obviously, but there's masks, morphsuits and ugly Christmas sweaters plus much much more. After choosing then choose your particular product, which in my case was the "Pinned Eyeball". There's a "Buy" link here but that's only to buy the T-shirt if you don't already have it.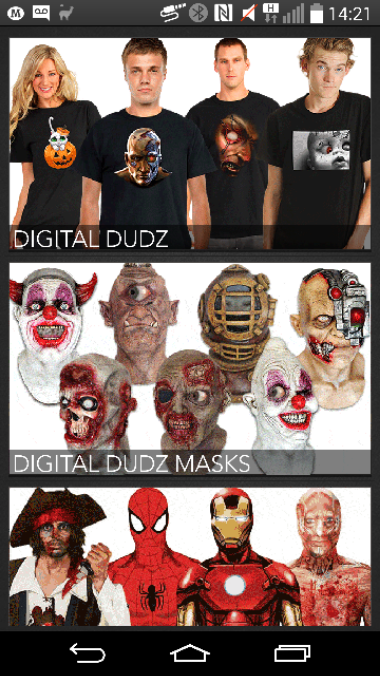 Once you've chosen, just click "Play Animation" and you'll be presented with a brightness setting and an option to disable / enable the background music. There's also some sound effects which you can turn down using the normal audio controls after starting the animation.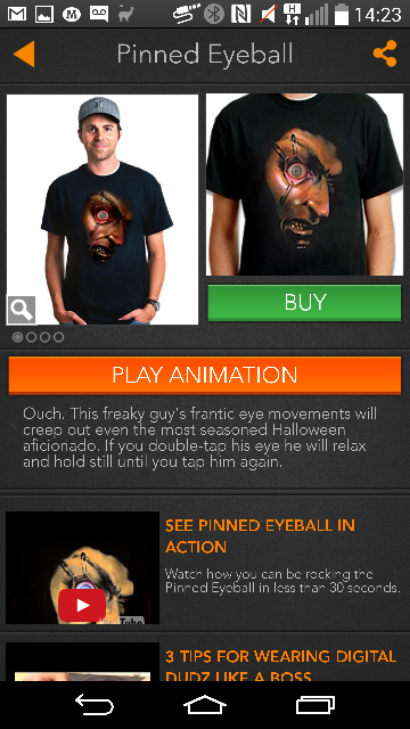 The animation can be moved, rotated and resized – something that I was very thankful for as there's obviously lots of differently-sized phones and, should you pop the phone into your T-shirt and find that it only fits one way, you can rotate the animation round to suit. This makes the overall look of the T-shirt more realistic, and don't forget that you can also adjust the brightness to match the overall look of the costume.
Not only that, but the animation can be locked in place once you're happy and there's no chance of an accidental press stopping the animation.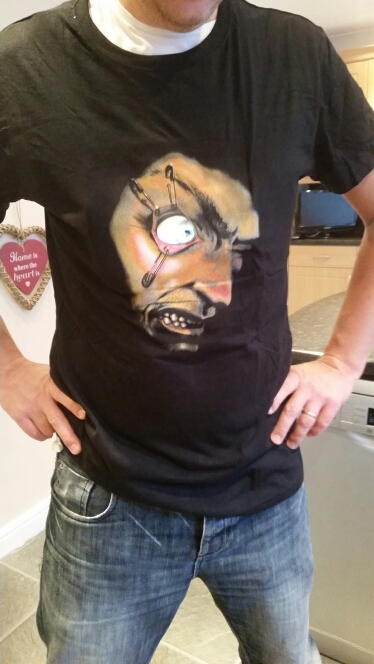 You may be able to see that the weight of my phone pulled the T-shirt down somewhat, but I did find that the "large" size I'd chosen was a little too big for me and that didn't help. If you do have a particularly large / weighty phone then you may want to borrow a smaller and lighter one whilst wearing this. Other than that, and an ever-so-slight bulge on my chest, it worked very well indeed.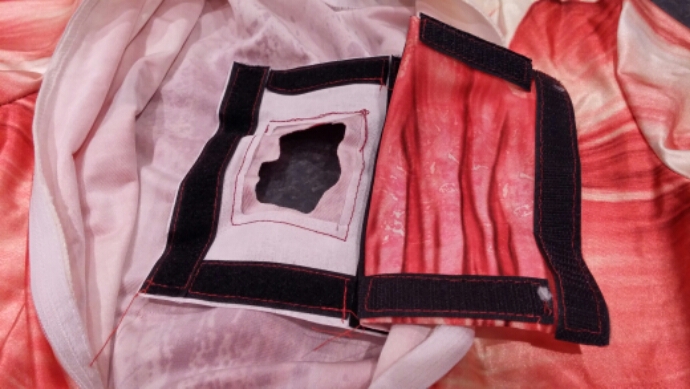 Next up, the Beating Heart iMorph Muscle suit. It didn't, unfortunately, give me the muscles and 6-pack I was hoping for. You'll need a bit of help to zip this one up around the back but it's a strong zip and the outfit, unless you're drunk and fall over a lot, should last you a number of Halloween parties. It too has a Velcro section for your phone and this time the app will display a beating heart, although you can choose other things like maggots, snakes, gears etc. Oh, and you can adjust the speed of the heart beat too, which comes with sound effects.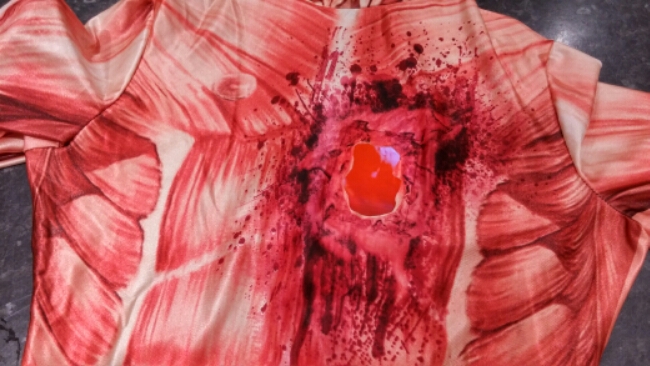 There is, I should warn you, no eye-holes. You will bump into things and if you're claustrophobic you'll probably panic. I had the head part down around my kneck for most of the time I was wearing it, plus if you do decide to "go commando" in this you'll probably find that it's a very tight fit. There's a zip at the rear which goes from the top of your head down to the middle of your back. This is strong and there's two zippers – one at the top and bottom. Just be careful of your hair when you zip it up the back if your head.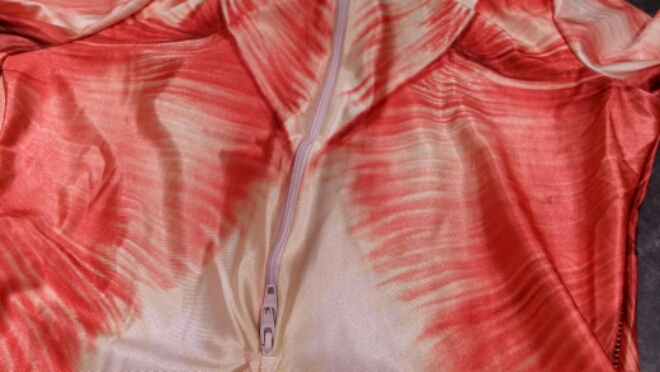 The Velcro holds your phone in position very well indeed. In fact, the phone getting held in there does wonders for your social life – you'll not find yourself checking texts, tweets or missed calls as it's pretty difficult to get to when you're wearing the suit. You can, however, plug in your headphones and use the button on them to start and stop your animation. Oh, and don't get me into visiting the toilet – that's a whole other area.
I should warn you here that you're about to see me wearing spandex. Apologies in advance…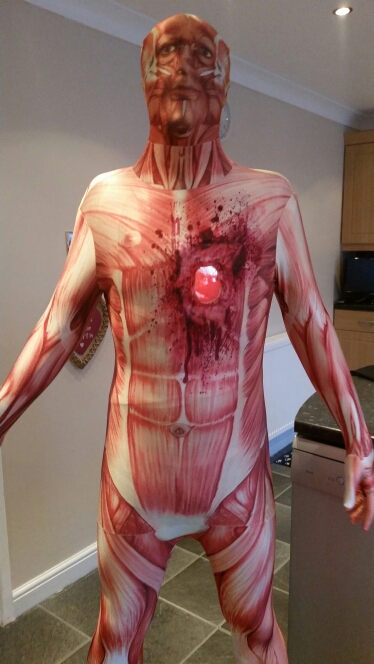 Morph Costumers are also officially licensed to sell Marvel super hero outfits which also integrate this wearable technology.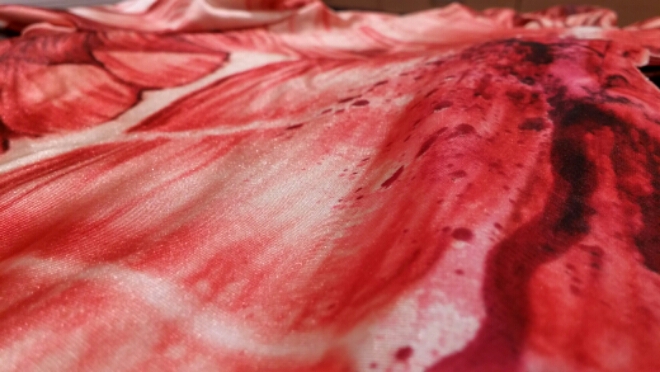 Overall the material, especially on the T-shirt, was very high quality and the Velcro / pouch was very strong. I didn't worry about my phone at any time and I like that way that the animation could be moved about and resized to fit the hole and appear like a part of the outfit. The second all-body suit was made from a slightly stretchy fabric but had double stitching all the way around the inside of the suit for durability. Although I did joke about the whole "going to the toilet" thing, the two zips at the rear made it quite easy. Both outfits were comfy and I could easily wear the all-body suit for hours on end. It was comfortable, breathable and lightweight.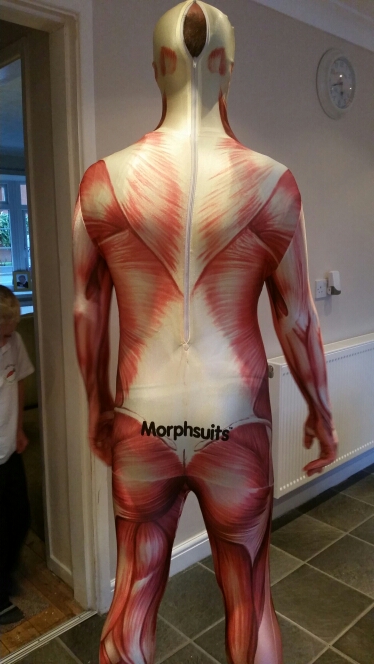 Price-wise, you're looking £25.99 for the Frantically Moving Eyeball T-Shirt and £35.99 for the Beating Heart Muscle Morphsuit, plus £3.95 for postage. I must say at this point that both items arrived very quickly and I was kept updated on progress – you can have them the very next day if you wish and they cam well packaged.
Yes, they're a bit more expensive than your normal outfit, but these really are good quality (not the sort you get down the supermarket that'll fall apart the instant you put them on) and they're a definite conversation-starter. Put it this way, you'll get noticed – especially in the body suits, and there's a fantastic range to choose from.
Morph Costumes Digital Halloween Outfits
Material - 8.6
Quality - 8.7
Value for money - 8.2
8.5
You'll definitely be the talk of the party with these slightly geeky but very cool outfits.