Argos have dropped the price of the HTC made Nexus 9 16GB to £179.99 online. The Nexus 9 32GB has had its price cut to £299.99 as well.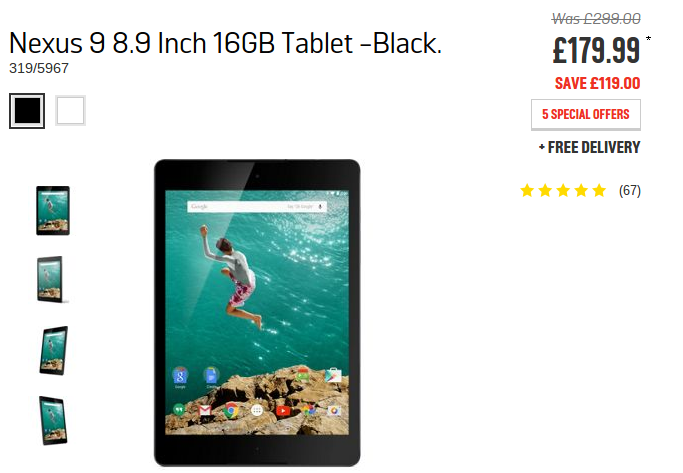 The Nexus 9 is last year's Nexus tablet which brought the 4:3 aspect ratio to Google's Nexus range. As of next week, starting Monday, Google will be pushing some of the first Android 6.0 Marshmallow OTAs to the device. At the £179.99 price point this is a great bargain, but be warned that the 16GB model only comes with just over 12GB usable storage once setup and updated.
What does £179.99 get you? The 16GB storage model of the Nexus 9 has a dual core 2.3 GHz processor part of an Nvidia K1 chipset with Kepler DX1 GPU, 2GB RAM, a 1536×2048 8.9″ IPS display, 8MP rear camera with LED flash and a 1.6MP front facing camera. As this is a Nexus device you are very likely to get the latest Android versions on the Nexus 9 until the second half of next year. Want to know more? Check out Dan's excellent review.
The £179.99 price for the 16GB Nexus 9 (in black or white) is available online from Argos. According to the point of sale in-store the price is £189.99, so price at store may be higher. We also noticed an issue with their in-store advertising which carries the Nexus 7 logo in the top right hand corner. Rest assured, the product sold is the Nexus 9, as I popped down to Argos to pick a device up myself (there you go, a tester nitpicking at details…).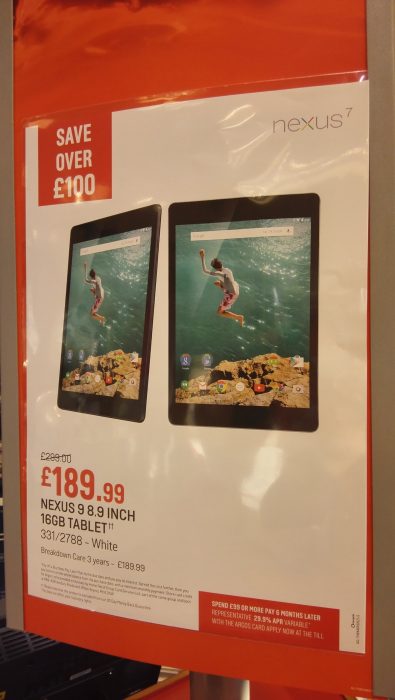 Thinking of getting a Nexus 9 at this bargain price? Let us know in the comments or discuss this deal with us on Twitter.
Source: Argos