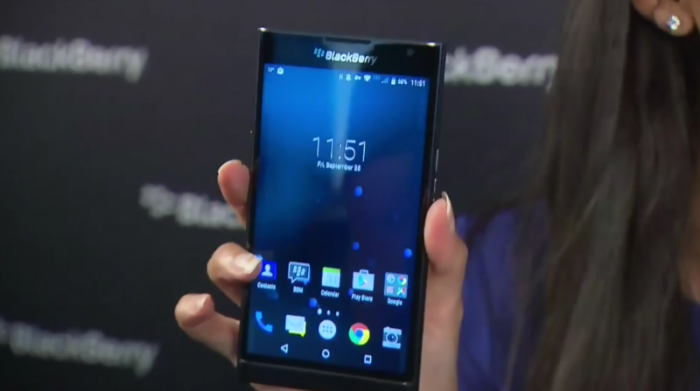 It's no secret that Blackberry's hardware and build quality are second to none, but as of late the manufacturer has lost its "mojo" and sales continue to falter. This has been blamed on Blackberry's own OS (Now at Blackberry OS 10.3.2), recent devices like the Blackberry Passport won praise with its quirky design and now with the ability to run Android apps, albeit in an emulator of sorts.
Pundits and customers alike have all said that what was wanted was Blackberry hardware but running a full version of Android. Well, some time ago, the rumour mill started talking about a Blackberry device codenamed the Venice, which was a Blackberry device with a slide out keyboard, but supposedly offering the crucial opportunity to either run a full Android OS or Blackberry OS.
Now the device is real although the name has changed to the Priv by Blackberry (?? I preferred the Venice name to be honest, at least I could say it), and it has recently been shown off by the C.E.O John Chen in the video below. As a caveat, the device does seem to be running a pre-production version of OS, and if you look closely you can see John's muscle memory in full flow as he tries the swipe gesture, normally used in the Blackberry OS 10 (hee hee). He seems to struggle with the browser and states that the phone "runs Google".
https://www.youtube.com/watch?v=rPT7k4ypybc
Thanks to Blackberry's software chops, it will still work on their MDM (Mobile Device Management) platform, currently at BES 12, and will support Android for Work, Naturally. Did you expect anything else?
It will be interesting to see whether Blackberry will release a non-keyboard enabled version of the device, which could be sold for a lower price. Also, the question that nobody seems to have asked yet: what version of Android will the Priv run?