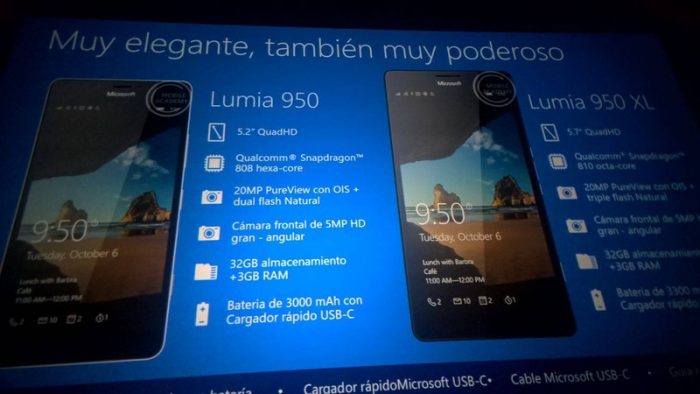 It's well-rumoured that Microsoft have a new handset or two just over the horizon, namely the Lumia 950 and the 950 XL. It's believed these will be shown to the world at the beginning of next month at an event in New York.
Well, on Forever Nokia Latinoamérica's Facebook, they have posted some slides which is allegedly from an upcoming Microsoft presentation.
And it appears that these slides may have come credence, as the site has now had a takedown notice served on them to remove the images.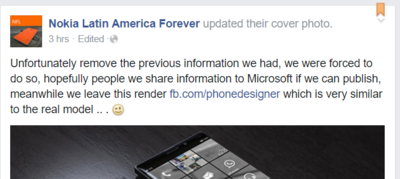 When you read through the impressive list of specs for the devices it does make them look like a interesting prospect, especially with Windows 10 and the continuum concept.
Lumia 950 Specs
Matte White or Black polycarbonate body
5.2 inch WQHD (1440×2560) OLED display
Snapdragon 808, 64-bit Hexa core processor
Iris scanner (near infrared) for Windows Hello
3 GB of RAM
32 GB of internal storage with a microSD card slot
20 MP PureView camera with double LED flash
5 MP Wide-angle front facing camera
3000 mAh removable battery
Qi wireless charging
USB Type-C
Lumia 950 XL Specs
Matte White or Black polycarbonate body
5.7 inch WQHD (1440×2560) OLED display
Snapdragon 810, 64-bit Octa core
Iris scanner (near-infrared) for Windows Hello
3 GB of RAM
32 GB of internal storage with a microSD card slot
20 MP PureView camera with triple LED flash
5 MP Wide-angle front facing camera
3300 mAh removable battery
Qi wireless charging
USB Type-C
Source Windows Central