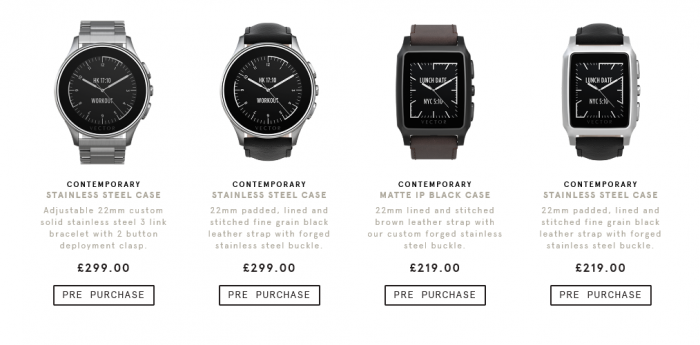 Back in March, we provided details of a smartwatch by a new company called Vector. At the time Vector were suggesting a summer launch, but as usual with such things, the date slipped somewhat (not as bad as the lag between the announcement and launch of the Huawei watch at least!). Vector have now announced that their smartwatches are available for pre-order and will be shipped on 30 September.
Vector are releasing two different watches with different shaped faces, as well as a variety of watch straps. Both watches have the same monochrome screens and 22 mm watch strap size. Notifications are delivered as per most smartwatches but they aren't viewable until a flick of the wrist is performed. There are already some big names who have provided apps, such as the BBC and Facebook, with others promising to follow soon. Everything is controlled via the Vector app on your phone.
Prices start from £219, which is pretty steep given the prices of the premium watches announced at IFA recently. That said, Vector offer two relatively unique selling points: First is the purported phenomenal battery life of 30 days. The second, and one that makes the watch rather more exciting, is that it supports Windows Phone, as well as Android and iOS.
Further details can be found on the Vector website.