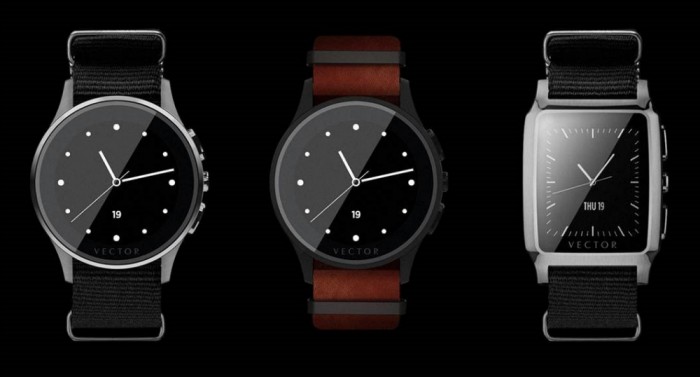 Another week, another smartwatch announced…I don't know about you, but it seems like smartwatch launch announcements are occurring at an almost daily rate the moment.  The big problem with most of these is that the release date is often some months ahead, and it is not uncommon for a 'launched' watch to then never properly materialise (Kreyos Meteor, I'm looking at you).
With new Pebble and Apple smartwatches shortly to be released and Microsoft's smartband soon to appear on these shores, anything else new needs to be a little different (or significantly cheaper) to stand any chance of success.
Announced last week are two new watches from a company called Vector.  Available with either a round or rectangular face it boasts a battery life of 30 days and is waterproof. The watch will show the usual array of notifications, alarms and has the ability to integrate with most apps on your phone.  Just as importantly, it will work with iOS, Android and Windows Phone, and has a standard 22mm watch fitting so that you can use any strap.  It also has the ability to use IFTTT with it, so any homebrew recipes should work.  The watch itself looks quite subtle and nice and the different watch screens look interesting.
What is not obvious is how notifications will show up on the LCD screen.  Calendar notifications will apparently show around the edge of the analgoue display, but the company hasn't commented on the appearance of other notifications.
No concrete information on release date though they're hinting at a summer launch.  The watch can be pre-ordered online here.  The rectangular faced 'Meridian' sells for £169, while the round 'Luna' is £299.
Source: Vector