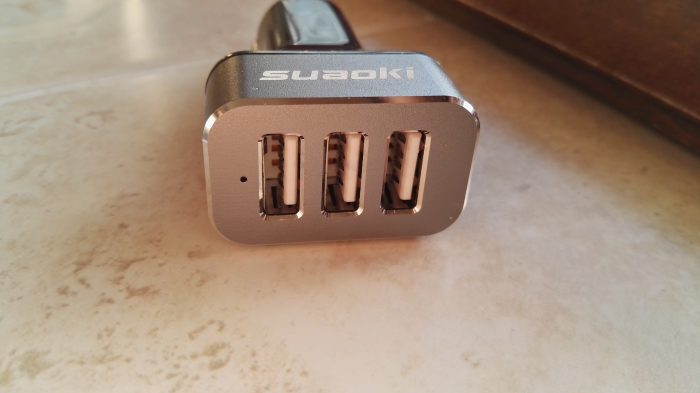 Some of the items we get to review area quite complicated. They need research and a fairly wordy write-up. This, on the other hand, not so much.
The Suaoki car charger is everything you'd expect it to be out of the box. It's portable, easy to use and this one is quite stumpy so that it doesn't stick out from your cigarette lighter too much.
The unit is made from a smooth soft-touch plastic with the company logo and, around the three USB ports up top, a metallic colouring with stylish edging. All of this definitely makes it feel a lot more premium than the standard black plastic USB car chargers you can get from around the web or on your local market.

With this particular gadget you've got three USB ports which can pump out the full 2.4A per port. That's enough for even the most thirsty iPad or heck, even three of them.
A lot of car chargers will perhaps offer just one "high output" port, however here there's three of them and inside a clever controller chip using the "Suaoki TIR-C" technology. Nope, I've never heard of it either but it will intelligently identify and adapt the power output to meet the maximum charging currency of your device. What all that means is that it will charge your device as quickly as possible.
This kicks out 36W in total and, although it doesn't come with any cables, you can plug in the appropriate one for your device and get going without any real fuss.
Overall
A study car charger with three high-power outputs, this sits well in the power outlet / cigarette lighter in your car, not really getting in the way of anything (even with the cables in) and certainly charged my devices quickly.
With most of us using more and more devices in the car, this will let you keep the kids iPads charged plus it'll keep your satnav or phone topped up too.
Very decent, and only £8.99 on Amazon it's not badly priced either.