A couple of years ago we covered the original iKettle. The WiFi-enabled kettle allowed you to start boiling up a storm from the comfort of your armchair – saving vital minutes of TV viewing-time or basically letting you fire up the kettle for your tea while you're still in the bathroom.


Now British company Smarter have updated it with the new iKettle 2.0 (yes, 2-point-O!). You can now get an additional set of functions and water-based-WiFi-updates from your kettle, including an "Early Bird Mode" which, get this, monitors the actual traffic reports and wakes you up earlier and gets the water boiled ready if there's a traffic jam. Yes, you read that right. The kettle checks the traffic. What a world we live in eh?
OK, so it's the app which is actually going to traffic monitoring and all the clever stuff. The Smarter app is available on iOS and Android devices. You'll still have to fill the kettle with water of course, but it'll take 1.8 litres – enough for 9 cups of tea or coffee. Then, via your app, you can get Live Temperature Updates and breaking news bulletins on your water level. There's also a "Variable Temperature Mode" which gets the water to a preset temperature and a "Formula Mode" to get the water to exactly 100 degrees C – ideal for sterilising items. It's £99.99 and available from Firebox.com.
If coffee is more your thing, they also have a WiFi-enabled coffee machine for £179.99. This is also controlled with the app and the machine will learn your daily routine. It also comes with a "Home Mode" and a "Wake Up" mode which will grind the coffee beans and boil the water at precisely the moment you need it. The app lets you adjust the strength of the coffee and you can keep the coffee hot for up to 35 minutes. Like the kettle, this will give you live updates on how much water is remaining.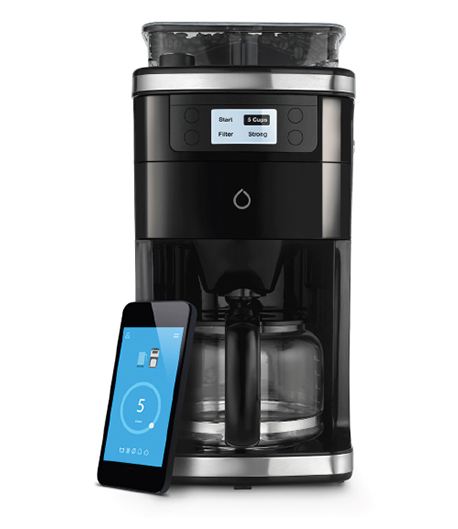 Get more details below, or head to the Smarter website for more info and to purchase (in addition to the Firebox listing of the iKettle and Smarter Coffee machine).
Oh, and I probably shouldn't say, but if you hang around on their website for long enough you can get a 40% discount code, which will knock the price of the iKettle down to £60..
* Energy Saving Trust report, July 2013