Acer had lots to talk about at IFA, so I decided to pay them a visit and get some hands on time with their new products. Now, traditionally we tend not to see that many Acer phones in the UK – with the exception of their M220 that is currently available from 3.
Acer have used IFA to announce 3 new Android phones and 1 Windows phone.
First up we have the…
Z330 and M330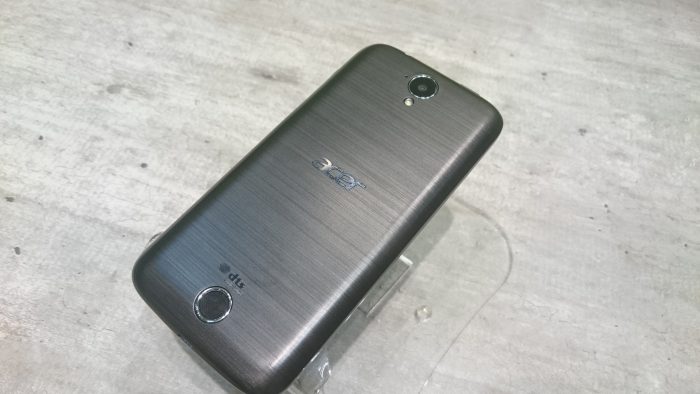 This is the Acer entry into the lowest end of the market and we can expect to see this phone for around £90 when it comes to market in October.
The phone has some very entry-level specs as you would expect for this price point. What is really quite interesting is that both devices run the same specs, just a different OS. This is nice to see and we hope to see more of it in the future.
Here are the specs…
Qualcomm Snapdragon 210 (MS 8909),
4.5-inch FWVGA(measuring 136 x 66.5 x 9.6 mm),
1GB RAM,
8GB storage,
M330 Windows 10,
Z330 Android 5.1,
5MP front facing,
5MP rear camera,
GPRS, UMTS, Cat4 LTE, Wi-Fi 802.11 b/g/n
Bluetooth 4.0 EDR connectivity.
Liquid Z530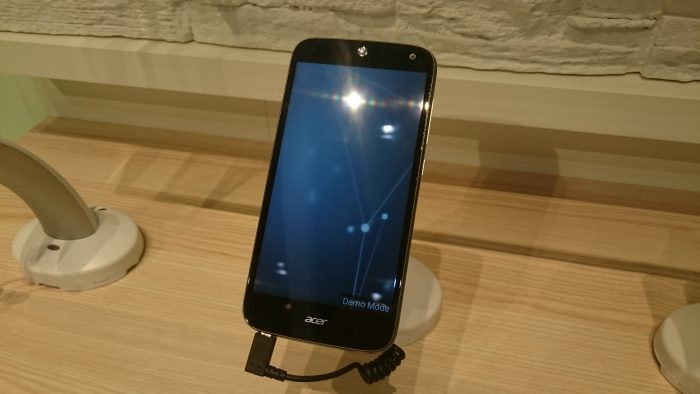 This is the mid-tier offering from Acer and it shares some of the specs with the Z630, they both use the same processor and if you opt for the S varient then you get the same levels of RAM and storage. What you do lose is the screen size as it drops down to 5″.
The overall design is very simliar and for those looking for a smaller but still powerful phone this one might fit the bill.
Specs
64-bit, quad-core 1.3GHz MediaTek MT6735 processor,
5-inch Vivid Colour (measuring 144 x 70.3 x 8.9 mm)
1GB/2GB RAM
8GB/16GB storage
84 degree wide-angle front facing 8MP,
8MP Rear camera, auto-focus rear camera, 1080p video,
GPRS, UMTS, Cat4 LTE, Wi-Fi 802.11 b/g/n,
Bluetooth 4.0 EDR connectivity
You will also find that the onboard audio is assisted via DTS technology. This will give you a richer listening experience whilst using headphones. I tested DTS back at MWC earlier in the year and I was very impressed with it. I am glad to see Acer are using it here.
Liquid Z630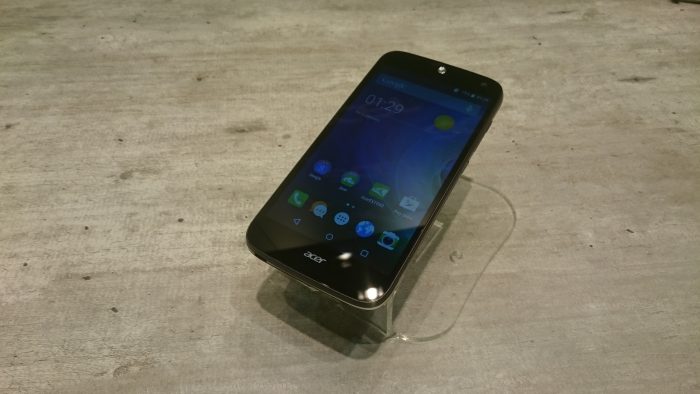 This is daddy of the group and will come with the highest specs and the largest screen. It also has a monster of a battery in it in the form of a 4000mah unit. This will keep the phone going for up to two days with moderate use. The MediaTek chipset in the phone is very kind on the battery whilst still being plenty powerful for all daily duties.
Acer have also bundled some memory management solutions via software in the phone too help with the load.
Here is a video of the phone in action..
Here are the specs for this one..
64-bit, Quad-core 1.3GHz MediaTek MT6735,
5.5-inch (measuring 156.3 x 77.5 8.9 mm),
2GB RAM,
16GB ROM,
4000 mAh battery,
HD Zero Air Gap screen with IPS,
Front cam 8MP, 1080p video recording,
Rear cam 8MP auto-focus rear camera, 1080p video,
GPRS, UMTS, Cat4 LTE, Wi-Fi 802.11 b/g/n,
Bluetooth 4.0 with LE connectivity
As with the previous phones, this one also has DTS audio built into the phone for suprior sound quality. The phone feels nice in the hand and is being aimed at those needing power when out and about and away from the mains for days at a time.
All the above models are featuring new screen tech that will help to minimize the amount of exposure to blue light from the screen. All the Android models will also ahve a Kids mode allowing you to lock down the phone whilst your son or daughter uses the phone to watch that latest must see Peppa Pig episode!
That was all that Acer released today but right up at the end of the press event they also leaked a new phone called Predator…….
More to come when we have it on that one.