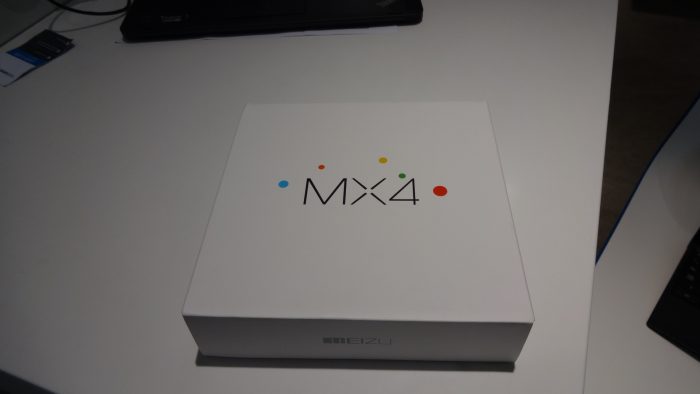 Those of you who read the site regularly will no doubt be aware that I have had a couple of Ubuntu devices (including the Bq Aquarius E5) come through over the last few months to review. Now we have another one, and this is the daddy of them all. The Meizu MX4 Ubuntu edition.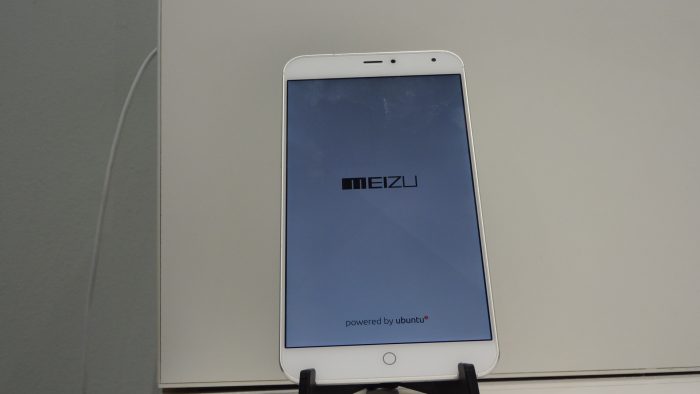 We have seen this device a few times and I was very eager to get a review unit in after my initial hands-on with it at MWC earlier this year. Well, I have now been using the device for a short period of time and it's time to put my thoughts down onto paper.
Design
Firstly lets get the facts about the phone down.
We have the white one here for our review unit, but it also come's in Silver. You can buy them now from Meizu direct. It will cost you £299.00 That is not that bad a price when you are looking at the specs as this is defiantly packing a flagship worthy spec sheet, with a few exceptions.
Here are the specs:
IPS LCD, Screen 1920×1152 418 PPI 5.36″ (13.61 cm) Gorilla Glass 3.
MediaTek MT6595 Octa Core.
16 GB Internal memory,  2 GB RAM.
Rear Camera – 20.7 Megapixel, Image Stabilization, LED Flash, HDR,Face Detection, Geo Tagging.
Front camera – 2 Megapixel, 1080p/30fps.
3.5 mm audio connector, Mono Speaker, Noise Cancellation, FM Radio.
3100 mAh battery.
Sensors – Accelerometer, Compass, GPS, A-GPS, GLONASS, Gyroscope, Proximity Sensor.
Micro SIM: 2G (850/900/1800/1900), 3G (850/900/1900/2100), 4G (1800/2100/2600). LTE is Cat 4 150/50 Mbps.
WiFi 802.11 a,b,g,n,ac Dual-Band WiFi, WiFi Direct, Bluetooth 4.0, A2DP, NFC.
Micro USB, USB OTG, MHL, Video Playback Formats – MP4, Video CODECS – H.263, H.264, Audio Formats – 3GP, AAC, MP3.
Audio CODECS AAC, AAC+, MP3, eAAC+.
Dimensions – 144 x 75.2 x 8.9 mm (5.67 x 2.96 x 0.35″) 147 grams (5.19 ounces).
I also did an unboxing video for this when I first got the device a few weeks ago.

Lets quickly run around the device.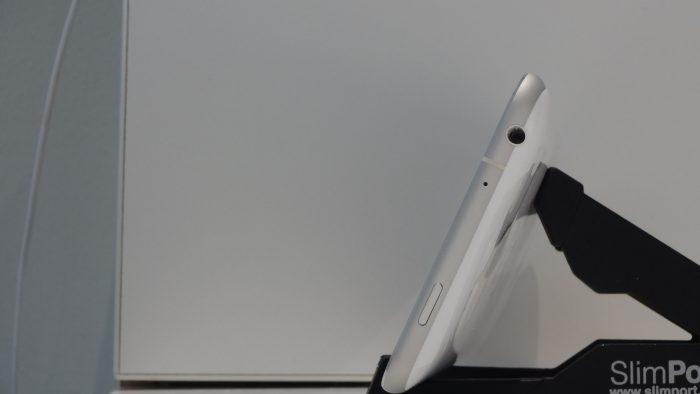 Up top we have a 3.5mm headset jack, an antenna break, microphone and then the sleep/wake button (this is in the wrong place imho, it should be on the edge).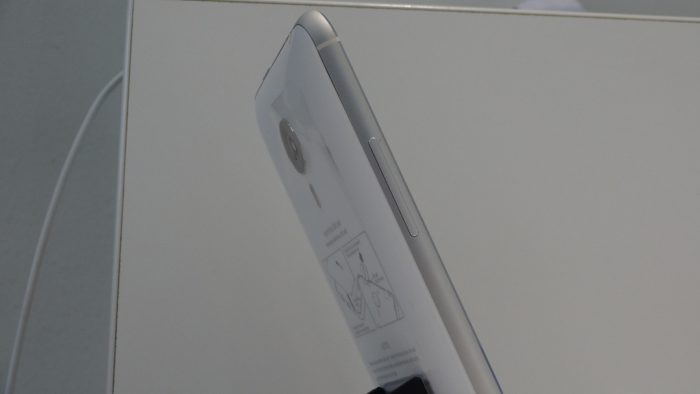 On the left is the volume rocker and the right is untouched bar another antenna break.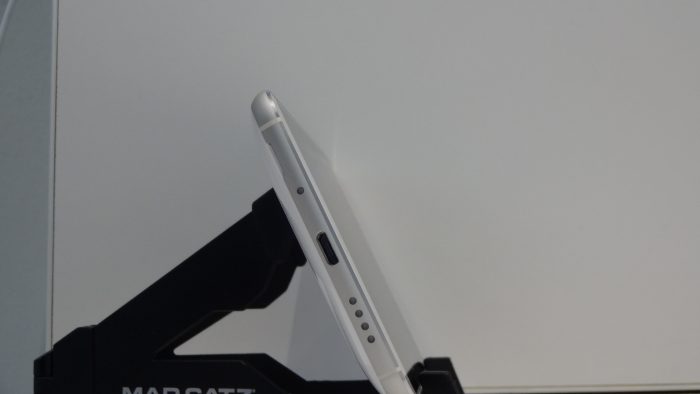 The bottom looks like it was inspired by the Apple design team, with a speaker on one side and then a central upside down micro USB input. There is also the cutout for opening the back panel. This allows access to the sim slot right at the top of the phone. The battery is non-removable, so having a removable back is just silly, but I suppose you could replace it if you needed to.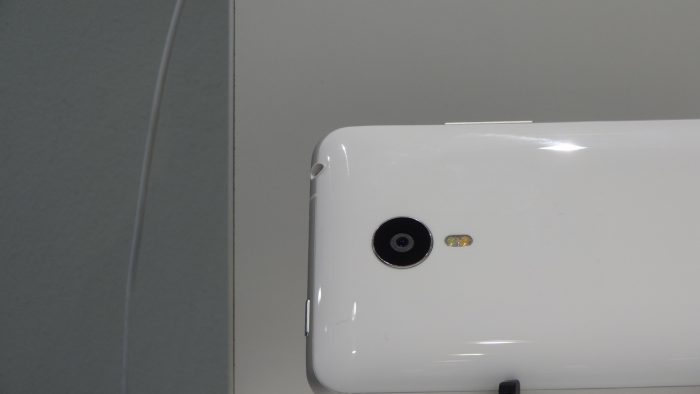 On the back is the dual LED flash and the Sony powered 20.7 MP camera that uses the same sensor from the Sony Xperia Z range.
The design of the phone is pretty nice, and as you would expect it is taking its design cues from no other than the iPhone so much that some reviewers of the Android version are calling it "the poor mans iPhone". Whilst I don't use that same moniker, the design cues are obvious. We are really at a stage now where it is hard to create a truly imaginative design for a touchscreen device.
One thing I would like to mention here is that the phone is definitely one for both hands as using this one-handed is very tricky. This is mainly due to the reliance on the use of gestures throughout the UI. The phone itself is very wide and this makes it tricky to get to the edges to perform the swiping gesture to bring in the menu. I have found myself having to resort to holding it in one hand and poking the screen with the other. I'll try to show what I mean in the software section below.
Overall the design is nice, it fits nicely in the hand and is well built. I just wish it offered a Micro SD slot to expand the memory easily. Instead we have to rely on the cloud, which is far from ideal.
Software
The easiest way to show you the software is in a video, so that is exactly what I have done.

For anyone who has read the review I did on the previous Ubuntu device (Bq Aquarius E5), you will be familiar with what is going on here. There is no change to the software at all. What is however noticeable is the performance. I have found the device to be much smoother than that of the BQ device and I can only really put that down to the fact that MX5 has more horsepower, and it is using better components hence the increase in price too. Really, we are looking at a flagship here in pretty much every respect apart from storage.
Just to push it, I did try some gaming on the device but unfortunately the games that are available for Ubuntu are limited at best, so it wasn't really pushing the processor. What I did find was there was no lag at all, however the very nature of the gesture UI can become a problem when playing games that involve a lot of swiping. I found that I was swiping out of the game into the Multitasking menu far too easily. Obviously this is far from ideal and it does feel like the rest of the OS needs some fine tuning.
Camera
This is an area where I was expecting big things as I know the sensor being used in this device very well. I have after all being using it for the past 2 years in the Xperia z range of handsets. I know what the sensor is capable of. I'm happy to report that after some very light testing in getting some day to day shots on my way to work etc., the camera worked really well. Unfortunately when I went to test the camera, the review unit I had developed an issue stopping me from using the camera, even after a reinstall of the app.
The video recording is par for the course and it does so in both 720p and 1080p. Just be aware not to hoard too many videos as you have no external memory card.
Conclusion
I want to love this phone so much as it has some great potential, but again like all the other Ubuntu phones I've tested, it is just not the complete package. The design is really nice, bar some odd button placement choices. That and the "Continuum" like functions still not being present on the phones is a missed opportunity, especially with the upcoming release of Windows Phone 10 into the wild. Lastly, I have mentioned it a few times already during this review, but why oh why did you not add an Micro SD card to this device? The lack of it is criminal – really, it is.
Who is this device for then? Well that is very tricky, as I cant quite put my fingers on it. If you were a developer, then surely you would just use the cheaper Bq Aquarius E5. Consumer then? Yes I could see how the MX5 could appeal until they opened the back and found no Micro SD card slot. I think the answer is really that this phone belongs in the realms of the a showcase product for what Ubuntu can be like on a flagship spec phone, and in that guise it succeeds admirably. That being said, I wouldn't buy one with my own money yet.
Lets just hope that Canonical can work on getting what people want on their phones and that is apps, third party apps and a ton of them…
Meizu MX4 Ubuntu Edition - Review
A great showcase of Ubuntu on a "flagship" specified handset, but not vastly different than the cheaper Bq Aquarius E5.