Didn't take the plunge on the Moto G (3rd Gen)? Then your patience may well have paid off as the Moto X Play just became available on the MotoMaker service on Motorola's website. What is really surprising is the price that this device will cost. The 16GB version is going to drop at £279 with free shipping and the the 32GB will be £309.
These prices are the SIM-free prices when bought direct from Moto. We are yet to see what will be happening in the land of network deals. As of writing this post, no networks have indicated that they are carrying the device in stores. However I would find it very surprising if this did not arrive on Three at the very minimum. They have had the Moto G partnership with MotoMaker since that launched a few weeks ago.
As before, you will be able to choose between white and black faces to the phone. Then you can choose from various different colours for the accents and back plate. You can also get them engraved with your name, or company details etc.
Here is a mock up I made in the Coolsmartphone site colours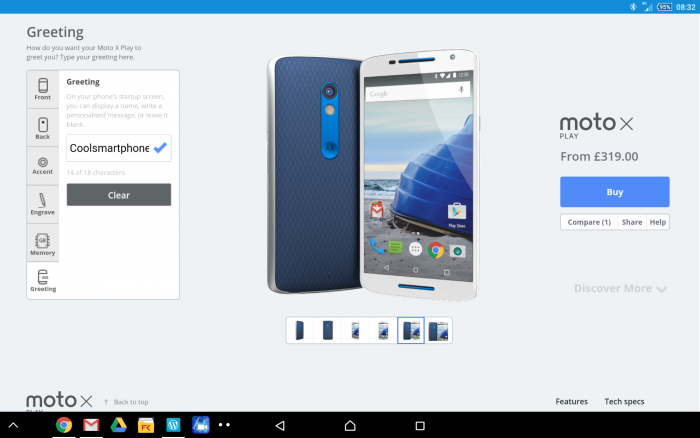 Pretty nice looking don't you agree? I very nearly clicked on this to buy it as the whole spec proposal on these phones is really quite good and you are getting quite a lot of value for your money. This phone also competes quite nicely with the OnePlus Two, especially as you don't need a ridiculous invite to order one. We will hopefully have a chance to pit these two wallet sensitive beasts against each other in the near future.
In the meantime, if you're looking to get a Moto X play, then get yourself onto the link below for your chance to get one made and delivered in about 8 days time.
For a more thorough look at these devices then feel free to check out our man Matteo's hands-on piece from the launch in London the other week.