Earlier this week we covered the Motorola Triple Product Launch in London with a live-blog and have discussed what was launched in a post and this week's Coolsmartphone Podcast.
Lets look at the three products Motorola launched in a bit more detail.
Moto X Style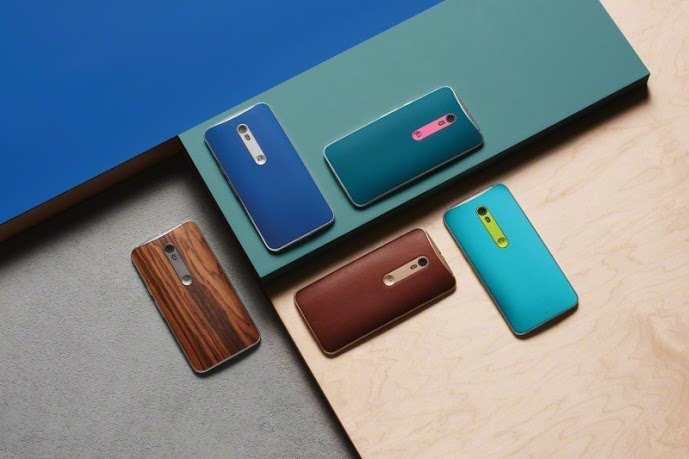 Motorola's new flagship. The Moto X Style is a refinement of the Moto X product formula, offering a high build quality, snappy and smooth user experience and running an almost Google experience Android. The design language of the hardware has been tweaked slightly, cameras and chipsets have been improved. The Moto Maker device customisation has been iterated upon with new materials and options. All round a big improvement, and with the Moto X Style the Motorola flagship also has storage expansion.
Spec sheet:
5.7″ 1440×2560 screen
Hexa-core Qualcomm Snapdragon 808 chipset
16/32/64GB sotrage expandable via MicroSD up to 128GB
3GB of RAM
Android 5.1.1
21MP camera with dual LED (dual tone) flash/5MP front facing selfie camera
Non-removable 3000 mAh battery
One of the things you notice while holding the Moto X Style is how relatively easy it is to hold despite the relatively large screen. The screen to body ratio is 74.9%, which is relatively high. Just as with previous Motorola devices, the curved back makes it easy to cradle in your hand and the new silicon backs give you a reassuring feeling you are not going to drop the device.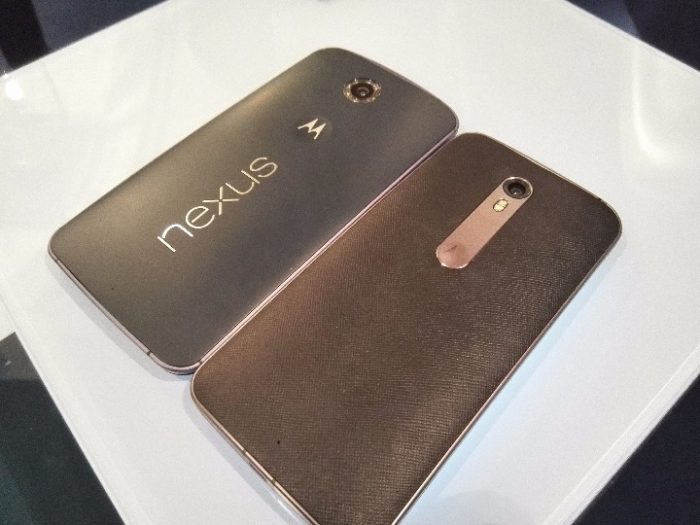 The default/base back material is a new corrugated silicon, which Motorola claim will wear gracefully while not discolouring and getting scratched easily. Moto Maker offers you the opportunity to customise the trim colour, front colour, back colour/material and even get a small message engraved on the back. When you factor in the customisation options, including woods and premium leathers, you can have more than 300 combinations. My hearty sank a little when I found out there was no mockodile option, but my hopes remain alive for next year…
As mentioned earlier, the software is an almost Google experience of Android. Only a few icons have been customised, and the few software additions Motorola have added are mainly utilities which add value to the device.
The camera on the Moto X Style is a 21MP one which performs impressively in low light. While on paper OIS is not there, software tuning makes the lacking feature less of an issue. At the launch event we were allowed to field test the cameras in low light setups and compare to competitors. Overall Moto devices did a great job and those test environments also highlighted how good the screen on the devices were. Video recording maxes out at 4k, as you would expect from a flagship.
While using the device I noticed no lags or slowdowns. The Qualcomm hexa-core Snapdgragon chipset keeps things ticking over smoothly coupled with the 3GB RAM, and most consumers will not notice the lack of a couple of cores while benefiting from improved battery life. Fast charging is an option on the Moto X Style. Again, as Motorola have done in previous iterations of the Moto X, the flagship experience is delivered while not competing on spec sheet alone.
The Moto X Style will be on sale in September 2015, and pricing is expected to be around £400 including VAT depending on customisation options selected in Moto Maker.
Moto X Play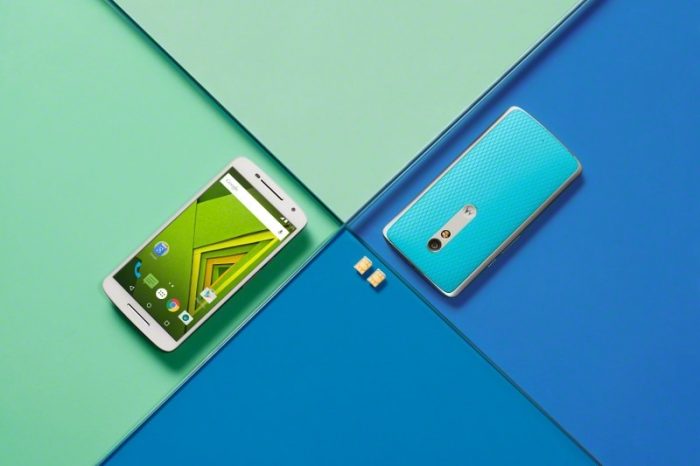 The Moto X Play is the mid-range flagship few were expecting before its announcement. Sitting in a lower pricing tier compared to the Moto X Style, it delivers an excellent value proposition while satisfying most users needs.
Spec sheet:
5.5″ 1920×1080 screen
Octa-core Qualcomm Snapdragon 615 chipset
16/32GB sotrage expandable via MicroSD up to 128GB
2GB of RAM
Android 5.1.1
21MP camera with dual LED (dual tone) flash/5MP front facing selfie camera
Non-removable 3630 mAh battery
The Moto X Play is a more handleable and chunkier sibling of the Moto X Style. The 5.5″ fullHD screen has similar bezels to the Moto X Style, and the back has a slightly thicker curvature, so as to house the larger battery. Using the Moto X Play you don't notice that the device is running on a slower and less capable chipset. The only real indicator of the Snapdragon 615 running the hamster wheels inside the Moto X Play is the fact the device can't record 4K video, but most users won't really notice that.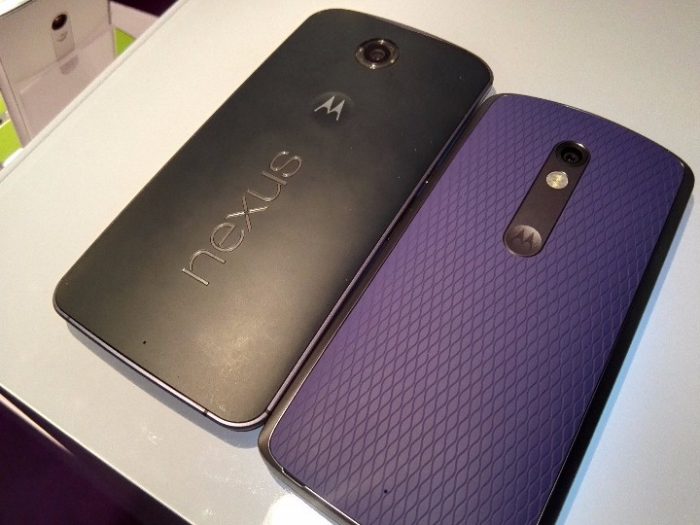 Just as with the Moto X Style, Moto Maker will be available for the Moto X Play and the software experience is identical. Fast charging is available on the Moto X Play too.
The Moto X Play is expected to go on sale in  August 2015 and command a price of approximately £300 including VAT, depending on Moto Maker customisations.
Moto G 3rd Generation

The Moto G product category has been a winner for Motorola since late 2013. Now the third generation has been launched and is on sale, Motorola have iterated on their winning formula with some relatively big changes in terms of customer choices offered.
Spec sheet:
5″ 1280×720 screen
Quad-core Qualcomm Snapdragon 410 chipset
8/16GB sotrage expandable via MicroSD up to 32GB
1GB (8GB)/2GB (16GB) of RAM
Android 5.1.1
13MP camera with dual LED (dual tone) flash/5MP front facing selfie camera
Non-removable 24700 mAh battery
The 3rd Generation of the Moto G is now IPX7 certified: that means it can go under water for up to 1 metre for up to 30 minutes. You can just take it out of water, wipe it off and start using it. The same hardware design language as on the Moto X Style and Play is on the new Moto G. The silicon backs make a big improvement compared to the relatively slippery plastic of the previous Moto Gs.
Readers with good attention span and attention to detail will have noticed there is something funky going on in the spec sheet as far as storage and RAM options are concerned. Yes, there are now two different base SKUs for the Moto G. While sharing the same chipset, the 8GB storage version comes with 1GB RAM. The 16GB version has 2GB RAM. Both the 8 and 16GB SKUs (Stock Keeping Units) are expandable up to 32GB with MicroSD. More choice in this area of the product allows users to choose a Moto G to more closely satisfy their needs. A consumer looking for a "toaster" (smartphone that does the job and isn't their whole life) will be more than satisfied with the 8GB SKU, while a consumer who lives in their mobile device might prefer the improved performance the 16GB SKU offers.
The biggest part of the Moto G announcement was the fact that Moto Maker is now available for the 3rd generation Moto G. With more than 300 combinations of specs, backs and colours this is an industry first in the mid-low range of the market. All back options are replaceable on the Moto G (unlike on the Moto X Style and the Moto X Play), and all guarantee the IPX7 certification provided they are clipped on properly. Both Amazon and Motorola already sell replacement backs in a wide variety of colours, so accessorising with your shoes/handbag/car/political affiliation is easy. In the UK, Moto Maker for the Moto G is a Three UK exclusive until later this year. You can get a Moto G 3rd generation on contract from Three online or in store and you will be issued with a code which waives the price of the device at checkout. Delivery time from online order from Moto Maker is expected to be a maximum of 10 days.

The Moto G 3rd Generation also makes a major improvement in the camera department. The same sensor which is in the Motorola built Nexus 6 is in the Moto G 3rd Generation. Optical image stabilisation is not present, however the lense has been improved. Keep an eye out on my upcoming review of the Moto G 3rd Generation for sample shots and my thoughts on the camera.
Final Thoughts
Motorola have strengthened their product portfolio considerably with the triple launch this week. Splitting the Moto X into two tiers is a great way to cover two different market segments while offering a consistent software and hardware experience. The Moto G does the same in a more subtle way, while making Moto Maker customisation in an affordable option. The winning product formula is strengthened by the commitment to have a Google-like Android experience on some excellent value hardware.
The slick presentation, delivered from three locations around the globe (London, Sao Paolo and New York), was impressive, and the hands on area event attendees used after the announcements was excellent. Motorola's marketing department deserve a pat on the back and a mockodile case for this one (coming from me that's a compliment).
Expect to see Motorola continue to gain market share and be loved by consumers. They are already winning back love from the original Razr days, and as part of Lenovorola their path seems to lead to a bright future. This is also testament to how Android is now a dominant and democratising mobile platform, allowing companies like Motorola to come back from semi-obscurity.