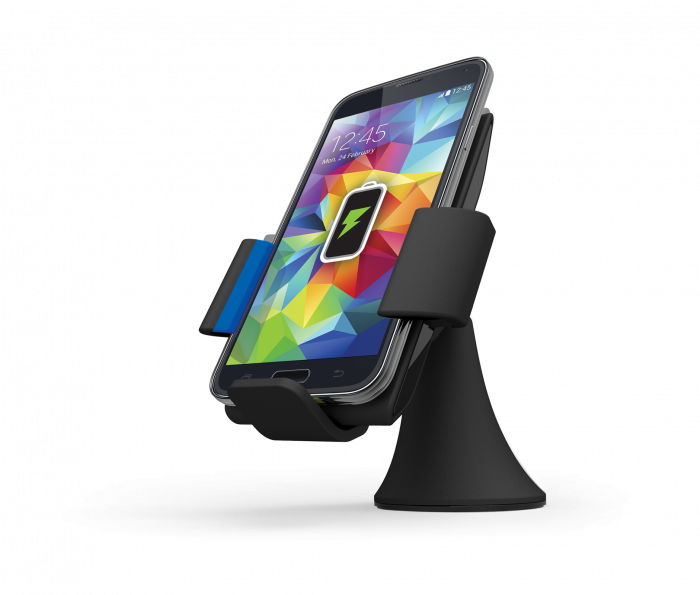 Although I don't spend all day in my car, like a lot of mobile aficionado's I've moved over to using my handset as the source of my In Car Entertainment (do people even use the phrase ICE any more?). Between using it for navigation and listening to music etc, it means that one; I need to be able to have it easily accessible, and two; I need to keep it charged – enter the Tylt Vu Wireless Charging Car Mount.
Yes, its a long name, but the description is spot-on. It's a car mount that also has wireless charging. No more trying to wedge it in places where the sun doesn't shine.
This was intriguing enough for me to ask for a review unit to test out.
Packaging
The packaging is very well put together, giving you the safe feeling that if you buy online, it won't turn up at your door in a broken, crumpled box with parts that have snapped up before you've even gotten to use it.
Good Points
Easy to put together
Easy to tilt, move and position
Good padding on the arms
Nifty USB pass-thru port
Hydraulic feeling of the arms of the phone cradle
Bad Points
The arms could be a little wider to accommodate thicker phones
Contents & Hardware
Inside the box is the obligatory paperwork, consisting of:
One year warranty
The fold-out instruction leaflet (which is also in Spanish, Italian, Portuguese, German and French if that's your native language)
A thoughtful 'Contact Us' card. More on this later.
There are four pieces of hardware:
Car charger (with a nifty USB pass-thru port)
Dash/Windscreen mount
Square bracket thingy which took me ages to work out
Phone cradle
Installation
This is a bit of a misnomer. The instructions all have well-laid out pictures, so you don't really need to read the instructions if you like figuring these things out by yourself (cough *gadget people* cough).
Step 1 consists of undoing the triangular nut (easy to grip, see) at the back of the phone cradle, pushing the dash mount ball through, and doing it back up. There's a small but satisfying thunk sound when the ball snaps in place.
Step 2 is positioning the mount in whatever part of your car's dashboard or windscreen you want and pulling down on the release lever until it snaps into place. The suction unit does what suction units always do. The lever is then flush with the rest of the mount and looks nice and smooth.
Step 3 finally consists of plugging in the charging cable to the the bottom corner of the phone cradle and turning it on.
Step 3a (it doesn't deserve its own step) is merely adjusting the arms to fit the width of your device and you can lengthen the rest ledge at the bottom to accommodate longer phones by using the square button at the bottom of the phone cradle. If your phone is too long or the power or any other socket is obscured by the rest ledge, that's where the other square bracket comes in – it's an alternative rest ledge!
If any of this sounds complicated, it's because it takes longer to explain it than to pop the Vu out of the box, put the pieces together, and place them on your car dashboard. It really is that easy.
I like the Contact Us card quite a lot. Front and centre is a statement of "YOUR COMPLETE SATISFACTION IS OUR GOAL. CONTACT US DIRECTLY. If you are not 100% satisfied with the product, please email us at: [email protected]. PLEASE DO NOT RETURN TO THE RETAIL STORE. THIS PRODUCT IS UNDER OUR WARRANTY."
I have to say that's quite impressive. It cuts out the middle-man and encourages you to deal with them directly. You could argue that you bought it from the retailer and the retailer still has a duty of care, but you also get the opportunity to deal with the manufacturer directly. They want you to. How often does that happen?
In Use
I put it in the car, I plugged it in, and I put my phone in there. The bottom of the rest ledge and the back of the wireless charging coil is made of a soft rubber type material, and it was felt reassuring as if there wouldn't be any slipping or scrapes on my phone once I put it in.
It's a 1 amp charger, so for larger phones it will take a goodly long while to charge, but as a top-up charger for wireless charging, it worked well with the now antiquated Nexus 4 I was using to test it. You can also adjust the tension of the tilt mechanism by tightening and loosening the nut at the back, which was another one of those well-thought-out ideas. In my Brodit car holder for my previous phone, you had to dig out a screwdriver to tighten the screw.
Conclusion
All in all it was one of those fire-and-forget products that you get and it makes your life just that little bit easier. It is very well constructed and gives me a feeling of all-round confidence. The only thing I could say that I didn't like so much is that the arms don't quite feel as if I could rely on them if the phone was tilted downward and I braked hard. However, in testing that never happened so far, so it seems as if it's more of a worry than something that could actually happen!
You can pick up the Tylt Vu at retailers such as MobileFun for £65, and you can see more of their range at tylt.com. It's definitely worth taking a look. Although the Vu Wireless Charging Car Mount is black (which seems sensible to not over-advertise the mobile kit you'll probably have hanging inside there), they've got a lot of bright, colourful and sturdy accessories that have piqued my interest.
Tylt VU Wireless Charging Car Mount
Design - 9.3
Ease of use - 9.7
Stability - 9.1
9.4
A well put-together wireless car charger and car mount.