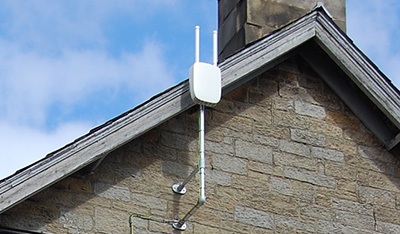 About a year ago we covered the not-spot fixing being undertaken by Vodafone. Rural hamlets and villages, traditionally lacking any kind of signal, were getting outdoor "Sure Signal" boxes installed to boost coverage.
The "Open Sure Signal" tech delivers 3G and voice / text coverage by hooking into the nearest broadband connection and are then secured to the top of a building.
How much coverage do they provide? According to Vodafone these clever boxes, which are no bigger than a cereal box, give coverage over a 500 metre radius. It might not sound like much, but in a small secluded village it can make all the difference, plus additional units can be added to create a macro-network.
Each village puts forwards possible sites, which have broadband access, and then Vodafone themselves deploy the units (rather than any third party) depending on the "shape" of the community. They're usually installed on chimneys and other tall structures, but the process over the last year has been a steep learning curve for the network, who have had to battle with incredibly strict planning regulations, varying broadband speeds and some sites which needed broadband installing from scratch.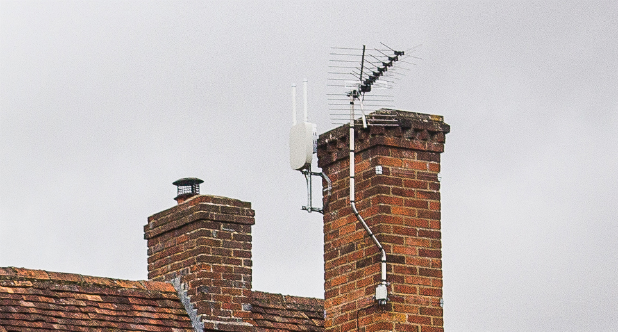 The latest three communities in their project (called "ROSS" for Rural Open Sure Signal) have now gone live – Broad Chalke in Wiltshire and both Chillaton and Lifton in Devon.
Vodafone network brain-box, Dr Rob Matthews, tells us..
These sites mark the first time that we've done the installation ourselves – now – ordering the broadband, managing the broadband, installing the devices, getting them running and monitoring them. We didn't do all that before so there's new learning points at every step – things like asbestos surveys, lightning protection and all the other things you have to consider as part of a building exercise. It's a massive task, but now that we've got the grounding it's going to help us with all the other villages going forward. We're able to really motor now to get villages up and running with our 3G.
EE are also doing something similar, but we'd love to see a big push by all networks to plug those remote gaps in the network and also provide at least 3G in areas bathed in GPRS and Edge.
Get all the detail on the project here on the Vodafone blog and via vodafone.co.uk/rural.