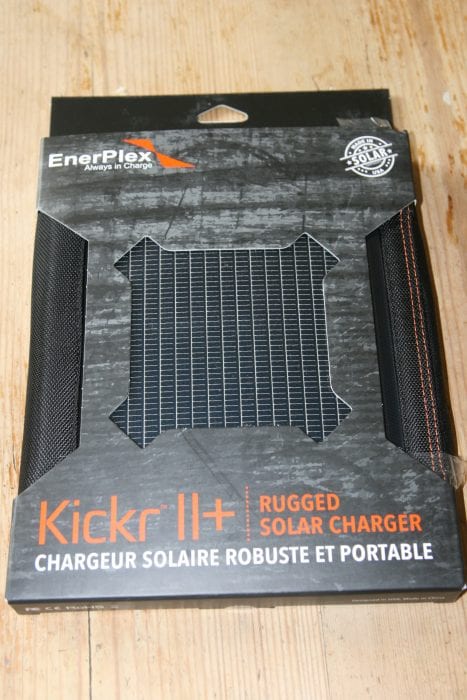 Last summer I camped for the first time in years.  It was fun but it got me thinking about going back to basics.  No matter how hard I tried, I couldn't comprehend leaving my phone aside for anything more than a few hours.  Of course we are now massively reliant on electricity for keeping everything going, particularly with the short battery life of most phones, tablets, laptops etc. Given this I was intrigued to try out the EnerPlex Kickr II+ Rugged Solar Charger.
The charger looks rather like a laptop or tablet slip case.  It has what looks like are padded sides, with a zip running around it.  A closer inspection reveals that it is actually much tougher and both front and back are covered with large solar panels.
The solar panels seem tough, though the instructions warn you not to 'bend or crease' them.  Ideally then you should place the charger inside a further case to protect it properly.  This isn't too much of a burden though, as the case is light and relatively small – it weighs 392g and measures 260x220x20mm.  Flipping the case over reveals the point of the solar panels: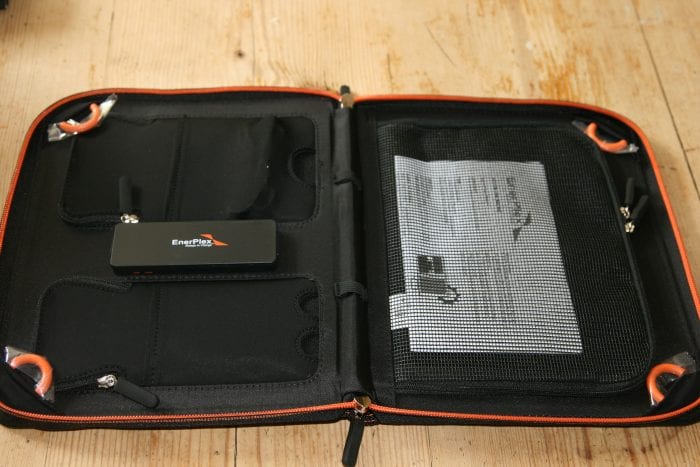 On the right-hand side is a compartment, not padded, but quite large with netting around it.  On the other side are two padded compartments, one slightly larger than the other, and the battery.  This is the whole point of the case: the solar panels are used to charge the 500mAh lithium polymer battery.  The battery itself has two outputs: a standard sized USB and a micro USB.  The charger comes with a micro USB lead, but in practice you should be able to plug anything into this that fits.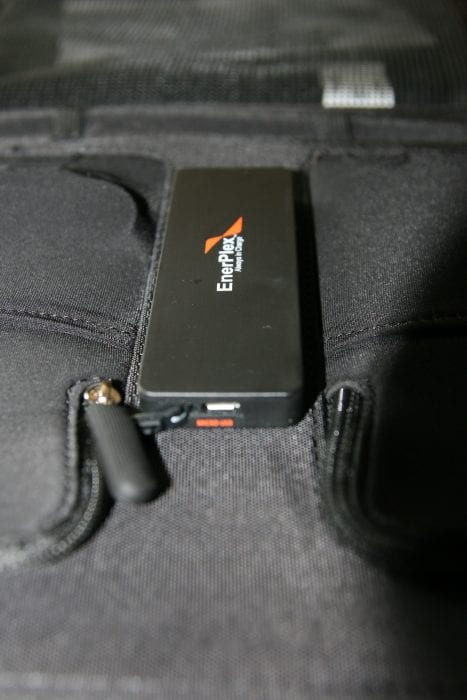 So far so good.  The charger can be used in a number of ways: you can plug your phone in and let the solar panels charge it (presuming you're not in England on a rainy day); you can not plug anything in and use the solar panels to charge the actual 500mAh battery; or you can plug the battery into a wall socket and charge it directly.  The big question of course is how well does it work?
Anyone who has used external battery packs will know that 500mAh is a mere drop in the ocean to what is available out there.  EnerPlex claim that the battery will charge most phones in about 5 hours – this is assuming that the battery is fully charged to start with.  Using the solar panels alone to charge a phone will take more like 24 hours. Of course, this is all dependent on the size of the battery that is being charged and what technology is utilises.  On the iPhone 6 Plus, with its 3000 mAh battery, the case worked well but the bigger battery meant that the actual figures were a little slower than EnerPlex state.  An issue that is apparently unique to Apple products (it would be wouldn't it!) is that they don't like fluctuating currents, so it frequently stated on the phone screen that the 'accessory wasn't supported'.  EnerPlex say that if this happens, you should unplug the phone, find total sunlight, and plug it in again…
Overall I very much like the idea of the case.  It is well constructed, lightweight, with useful pockets.  Having the ability to charge devices without recourse to a socket is extremely useful.  That said, I can't help but think that given the size of the battery relative to the case, it would have been better to include a larger capacity battery.  I'll certainly take it camping this summer, even if it's only to keep my phone charged to use as a torch.
Further details can be found at EnerPlex's website.
The Kickr II+ can be bought for £63.95 here.