So this is the bendy version of the LG G3. At least, it is in my head anyway, because as a big LG G3 user, the LG G Flex2 looks initially nothing more than a kinky version of the G3. However, inside the G Flex2 there are some slightly uprated specifications. This has a 64-bit Qualcomm Snapdragon octa-core CPU, so you're getting a quad-core 1.5GHz unit sat next to a quad-core 2GHz unit. Other than that though, there's actually a slight dip in the screen resolution. The G3, which I will be comparing this device to a lot in this review, has a 1440×2560 pixel screen at around 538 ppi, whereas this has a 1080×1920 pixel screen at around 403 ppi. The curved screen here also means you're looking at a P-OLED capacitive screen instead of the True HD-IPS + LCD on the G3. You also lose a tiny bit in the screen-to-body ratio on the G Flex2, with a tad more border present at the bottom of the display.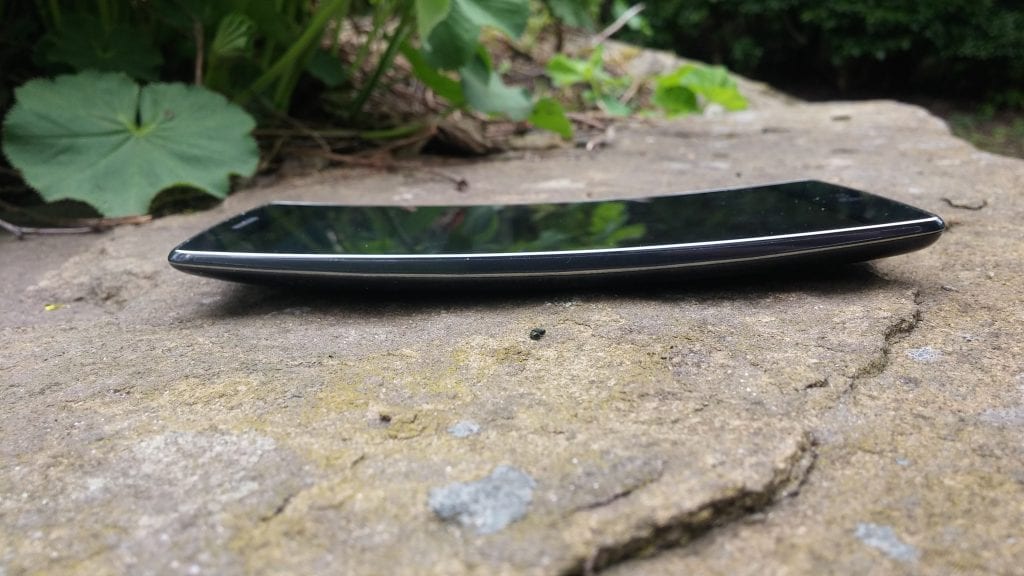 Everywhere else, things remain roughly the same. It's a 5.5″ screen, Android 5.0.1, a 13 megapixel laser-focus rear camera, 2.1 megapixel front shooter, 2GB RAM (in this Vodafone version) and 16GB of on-board storage. The microSD card is still there, as is Bluetooth 4.0, WiFi, GPS and 4G connectivity. Hmm.. I'm really struggling for differences here. Umm.. it's 3 grams heavier than the LG G3, like that makes any difference. Errr.. Oh, and you can't take the battery out.
I'll confess right here that this review is going to jump around a bit. You can forget the usual pattern of my reviews, because I've kinda fallen in love with LG kit of late and that G3 has been my "driver" every day for the past year. This bendy G Flex2 is going to come under some serious analysis.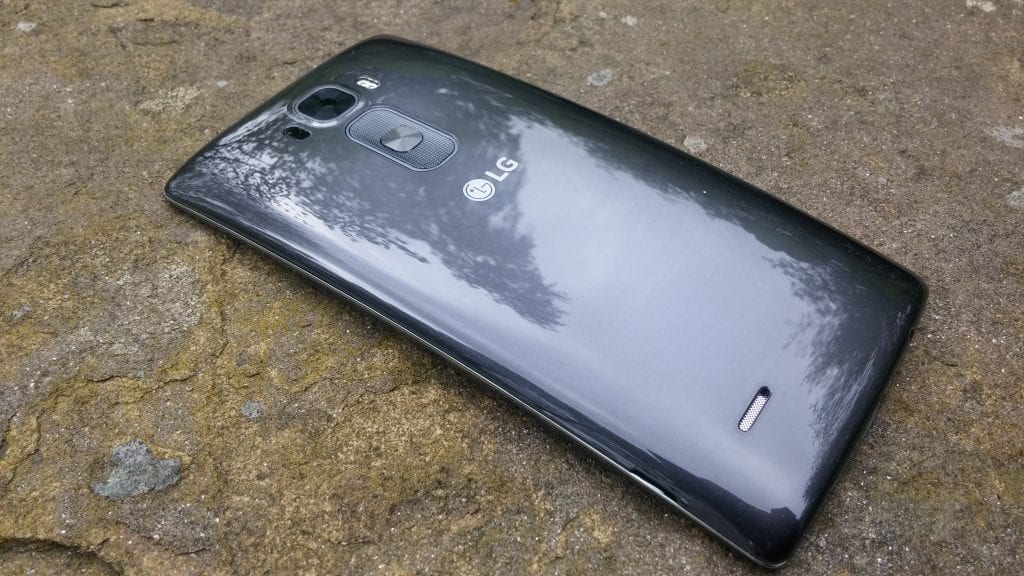 We would at this point mention that earlier model, the G Flex. Remember that? It definitely turned heads, but it was a bit big, a bit too curved and had some strange screen bleed issues. Here, I can happily tell you, there's none of that. They've got the curve just right and the screen is really nice – no ghosting or strange blending going on at all. The only bit where it does fall down it in direct sunlight. That plastic OLED screen just doesn't get as bright as the G3 or any other smartphone, which results in you diving into the shadows to see the screen properly. I cranked everything up but still I could only just see the display in bright sunlight.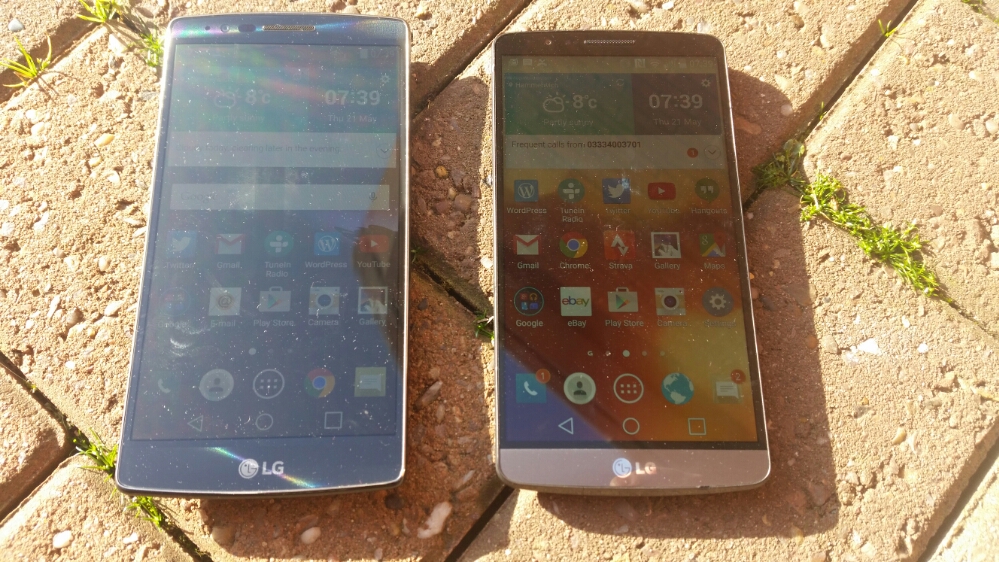 That said, the screen, especially when you hold it in landscape mode, gave a very nice immersive experience. It was almost like that "Supermarionation" logo on Thunderbirds..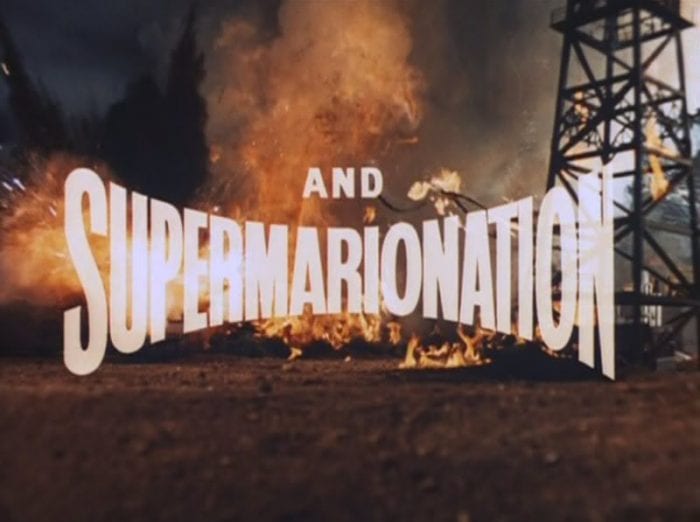 Sliding your finger around (I use the Google keyboard with the swipe feature rather than the supplied LG keyboard) was a little weird to begin with, but after a short while I quite enjoyed the experience of moving my finger around a curved surface. It felt a bit more natural in a way.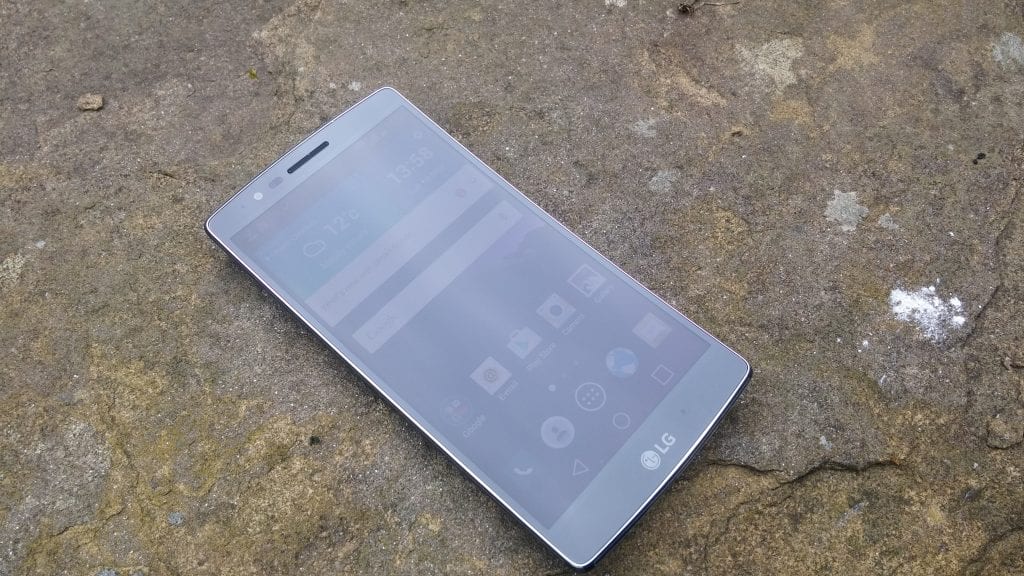 The CPU performance definitely showed through. Web pages popped up with lightning speed and apps installed and ran briskly. It was a marked improvement on my daily G3 experience.
Right. If you want the "quick" hit, here's a hands-on video, complete with a large amount of "umm" and "err" …
Outside
The curvature of the handset is just about right, although it does rock when you hit the top and bottom of the screen if it's on the desk. Up front, the display does indeed have a larger "chin" area at the bottom of the screen and also at the top. This meant that my thumb couldn't quite reach the top of the screen, whereas it could on the G3. The front section also houses the selfie camera with a "beautify" mode (increase this lots if you've had plenty of beer) and it worked well in low light.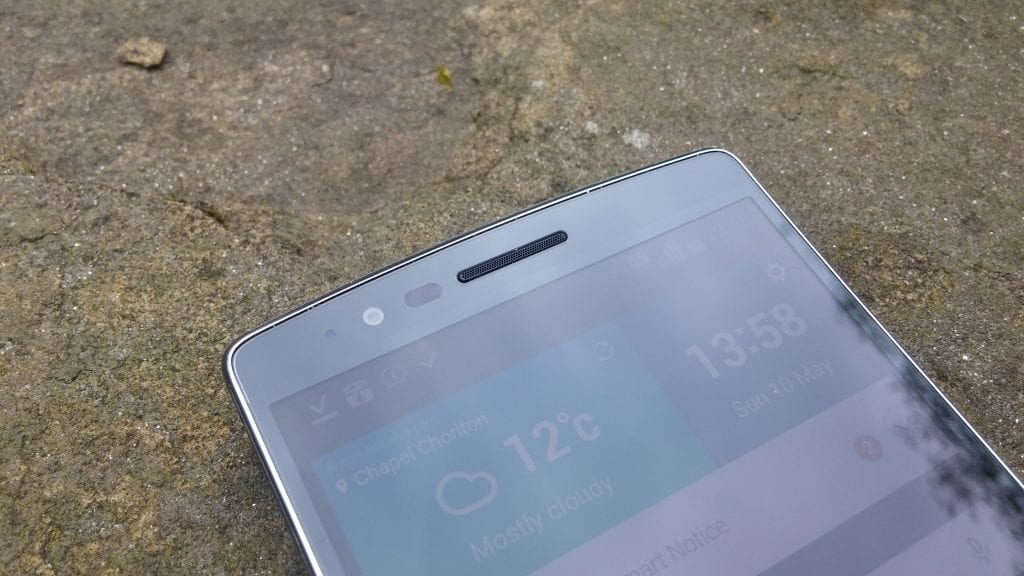 There's also the earpiece and proximity / light sensors. There's on-screen capacitive buttons but, like other "G" handsets from LG, there's no real buttons on the handset apart from those on the rear. More on them in a moment.
The top section comes to a dangerously thin point with the IR blaster a secondary microphone for cutting out background noise on calls.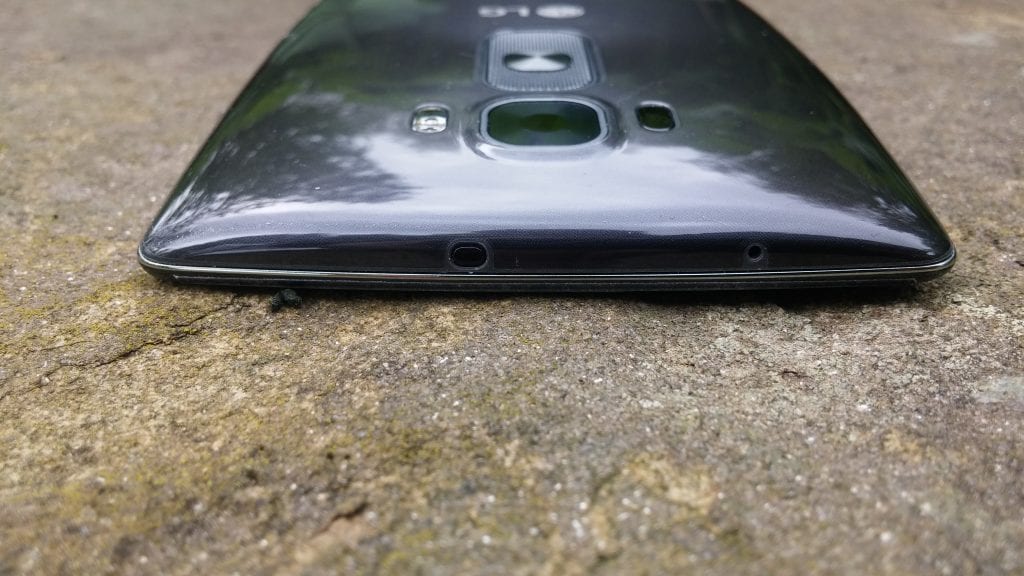 If you are already LG user you will be familiar with the rear button setup. Here we have the familiar volume up / down and action button assembly. You can wake the device with this key or double-tap the screen thanks to the LG "Knock on" system. I particularly like this and it really does stop you using any buttons apart from those volume controls.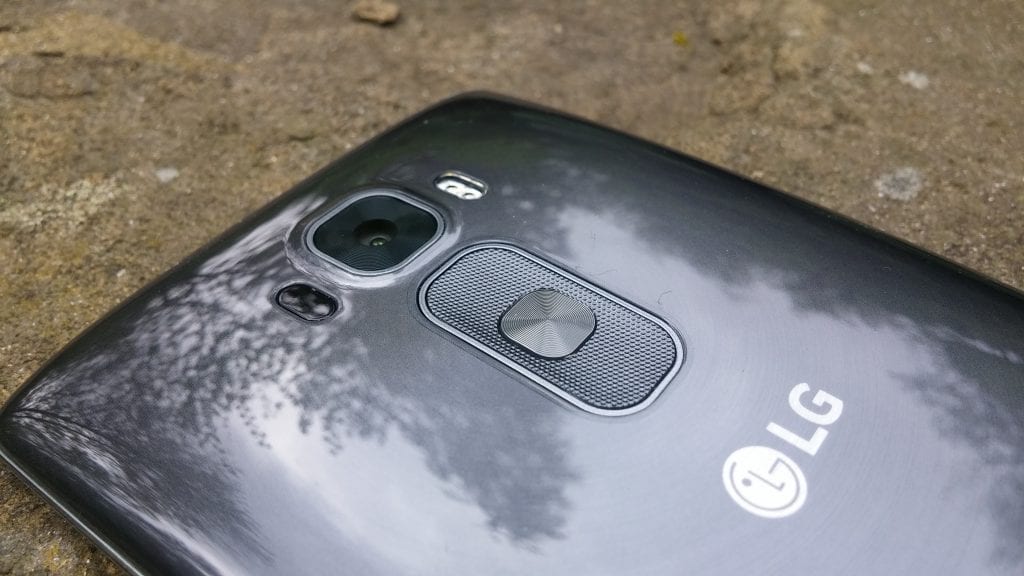 The rear camera is also here, and it comes complete with flash and the laser to quickly focus shots. This worked brilliantly and I'll confess that images worked just as well here as they do on the G3. You'll find that the standard "widescreen" shots are 10 megapixels, and if you want the full 13 megapixel you'll have to put up with square 4:3 images, which probably isn't ideal but I found 10 megapixel to be fair enough.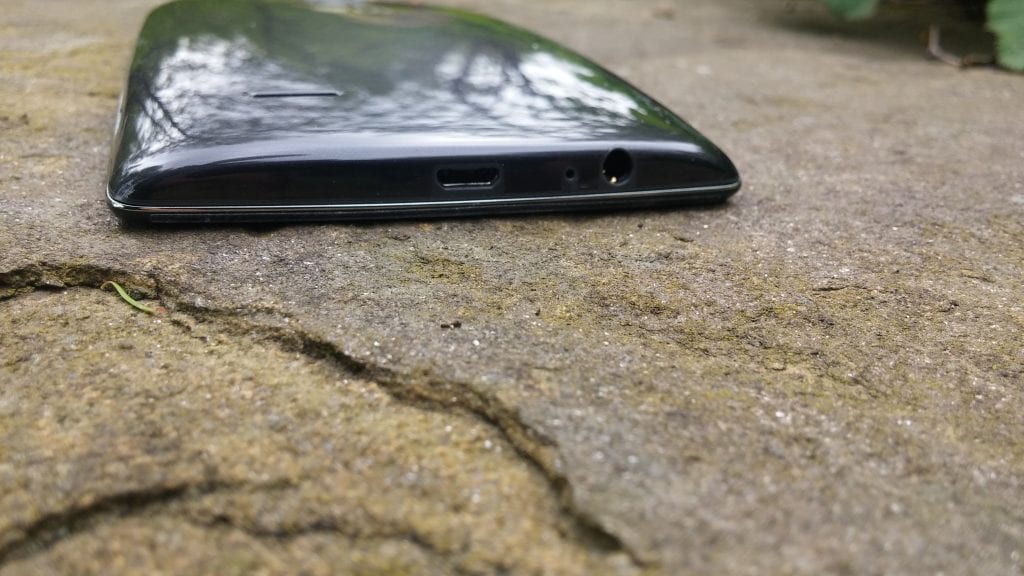 Down at the bottom is where you'll find the 3.5 mm audio port, the microphone and the microUSB power slot, which is also where you can also plug in your PC if you wish.
Inside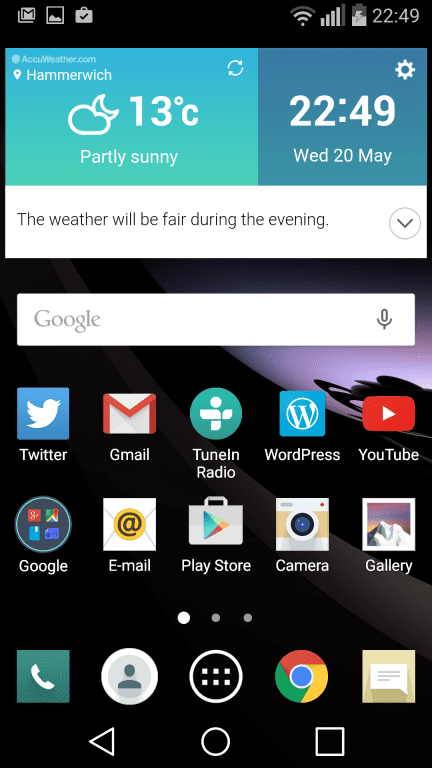 A quick and fresh OS interface is present on the G Flex2. There was slightly less "LG-ness" on this one, and I couldn't see the LG Health app (for tracking fitness etc) taking up a whole screen on here, but it is still available and there is an LG Smart World application for recommending apps.
Unlocking the phone can either be done through a normal unlock screen or via the LG Knock Code. Either way it's a beautiful experience and you can overlay your local weather conditions on here so you can tell if it's going to rain or snow without having to unlock.
The usual Android apps are on here (Calendar, Calculator, an FM radio, a phone and messaging app that'll guess which contact you're trying to contact from your key presses and a memo / music and gallery system) plus there's all the Google goodness – YouTube, Maps, Google+, Hangouts, Drive etc. There's also a homescreen system that we're all familiar with, allowing you to drag apps around, create shortcuts, add widgets and folders. You can also reorganise the icons on your quick-start bar on the bottom to suit.
Vodafone have also added a "Discover" widget which gives quick details on battery, internal memory and SD card status. By the way, I found that the battery lasted all day, even with my insane usage, so I'm guessing that the screen didn't hammer the battery quite as much as normal screens.
As usual with Android, anything you don't like you can change. Apps are plentiful and available through the Google Play store. You can also change the backgrounds, ringtones, lock screen and pretty much everything else to your preference.
Benchmarks
As a comparison, here's a look at the benchmarks of both the LG G3 and the LG G Flex2.
First, the G3…


Secondly, the G Flex2…


Camera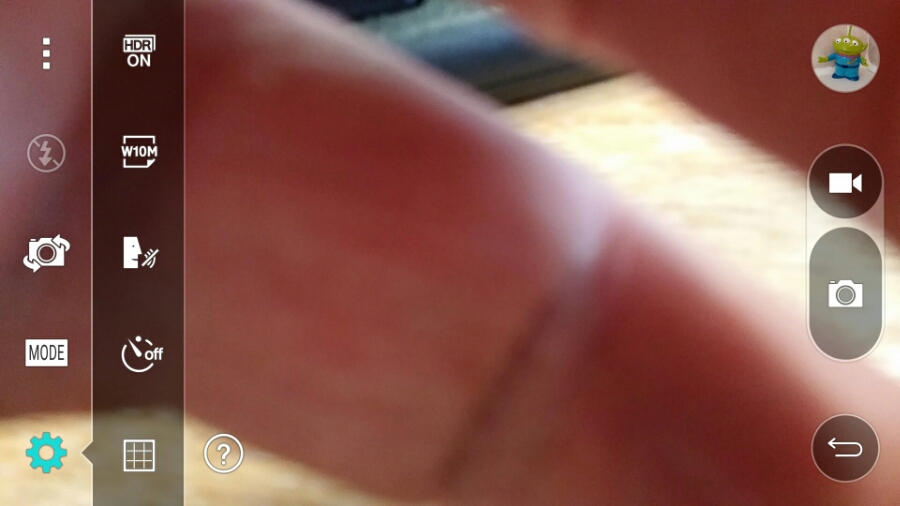 As I mentioned in the video there's a range of camera options and the laser focus is incredibly quick at snapping shots. You also get a timed photo, voice-activated shot, panorama, dual-image and a video mode that'll let you snap pictures as you film. Overall it performed well, including low-light shots. Here's a few examples.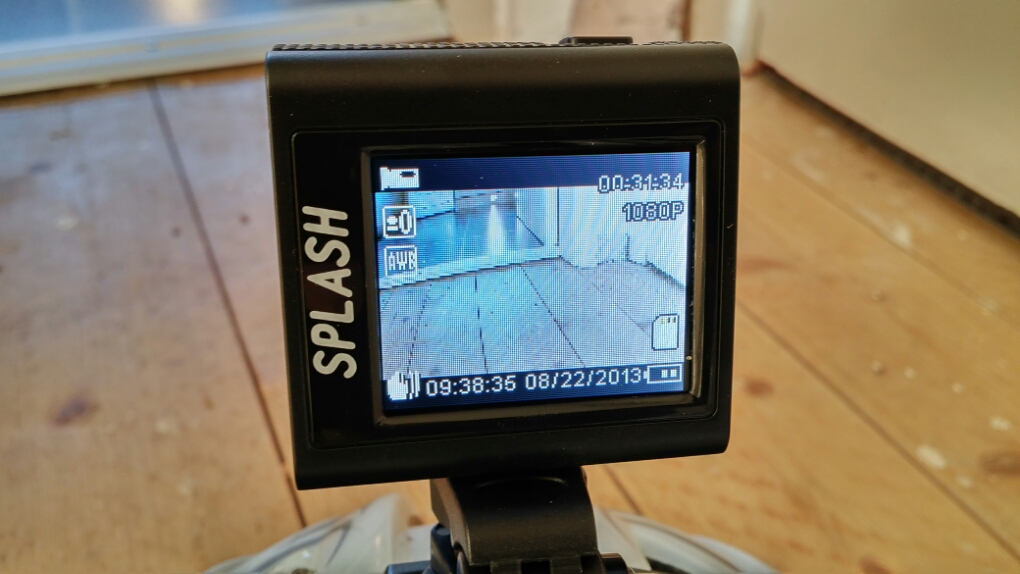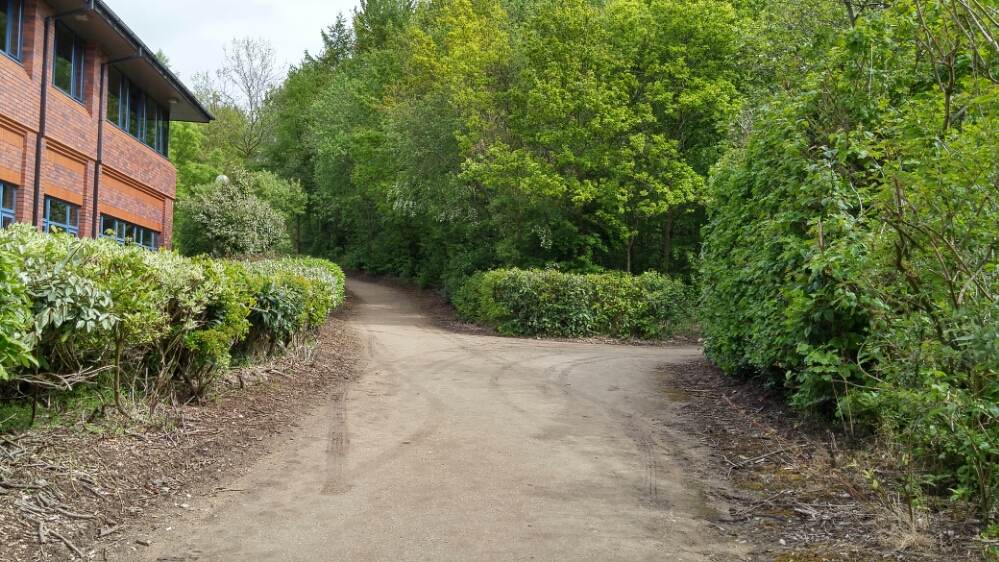 By the way, these are all in HDR mode and that shot of the helmet is for another upcoming review 🙂
Overall
The positives of this handset is that it stood out and the curvature of the device was pretty much spot on. As the old Goldilocks story goes, it wasn't too much, wasn't too little – juuuuuust right. It was speedy too, but I struggled to see why (other than the fact it's curved) you'd buy this over an LG G3 or the newer G4.
The G Flex2 is available on Vodafone for nothing on bundles costing £40 or more per month. To be honest, it's hitting a premium price-point here and sits next to my LG G3 on the same network for free on £26 per month plans. I've gotta be straight with you, it's hard for me not to recommend the cheaper G3 – even though the newer G4 is now out.
If you want to stand out though and have that curve and a faster processor with a tad better battery life, this is a beautiful looking thing. It's well designed, feels good in the hand and has a more natural and ergonomic feel to it than every other handset on the market.
LG G Flex2
Premium quality build, design and features plus a form-factor that stands out. Fantastic camera, fast UI and stacks of storage.