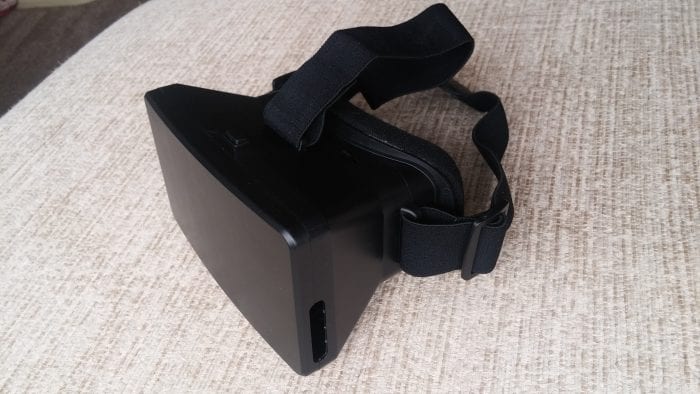 I reviewed the Google Cardboard some time ago. It was £2 and is (obviously) made from cardboard. It's a virtual reality headset which uses your phone as the screen. This one, which isn't made of cardboard but has a similar design, is £29.95.
You buy this, slap your phone in the front, plonk it on your head and then adjust the lenses in front of your eyes. You can then either download the Google Cardboard app or something like this 3D under-water app and jump into a different 3D world. If you have a dig around Google Play you can also find apps which will let you fly in a hang glider or watch fireworks. The clever sensors in your phone will know which way your head is pointing, where you're looking and you'll get a full immersive experience as the screen moves with you. If you fancy watching movies then there's apps to do that too. In theory it's like stepping into the Holodeck in Star Trek. It should be, anyway.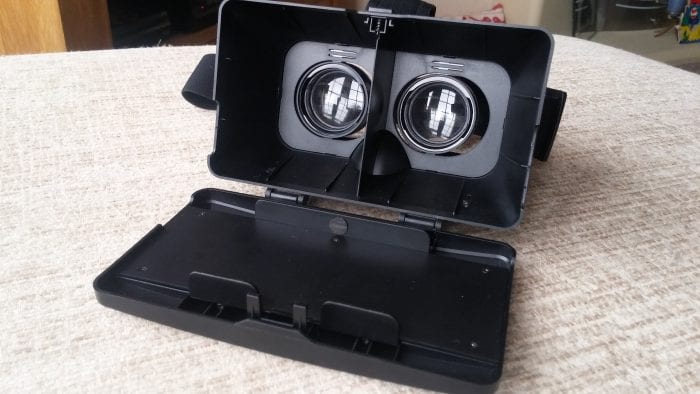 Seems great, and initial impressions are great too. It's a sturdy plastic construction with adjustable elastic headband and sponge protectors around the eye sockets. It arrives with plastic circular stick-on covers to protect the lenses and a door up front which is held closed thanks to a strong catch.
That plastic door drops down and there's a couple of gripping sections to hold onto your phone. They have a small amount of padding for actually holding onto your device but, truth be told, your phone has to be pretty thin as the grippers themselves aren't overly tall. This results in slightly fatter phones (like my LG G3) falling out quite easily, although you can close the door still and the central divider will hold it in place.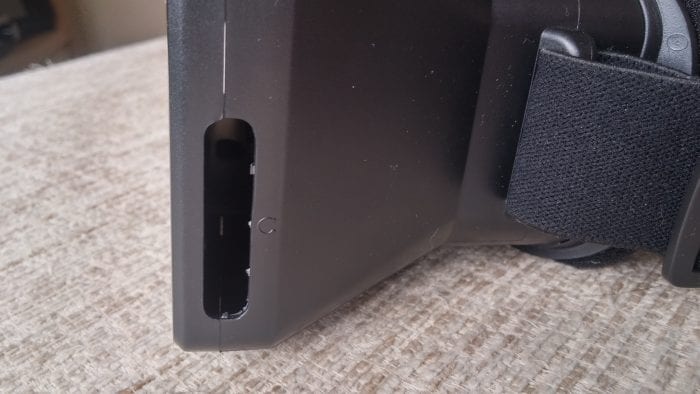 On each side there are holes which are initially covered with blanking plates that you just pop out. These are for your headphones, so you can listen to the full stereo audio experience instead of putting up with the muffled audio that bounces around inside the headset itself. Plug your headphones into the appropriate side.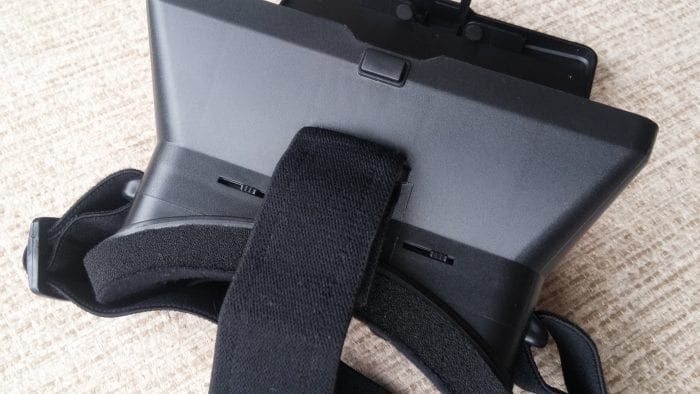 On top, two sliders to move the lenses left and right to match your eyes. You can also rotate the lenses to adjust the focus.
The head straps are comfortable and easy to adjust, with the top one using velcro to stay in the desired position and the others adjusting via a buckle. The padding around the eyes is something I was thankful of, and they seem to have struck the balance between the fact that the phone pulls the device forward and the need to sufficient "strappage" on your head.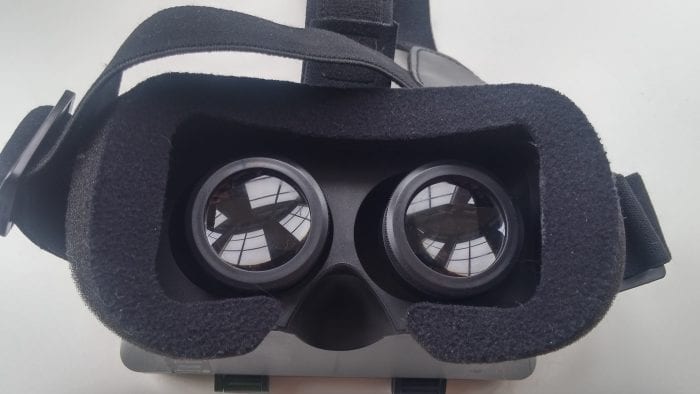 So, I was armed and ready. I'd downloaded a VR application, I'd managed to start it up and then I opened the door, slotted my phone onto the cradle and closed it tight.
For those of you after a bit of video action, here's an overview…
Then it all started to go wrong.
Firstly, I have absolutely no way of interacting with the phone. It became a massive problem. On the incredibly cheap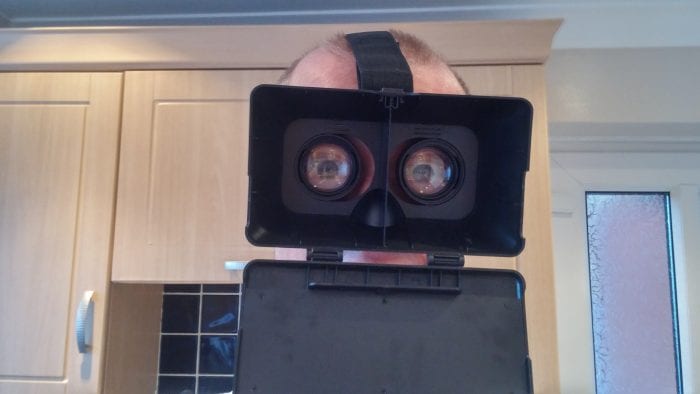 Yes. It's like something out of Silence of the Lambs as the lenses magnify my eyes. It scares everyone in my household. AGGH!!
Then came problem number two. A massive design problem. Again, on the official / unofficial Google Cardboard accessory, it's basically made of… well.. cardboard. Here the phone is completely enclosed within an almost air-tight plastic shell and, when you're watching a short VR / 3D video and enjoying some whales swimming around or something, your phone becomes extremely hot and, in my case, shuts down completely. Within 5-10 minutes of using this my son complained that it had stopped and, when I looked at the screen, it was warning of a high temperature and was about to shut down. The back of the phone was red hot and the flat plastic plate it rested against really wasn't helping matters one bit.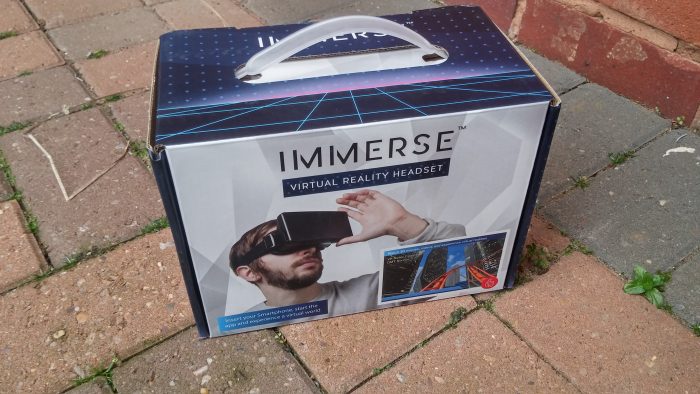 I popped open both of the small openings for the headphones, but alas it happened again, rendering the whole thing fairly useless. I couldn't use it for short fun 3D / virtual reality apps because I had no way of interacting with the screen and I couldn't use it for watching videos because my phone overheated. My advice? Spend a lot less and build yourself one from cardboard.
The Immerse Virtual Headset is £29.95 from Prezzybox.com
Immerse - Virtual Reality Headset Review
Build quality - 8.7
Price - 7.1
Usability - 1.7
5.8
Good build quality, but sadly left me with a phone that overheated and I simply couldn't interact with.