Battery cases and portable chargers are becoming ever more popular. Just look at EE, who had a million requests for their Power Bar scheme.
I've been a fan of the Mophie Juice Packs since I bought my first one for the iPhone 4S. I'm a heavy user of my phone and the batteries tend to suffer. The Mophie has saved me on a number of occasions from going flat and being a fully enclosed case also provides some support against the occasional plummet to the floor.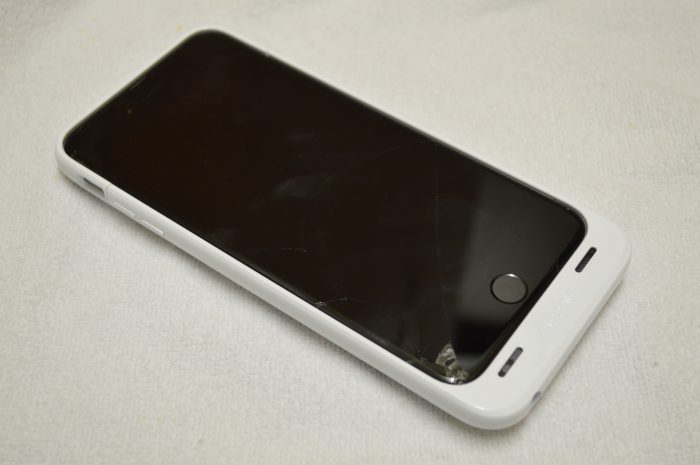 I have the white version of the Mophie Juice Pack for the iPhone 6 Plus and this has managed to save me in the short time that I've been using it. From its 2,600mAh internal battery it can provide up to 60% additional battery when needed and the best thing about it? It actually does and that'll be more than enough to get you through the rest of the day and back to a wall socket.
When you take the Mophie out the box there's two things you notice. The first is the size. The iPhone 6 Plus is a big device and adding a case like this is only going to make it bigger, but carrying an extra battery is always going to add size somewhere. Then there is the section that you pull of to allow the phone to be placed in. This time they have gone with pulling the top off so to speak.
Sliding the phone in is a smooth process. The velour backing reduces the risk of scratching your device and the little rubber pads make the fit snug and reduce any movement. Once the device is slid in, the Lightning connector does a little "click" and you know you're in.
The buttons and ports are accessible, the buttons feel like buttons, you get the click when pressing them. From some of the cheaper ones if they don't have a huge hole cut out for the buttons it generally feels like your pressing a sponge. The microUSB port allows for a little more compatibility with third-party accessories and the pass-through lets you charge your device first before the case itself.
We then have the headphone socket, the hole is narrow so inside the box Mophie have included the usual adapter to help you still plug in those cans.
Overall the Mophie Juice Pack for the iPhone 6 Plus adds additional power when needed and it also looks good too. With its fully enclosed design it allows for some protection against bumps and bangs and keeps your device in good condition.