Following last year's Gadget Show (2014), I was sent a Qi wireless charging car kit and charging pad from Mobile Solar Chargers, which really impressed me. The review can be read here.
A short while ago, Tim from the site contacted me again with a multitude of goodies for me to review, namely; a small and compact and well designed powerbank, a 7000 mAh powerbank with a wireless charging plate on the top, and a 3 coil Qi wireless folding stand.
1. MSC Power Stick Portable Phone Charger.
Specs.
Samsung 2600 mAh battery
input: USB DC 5v/1A
Output: USB DC 5v/2A
Cycle life > 500 full charge/discharge
Weight: 77g
The MSC Power Stick has an aircraft-grade aluminium body and feels premium in the hand. It's the size and shape of a large lipstick, which means it's very pocketable. The charger has a handy display which shows the remaining charge. On the inside, the charger is fitted with a 2600mAh Samsung battery, so there should be no issues on the reliability stakes.
In Use.
The Power Stick took just under 3hrs to charge to full from a 1A output mains charger, and was able to charge my OnePlus One from 0% to 80% in just under a couple of hours (this will be down to the fact the OnePlus is fitted with a 3100mAh battery).
I've tried a number of powerbanks of various shapes and sizes, and the MSC Power Stick is one of the better ones due its build quality, handy display and small size for portability.
The Power Stick is available in a number of colours and costs £15 from Mobile Solar Chargers.
2. 3 Coil Folding QI Wireless Charging Pad.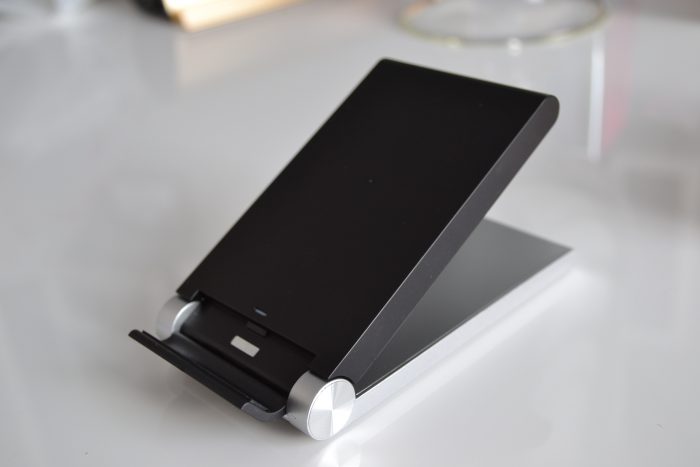 Specs.
TX Input: DC5V/1.5A
RX Output: DC5v/1A max
Working Frequency: 110-205KHz
Conversion: 72%
Size: 66 x 117 x 18mm
Nearly all the ODM's (Original Device Manufacturers) are including wireless charging options in their flagship devices, the notable exceptions being HTC and Apple due to their metallic construction. There are currently two standards for wireless charging; these being Qi and Powermat, with Qi currently inching in front as the industry leader (older readers will remember good old Betamax v VHS).
I have encountered a couple of the problems using some Qi charging, these being 1: the time it takes to charge your device, and 2: positioning of your device on the charging pad is important to align the coils. Both of these issues are eliminated if you use a well-made  – and to-be-honest – more expensive charging pad.
Mobile Solar Chargers sent me through their 3 Coil Folding Qi Charging stand, which is I suggested before, a well made multi-position stand with 3 powerful Qi charging coils. You literally can plonk your device on it and it begins to charge. Marry this with multi-position, and you have an excellent bedside/desk charger. I used it to charge my phone every night, and it looked really nice with the daydream clock showing while charging.
The wireless charging stand is available from Mobile Solar Chargers for £39:99
3. 7000 mAh powerbank with a Qi wireless charging plate.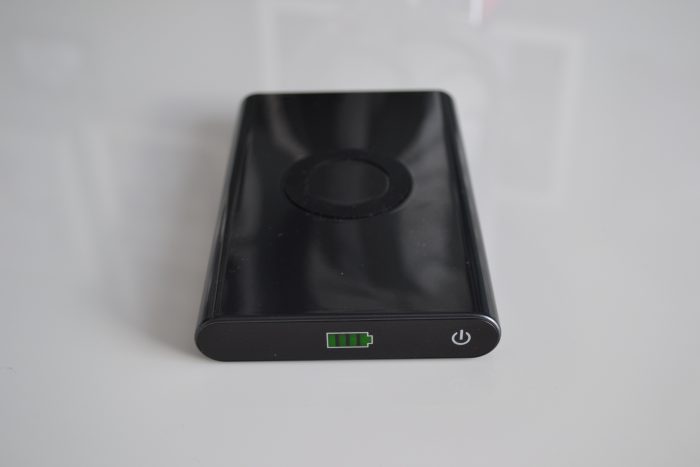 The next device Tim sent through was a powerbank, (yes another powerbank) but this one has a clever add-on: it comes fitted with a wireless charging coil in the top of the unit.
Specs.
Capacity: 7000 mAh
Input: DC5V/1A
USB Output: DC 5V/1A
Product Standard: QI
TX Input: DC5v/1A
RX Output: DC5v/1Amax
Working Frequency: 110-205KHz
Frequency: 110-205KHz
Size: 131 x 84 x 16 mm
The powerbank is fitted with a 7000mAh battery, and at one end is a Micro USB port for charging and a regular USB port with a 1 Amp output for charging your device. On the opposite side it has a touch power button and a charge remaining graphic consisting of 4 bars within a battery icon.
Charging a device is as simple as plugging one in, or enabled plonking one top of the wireless charging pad. I plugged my iPad Mini which was at 0% and a couple of hours later it was fully charged and only 2 bars were gone from the indicator, so it might well be possible to get two charges from it. I would have liked to see a 2 Amp output from the powerbank which would have sped up the charging process.
The powerbank again is available from Mobile Solar Chargers for £49:99.
Conclusion. 
All the devices that Tim sent through are at the higher end of the price range, but they're not your average run-of-the-mill, far-east, cheaply made units. Out of the devices sent through, I made my order of favourites is:
3 Coil Folding QI Wireless Charging Pad. I love the idea of this stand and I think it's the perfect bedside companion for your smartphone.
MSC Power Stick Portable Phone Charger. This is a lovely sized device to pop in your pocket and have power when you need it.
 7000 mAh powerbank with a Qi wireless charging plate. This unit is more suited to being put in your bag for use on a long trip, or a holiday.
Head over to Mobile Solar Chargers if you want to see more of these products, or anything else the company have to offer.