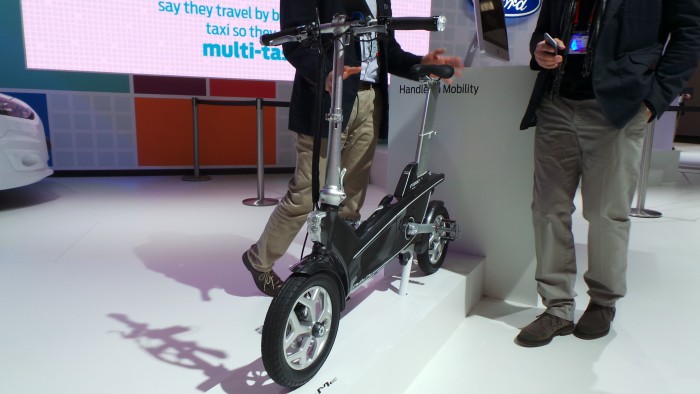 In London our underground system works very well considering the age and complexity of it. People commute in and out of the city and leave their cars in expensive car-parks or, if you run a business servicing the city, you have to try and get your big diesel van into the capital and through the never-ending traffic.
With more and more "car free" zones being introduced, daily charges for entering cities and restrictions on parking and driving in certain places, public transport is about the only other option. Either that, or bikes.
If you're looking to get into work safely and quickly, the Ford MoDe:Me will be a possible solution, if it goes into production. It's billed as a "personal multi-modal transport" and has a companion app which will show you how to get to your destination safely and quickly. It communicates with the bike and shows how much battery your bike has remaining, ride stats and also authenticates or "unlocks" the bike so that you can pedal it.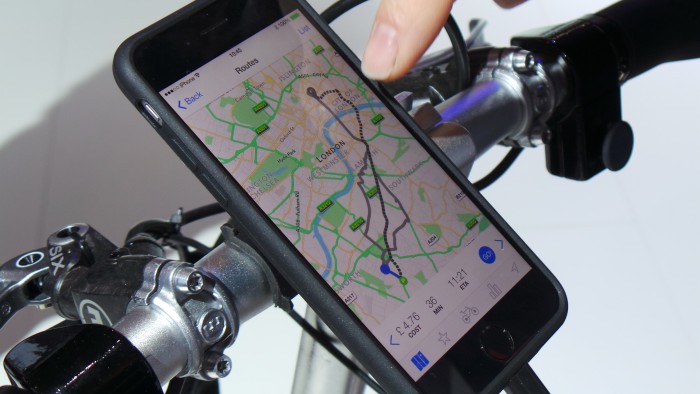 The bike, as you can see from this promo shot (unfortunately the one on the stand was rigged down for health and safety reasons), it folds down into your boot easily like most other foldable bikes but here there's a battery which will keep you going for up to 35 kilometers (21.7 miles). Of course, if the battery goes flat, you can pedal.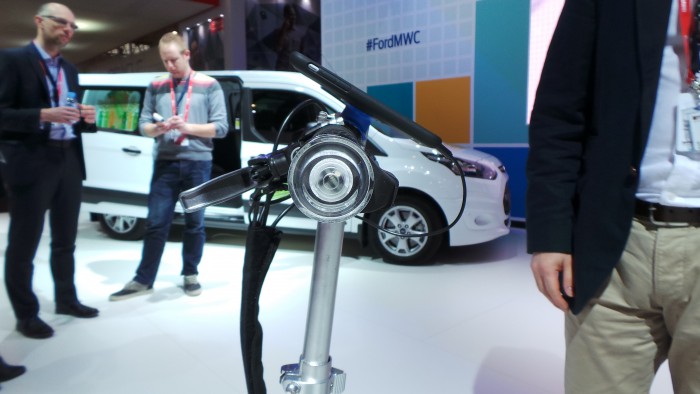 The navigation system was very clever and, after you enter your destination, it will come up with a route combining the right transport for the right situation. As an example it will take you on the tube, perhaps the bus, then cycling too. There's also a "No Sweat Mode" which switches to electric-mode so that you don't arrive into work out-of-breath. That battery is a 9Ah unit attached to a 200W motor and you can get up to 23km/h (14.2 mph).
For the bike enthusiasts I should just go through the specs, which include hydraulic disc brakes and LED lights. Also, when you've planned your route through the app, it'll communicate with the bike and will vibrate the handles to indicate which direction you should take. It has indicators and a brake light for safety and, for additional peace of mind, a rear-facing sensor which detects traffic coming up behind you. If a truck comes up too close, you're going to know about it as your handlebars will vibrate and a red light will flash to notify the driver of that truck.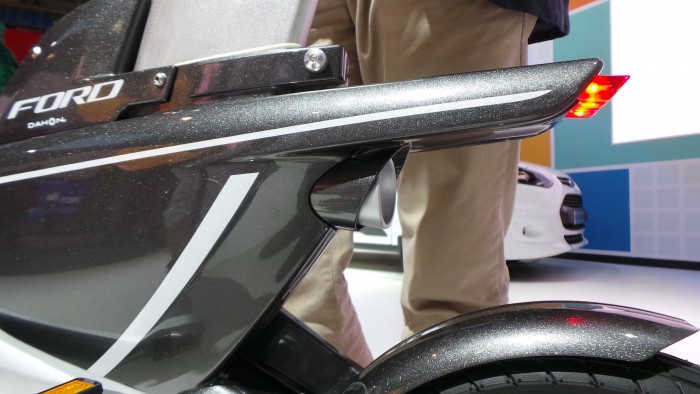 Overall, I've got to say, I was impressed.
However, let's say you're a delivery company. You want to deliver fresh food, pizzas, stationary, books or something like that into a crowded city. How do you go about that? Well, you could ask your driver to take his van around the city, pay a congestion charge and pay lots of parking fines, or you could get the Ford MoDe:Pro. This is a similar solution, but with bigger wheels and a stacking system on the back. The idea will appeal to those companies located outside a city and the idea is as follows.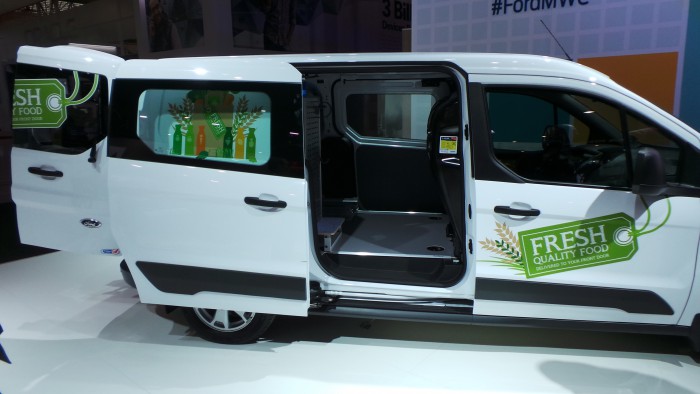 You approach Ford, as you normally would, for a "fleet vehicle". This van / bus is provided. It's branded and your bikes are folded up, on charge, in the back. It includes some seats in the back so that your riders can come with you to an out-of-town location. You drive up, complete with all the kit you're going to need to repair and run the bikes – plus all your deliveries.
Then, once parked up, an application on your phone tells each rider where to go, how to get there and scheduling. Again, the bike only works when the authorised smartphone is connected and it has the same rear ultrasonic sensor for safety. The bike, as you'll see below, folds away easily and it's designed to do that without the weight being focused on the person doing it. The specs, in terms of speed, brakes and equipment, are the same as the Ford MoDe:Me, but here there's more rugged and tough 20″ wheels.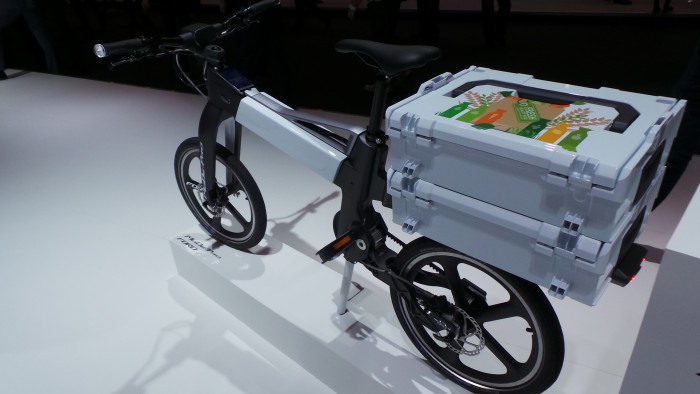 The idea is that your riders go out, make their deliveries (or perform services like plumbing / parcel delivery etc) and then ride back to the van, fold the bikes up and go home again. The app will provide navigation, tracking, updates and the best route across town, complete with battery information and a connection to base.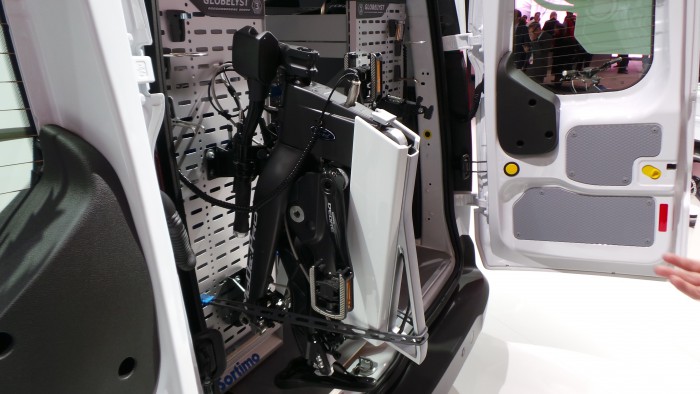 Video demo
The Ford guys took us through the system in the videos below. You can also see here the small navigation controls on the handlebars, which are rather neat. Ford are keen to point out that the phone wouldn't necessarily be mounted here, as you could have a bit of an accident whilst cycling if you're looking down 🙂
Here's how the delivery bike is released from the back of the van..
All this, though, is in the prototype stage and Ford haven't made a decision on whether it will go into production. I certainly hope they do, even if it's just the consumer version, because it's a safe and clever solution with brains.
I want one.
Don't forget to check up with our coverage live from Mobile World Congress, here in Barcelona.