On Sunday we announced that Lenovo were launching a Pocket Projector. I wasn't overly enthused about it, if I am going to be totally honest with you. However that has changed now that I have had a chance to get some hands on time with one of them. These things are great and I want one, not sure when and how I would use it, but I know that I want one.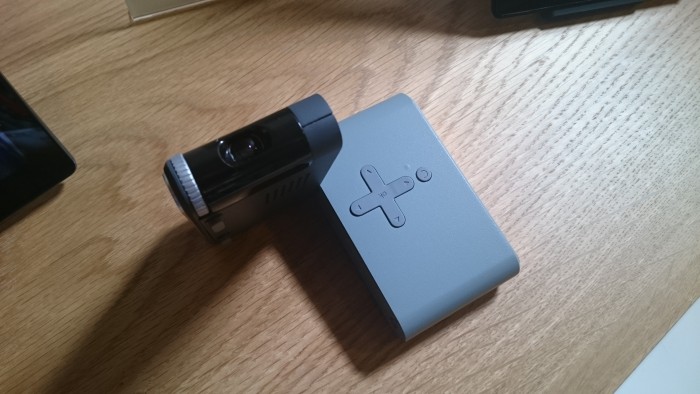 What has made me change my mind is the quality of the design and the performance.
Here is a wee video showing what it can do..
As you can see from the video this projector packs a powerful punch and has more than enough juice to get me through a full film. The beauty is that it can be streamed via Miracast or it can be played back from local storage. The design is really well thought-out and the friction hinge employed in the middle is really well made. It holds the device steady, although the one in the video is a prototype which is why it is a bit loose.
Here are some close up pictures to whet your appetite..
This little projector will send out a strong beam thanks to the 50 Lumens lens that is embedded into it. It'll project an image of 110″ diagonal, which will out-do most TV's. It will also support anything you can display as an image, making it great for doing training sessions via Powerpoint or for showing of the family holiday pics. What's more, it is capable of working with iOS, Windows and of course Android.
In summary it's a nice powerful little gadget that will serve you perfectly if you are a frequent traveler and you are fed-up of not being able get you big flat screen viewing experience when you are away from home.