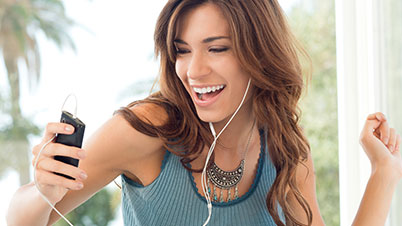 Do you want to look as happy as this woman in the picture above?
Well, now you can. DTS Technology have just announced that they are rolling out their Headphone:X custom audio experience to some major Chinese brands including Huawei and Gionee (Kazam in the UK). It is also being built into the new Snapdragon 810 Chipset that will be included in phones from Vivo and Nubia.
The concept of Headphone:X is to allow the user to fully customize their audio experience, based on what headphones they are using and also what their listening style is.
"Headphone:X gives listeners the ability to select the exact sound profile for a growing database of headphones, representing more than 230 models and 60 brands. It also allows users to simply create a profile tailored to their own listening preferences, providing a completely optimized, personalized experience. Importantly, Headphone:X improves the overall quality of the audio, regardless of its level of fidelity."
I had a play with the Headphone-X systems. I can now say with 100% honesty that it genuinely improves your listening experience. With the the profiles turned off it felt like the sound is in front of you and it is very much a one dimensional thing. However once the profile is enabled the sound is all around you and it gives the impression that you are there.
This is not only limited to music though as it has been utilized at a chip-set level by Qualcomm it can be used in gaming and video now as well. This will give gamer's a more visceral experience as you will be embedded into the true sound environment of the games and movie.
I was also shown a surround-sound demo and during this demo i closed my eyes to try and distinguish were the sounds were coming from and it works remarkably well. You could hear the sounds coming at you from may different angles and there felt like there was depth to it as well.
If you want to test this out for yourself then check out the video clip below, you will get the best effect if you use some headphones.
http://youtu.be/sKH5D3Znw0Q
Where this is going to really hit home for me is that I still like watching movies but I don't get the opportunity to get to the Cinema as often as I would like. However with the Headphone X system is am able to enjoy my films from the comfort of my own home without missing out on the cinematic feel, that and I will also save myself £20, which is nice.
If you want to find out more about this solution then try this DTS demo.