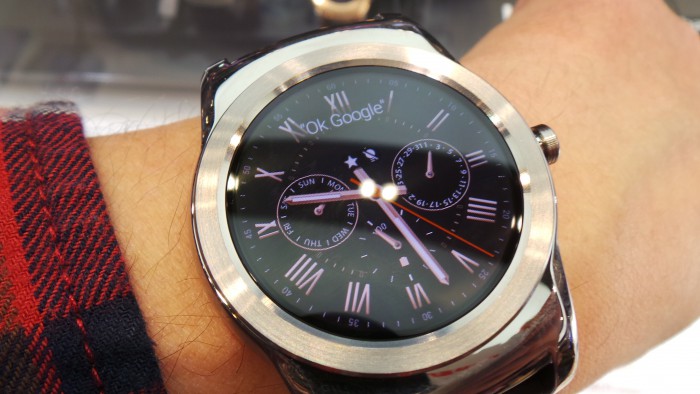 I've got to tell you, I've never really considered a smartwatch until now. Heck, I've not even considered a watch full stop for a while. James has given me a Pebble on loan and, I'll admit, my attitude is changing somewhat.
Here, it's Android Wear powering the show and, although the backlight only flashes up for a couple of seconds (instead of the Pebble and the always-on screen I've got used to in recent days), it has the look of an actual… watch.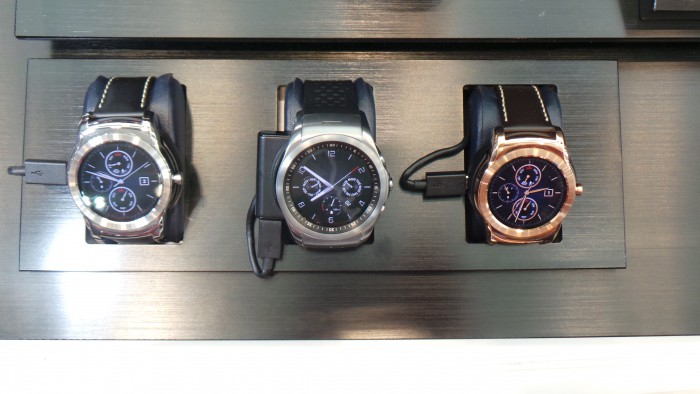 Sure, it's a little thicker than I'd like, but it was still a beautiful looking device with a thin bezel around the 1.3″ screen. To charge, you put it near to the charging dock and a magnet pulls it into place easily. It's almost like a tractor beam and it's in no way fiddly or cumbersome to do.
However, you can tell from the marketing, the style and the flashy Audi parked on the stand that this is aimed squarely at the cash-rich gent. At £299 (pre-order pricing) it can mean a choice between buying a new phone or buying a new watch instead of both.
The all-metal construction looks brilliant and it was hard to decide which I liked best – the gold or silver. You can change the straps (it's a standard 22mm) and put your own on if you wish. It didn't feel heavy or awkward on my wrist and the "OK Google" commands we gave it, even in a very noisy conference, worked well..
Specs include a Qualcomm Snapdragon 400 processor at 1.2 GHz running Android Wear, that 1.3″ plastic OLED (320×320, 245ppi) screen, 512MB RAM with 4GB storage, 9-axis (gyro / acceleration / compass), barometric pressure sensor and the heart rate sensor you can see on the back here.
This uses Android Wear and pairs with your phone, whereas the newly announced LG Watch Urbane LTE uses LG proprietary software and comes with a SIM card. More on that later.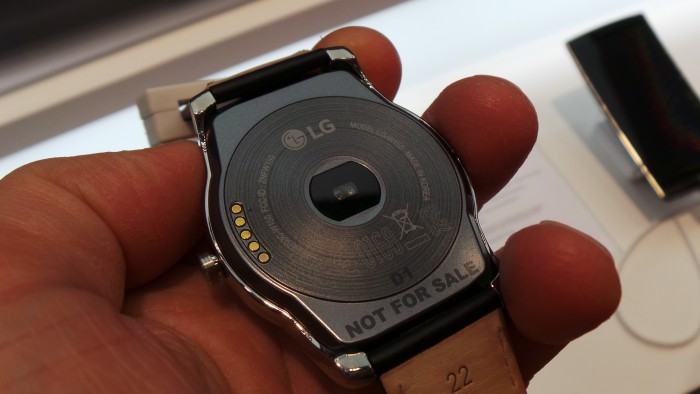 Despite the expensive looks, it's still water and dustproof, IP67 certified. It has a 410mAh battery. A little part of me wanted a Pebble with this quality and design though.