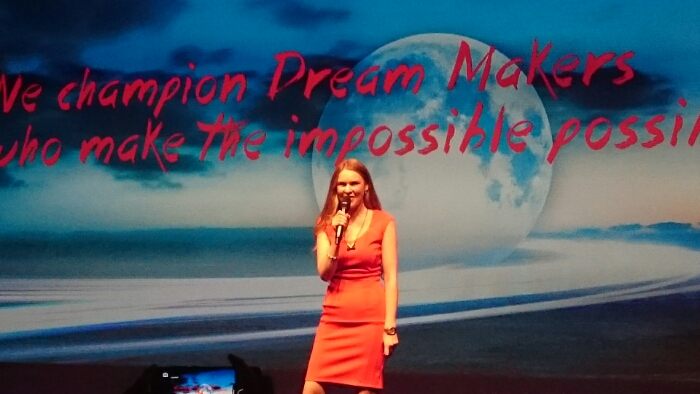 That is the Huawei event now done and they have not released a new phone today, but they have released a whole raft of wearable's including the leaked Huawei Watch.
But we will come back to that later first up is the Talkband B2. This is an update on the original Talkband B1 that was released in Paris last year when the P7 came out. The B2 has evolved to now have a full Touchscreen with a more multifaceted UI. It is a very nice evolution of the earlier version.
What separates the B2 from other Fitness bands and from the Sony Smartband Talk is that the screen actually doubles as Bluetooth earpiece. this supports dual mics for advanced noise suppression. The band itself will allow for fitness tracking of all the usual parameters including step count and calories burned. It does not have a Heart rate monitor built into the unit, that is saved for the Watch.
The band will work with Huawei's companion app which is called Activity Lifelog and will give you an easy to use visual representation of how you are progressing during the day. The Talkband B2 will launch in a standard version for €169 and a premium version which will have two leather straps for €199. They are both due in May
Next up was the Talkband N1 which I am going to call a smart headset/necklace. This is something that is genuinely different, it seems that Huawei have taken the wearable concept from fitness bands and watches and married with some headphones. The end result is actually something that looks both desirable and convenient.
The headset will accomadate all your typical fitness tracking tools and will provide vocal feedback to help you achieve your goals. It has a 7 hour playback time for music which is streamed from your phone. like the Talkband B2 this will tie into Huawei's fitness apps on the phone allowing you to share with others and keep track of your workouts. Pricing is going to be €119 and it will be available in
Silver, Gold and Red Coming in May
Last but by now means least we have the Huawei Watch.
This was really what everyone here was wanting to see and it did get a good cheer when it was announced . The core design brief of the watch is that it had to look and feel like a watch instead of the over-sized ones from other manufacturers. This has allowed Huawei to make a very nice looking watch and they have really made it stand out from the crowd in a subtle way.
It is not a watch that you would think was running Android Wear at first glance. they have used some really premium design element here as well, such as the screen is Sapphire Glass (a first for Wear devices), it has a PPi of 286 with a 400 x 400 resolution. The body is made of cold forged stainless steel to protect against corrosion and scratching. all of these things add to a really nice premium feeling device and one that looks like it will be very popular. Under the shiny exterior it also packs in the brains with all the bells and whistles you would come to expect from a Wear device. Something Huawei were very keen to point out was the 6 Axis motion sensors and the built in Barometer therefore allowing height to be measured, this may be a first for Wear as I am not aware of any other device that includes this at the moment. there is also a hear rate monitor to make sure you are not over exerting yourself when climbing all those mountains.
Huawei were not giving away a price today but it seems like we will have to wait a few months for the release as all that was said was the middle of the year.