So, you fire up a desktop PC at work, log-in to your laptop during meetings and connect to the Internet on a tablet when at home. Your smartphone is constantly glued to the palm of your hand, receiving instant emails and Facebook updates in tandem with text messages and Whatsapp conversations, and your TV connects to the Internet to help you catch up on the latest soaps or download films on a whim.
In the kitchen, your fridge orders your weekly food shop before you've even run out of milk and your phone takes control of the lights to keep everything in check.
Sound familiar? Well, all this means that you're a 100% gadget lover – but loving your gadgets isn't enough. You need to make sure you get as much out of them as possible and this is something not everyone is able to do. Until now that is.
1. Get connected
Virtually any new bit of kit is likely to be 'internet enabled' these days, so part of making the most of it at home will mean having a stable internet set-up. We've already outlined a number of ways in which your gadgets might be connected to the World Wide Web above but it's important you always check for new possibilities.
Connecting your gadgets to the Internet (and each other) will mean you can enjoy a vast range of extra features at your fingertips. Allowing your phone to talk to your home thermostat can ensure the temperature is always how you want it, while letting your TV go online means that you have access to unlimited entertainment possibilities.
Of course, if you're going to have so many devices connecting to the Internet through your router then you need to make sure you have a superfast broadband connection, plenty of bandwidth and a generous download limit. Products such as Infinity are good examples of this sort of service.
2. Learn the tricks
Each device and gadget comes with a full range of features that many users never even know exist. Complete a quick search on the Internet for tips, tricks and secrets and you'll be amazed at the things you'll learn your gadget can to.
As an example, here are five of our favourite iPhone secrets (all taken from Buzzfeed's article '15 Things You Didn't Know Your iPhone Could Do'):
Have your emails read to you by Siri – although the voice command function was a
popular addition to Apple's iOS, not all users are aware that saying "read my mail" will actually prompt the service to recite messages aloud
Undo typing by shaking your phone – want to delete a recent text entry without holding the backspace key for what feels like an eternity? Shake your iPhone from side to side and watch as a box asking you if you want to "undo typing" appears (this also works if you want to re-add text you just deleted)
Use it as a spirit level – whether you're hanging a tricky photo or trying to get a shelf level, swiping your screen left when in the compass application will bring up a handy spirit level to get the job done
Take photos with the volume control – if steadying your phone and hitting the circle on the screen to take a photo proves a little difficult then pressing the 'up' volume control will achieve the same result (this also happens when pressing the control button on your Apple headphones if in the camera app)
Charge your phone twice as fast by selecting flight mode – if you need to top up your charge in a hurry then putting your phone into flight mode will allow it to charge twice as fast
3. Shop wisely!
Lastly, it's important to remember that any new gadget purchase should be approached with caution. Rushing out to buy the latest piece of technology may be an incredibly attractive proposition but it is not always likely to achieve the best results.
Instead, you should sit back and ask yourself whether this is really something you can't live without. Waiting for rival companies to release their versions of new gadgets could also be a shrewd move – especially when you consider the price wars that usually accompany this activity!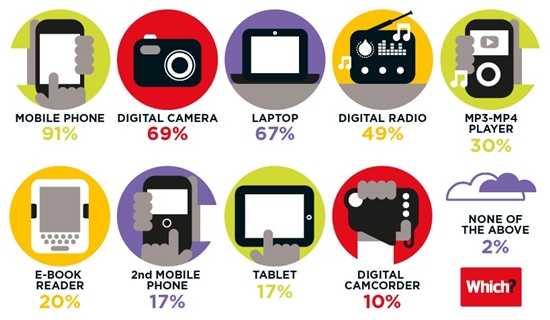 An interesting article by consumer body Which? highlighted the importance of gadgets in modern life by asking their experts just what items of tech they couldn't live without. Unsurprisingly, smartphones, tablets and laptops featured regularly among the list of must-haves but there were also a few unexpected entries – such as digital radios, digital cameras and MP3 players.
Which? also produced a small infographic (copied below) on the results of the survey to highlights the main products we rely on every day. Before you buy any of these items – or any other new gadget for that matter – it is vital that you evaluate all of the functions it offers and make sure its services are beneficial to you and your lifestyle. Ultimately, you need to ask yourself whether this is something you really need in order to avoid spending money on an impressive gadget that doesn't actually get much use.